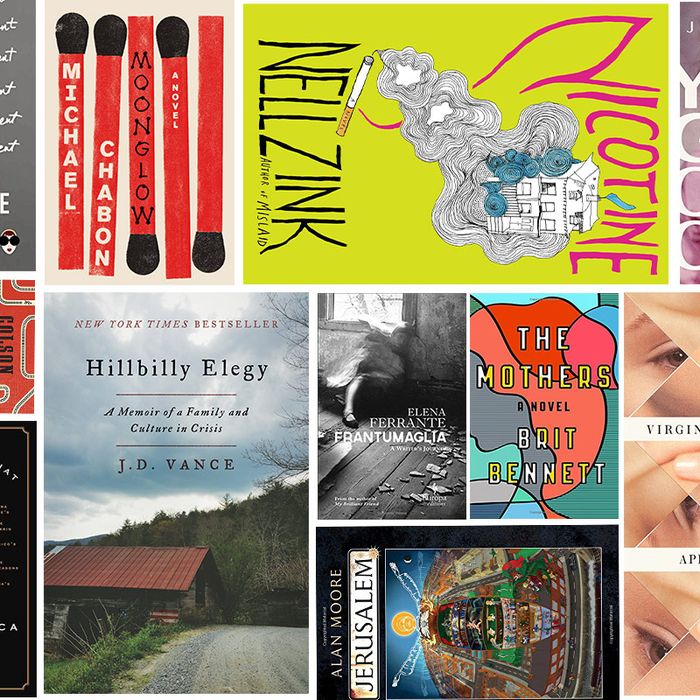 We've rounded up the best books that came out in the past year for the specific hard-to-shop-fors on your list, including, but not limited to, the Niece Currently Trying to Occupy Trump Tower, the Ferrantephile, and the Complicated Cousin. (Check back in on Monday for our comprehensive coffee-table-book gift list.)
The brilliant straddler of genres dances down the line between truth and fiction in this faux memoir about the grandparents of "Mike Chabon" — heroes and survivors of World War II — and their complicated love.
Zink's millennial activists sometimes do foolish things, but the unfailingly witty novelist endows her idealists with so much passion that it almost gives you hope for the future.
Dylan published his Chronicles a dozen years ago, but this year's best rock autobiography belongs to his blue-jeaned stepchild, a frank and eloquent guide down the long, dusty road.
Whitehead's fancifully literal train track to freedom leads to alternative "states" both hopeful and horrifying. His gutting adventure is essential in a national moment caught between great progress and great peril.
Anyone who liked Semple's hilarious second novel, Where'd You Go, Bernadette (and 1.5 million readers did), will warm quickly to this soberer follow-up, in which the title mantra of self-improvement proves ironically too true.
In essays laying out her life and art, the pseudonymous author of the Neapolitan novels, unmasked this year by an Italian journalist, crafts a persona almost as irresistible (and almost as fictional) as her work.
Writing about sex, abuse, religion, and the pain of trying to connect, Lawson skirts both caricature and sentimentality. But this wouldn't be for the conservative Christian on your list.