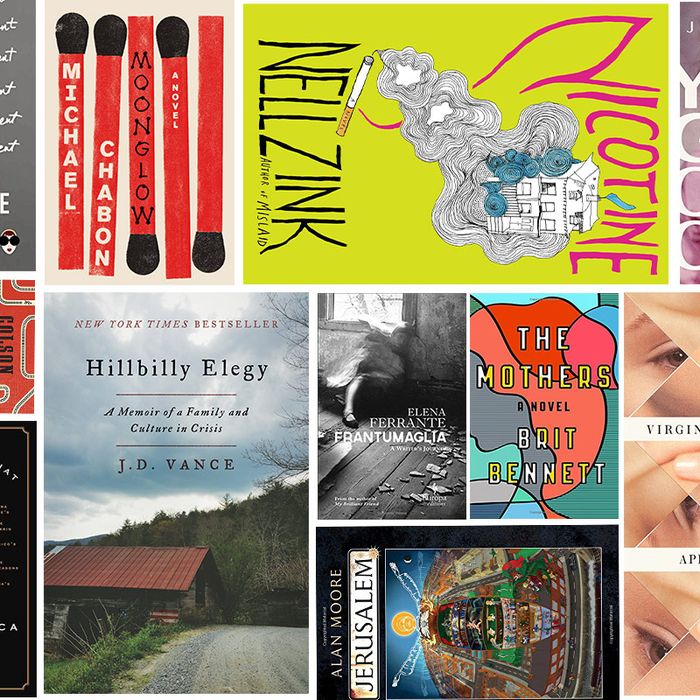 We've rounded up the best books that came out in the past year for the specific hard-to-shop-fors on your list, including, but not limited to, the Niece Currently Trying to Occupy Trump Tower, the Ferrantephile, and the Complicated Cousin. (Check back in on Monday for our comprehensive coffee-table-book gift list.)
The brilliant straddler of genres dances down the line between truth and fiction in this faux memoir about the grandparents of "Mike Chabon" — heroes and survivors of World War II — and their complicated love.
Zink's millennial activists sometimes do foolish things, but the unfailingly witty novelist endows her idealists with so much passion that it almost gives you hope for the future.
Dylan published his Chronicles a dozen years ago, but this year's best rock autobiography belongs to his blue-jeaned stepchild, a frank and eloquent guide down the long, dusty road.
Whitehead's fancifully literal train track to freedom leads to alternative "states" both hopeful and horrifying. His gutting adventure is essential in a national moment caught between great progress and great peril.
Anyone who liked Semple's hilarious second novel, Where'd You Go, Bernadette (and 1.5 million readers did), will warm quickly to this soberer follow-up, in which the title mantra of self-improvement proves ironically too true.
In essays laying out her life and art, the pseudonymous author of the Neapolitan novels, unmasked this year by an Italian journalist, crafts a persona almost as irresistible (and almost as fictional) as her work.
Writing about sex, abuse, religion, and the pain of trying to connect, Lawson skirts both caricature and sentimentality. But this wouldn't be for the conservative Christian on your list.
Comedy doesn't always translate from TV to the page, but Klein, Amy Schumer's head writer, surpasses most of the onscreen talent in essays that redefine feminism in her own wry image.
From very old-school Delmonico's to franchise pioneer Howard Johnson's to the Bobo paradise of Chez Panisse, Freedman's history isn't just food porn; it's cultural analysis from a delectable new angle.
The creator of Watchmen and V for Vendetta finally completes his magnum opus, a Pynchonesque parade of set pieces encompassing human history in the space of a couple of city blocks and more than a thousand pages.
Not a novelist to turn away from pain or complexity, Patchett follows a blended family and its sundry children 50 years forward, evoking laughter, tears, and understanding in unexpected places.
The young essayist puts her ideas about race and justice into fiction, but her debut novel is no polemic; it's a tough drama about young black Californians and their tight (if stifling) community.
The author reinvents The Tempest for the modern day, casting Prospero as a theater director working on a production of The Tempest. It's the fourth in a series of Shakespeare remakes by novelists like Jeanette Winterson and Anne Tyler. Why not gift the whole set?
A rust-belt memoir charts the decline of the white working class in Vance's Ohio hometown, showing all that's missing in the lives of the people who threw the dice on an unstable pseudo-populist.
Sanders and Warren fans will find a lot to savor here, but even die-hard Clintonites will appreciate Frank's dissection of a Democratic Party that lost its appeal to some of the people who need it most.
The Strategist is a new site designed to surface the most useful, expert recommendations for things to buy across the vast e-commerce landscape. Some of our latest conquests include the best notebook, black T-shirts, fashion-editor-approved jeans, toothbrush, and apartment décor. Note that all prices are subject to change.

If you buy something through our links, New York may earn an affiliate commission.