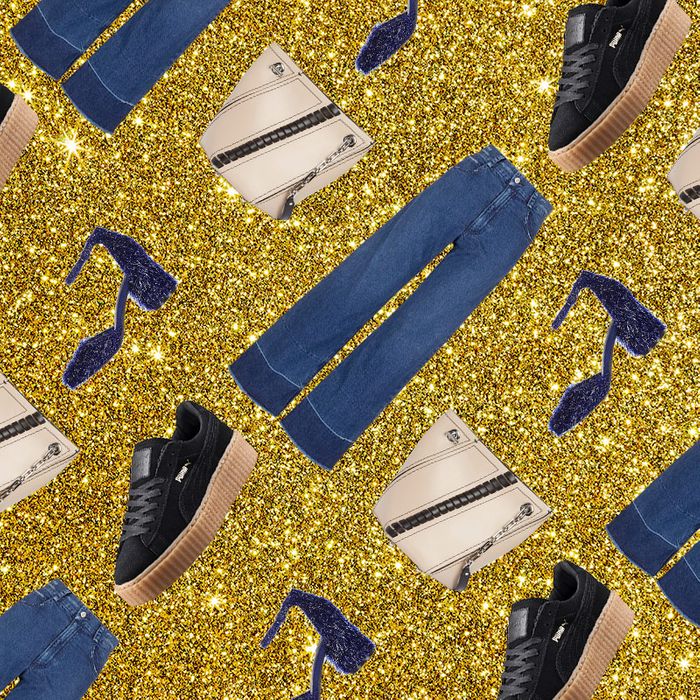 This holiday season, we're asking the toughest people to shop for — from a grandmother to a 16-year-old to a cat lady to a gourmand — the simple question: "What do you want for the holidays?" Here, the Cut senior market editor Diana Tsui, whose job is to run around on appointments all over New York to scour everything fashion, on her highly curated wish list.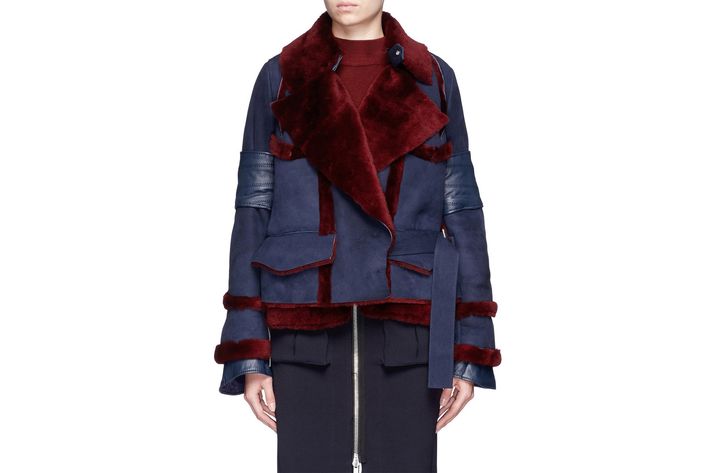 What's at the top of your list? I can't even imagine how expensive your dream gifts are.
I literally shop a few times a year, and I have a few designers I love, but if I could have anything, it would be a Sacai coat. I've been wanting one for literally years. I don't wear a lot of color so I have far too many black coats — the navy-burgundy is a nice compromise. This coat is also so warm that all I'd need is to wear a thin layer underneath. So I'm saving on sweaters!
Would you say this is trendy?
No, not really. I tend to stick to Japanese brands that don't follow trends. Sacai basically does some iteration of this coat every year. I also love Comme des Garçons (on sale!) and Noir by Kei Ninomiya, which is a label started by a Comme protégé.
Are you trend-averse?
Hmmm, not necessarily, but it's hard to buy something that'll give you buyer's remorse in a year when it's not "in" anymore. This jacket feels current, but you can't pinpoint it to any trend. Sacai does some iteration of it every year.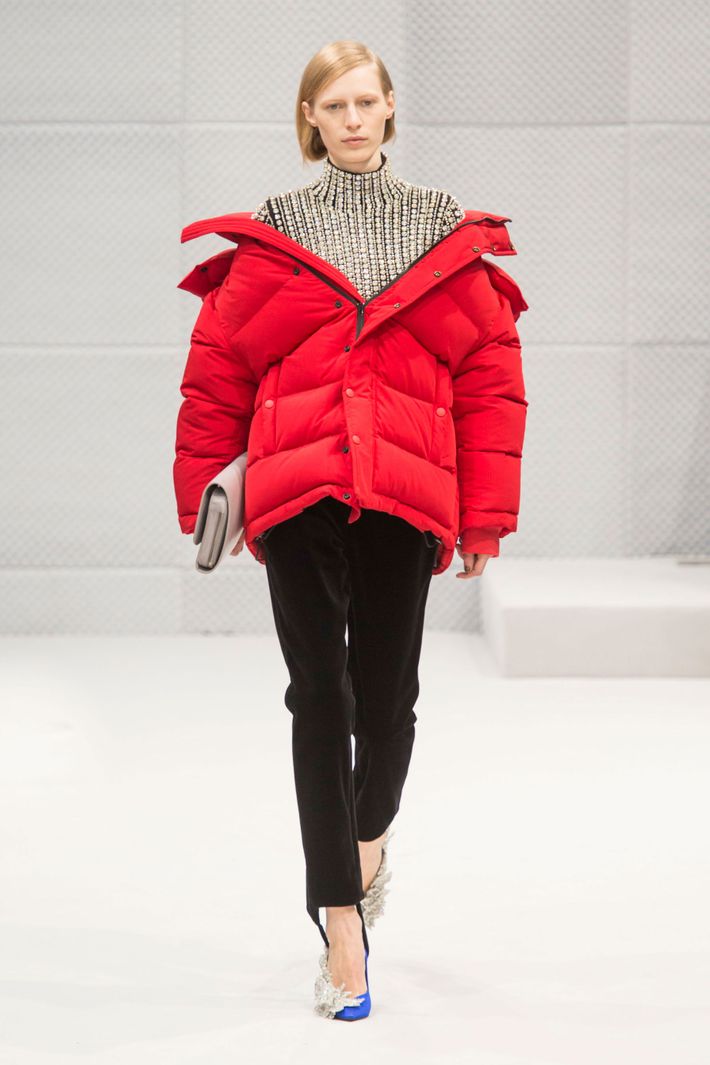 So what jackets are "in" right now?
Well, you can spot them in street-style photos, or when you're on market appointments with other industry people. You'll see that people are all drawn to the same pieces from the brands that are really happening right now — Balenciaga, Céline, and Gucci. Actually, everything Balenciaga is going crazy right now. We wrote about it earlier this year, and it's really true. There's a down-puffer trend right now that basically started because of Balenciaga and Vetements and Demna [Gvasalia, creative director of both houses]. There's a great puffer that Zara is doing right now, and actually what I like to do is take a men's version from Uniqlo — the granddaddy of all puffers — and wear it in a medium or large so it's slightly oversize and slouchy. Even the way the girls in the Balenciaga show were wearing the jackets sort of dictated a style movement.
The Kardashian/Jenners were all about that.
Exactly.
What other jacket styles are popular?
Well, even though I said my Sacai isn't trendy, shearling as an idea is really big right now. Altuzarra had a pretty popular one a few years back. Coach had one last year and the Acne one has been big for the last few seasons, even though I'm over it now. Too many people have it! This faux-sherpa jacket from MKT Studio is a similar idea, and much more affordable, and if we're talking about something really accessible, I love this all-black biker version from H&M that's also great.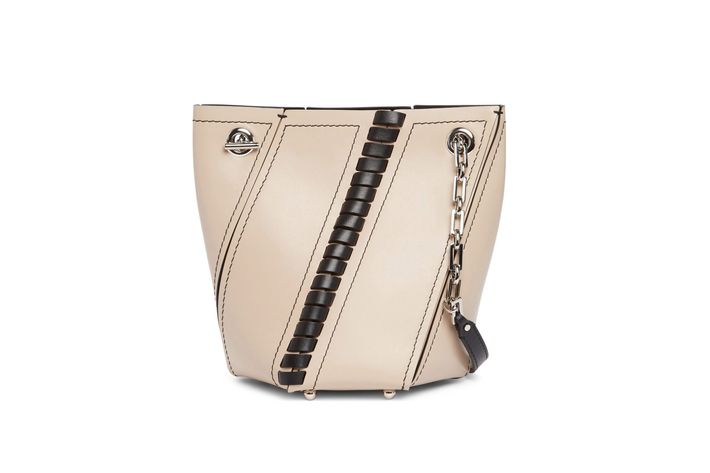 Is there an "It" bag right now the way that the Balenciaga Motorcycle or Celine Luggage was really popular?
I feel like it's not about the "It" bag right now. There are a few really popular ones, but no one, true "It" bag, which is probably better actually for the longevity of the bag in your rotation. I'd say the most popular ones right now are the J.W. Anderson Pierce and Proenza Schouler Hex, but here's the thing, neither of those is that hard to obtain. It's not like when the Luggage came out and everyone lost their shit.
So what do you want?
I'm a sucker for a bag that's real lady so my dream would be the Hermès Constance.
What is that? I've only ever heard of the Kelly or Birkin!
It's smaller, and it has the big H clasp. It's hard to find anywhere but on vintage reseller sites.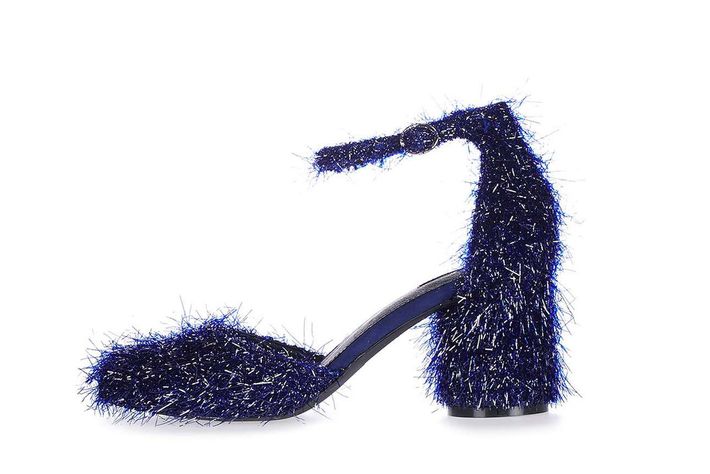 Are there any shoes you have your eye on?
Always. I've stopped wearing heels that often, but I do love a good party shoe. There's this amazing Roger Vivier heel [editor's note: This is sold out, but here are similar options from Christian Louboutin and Badgley Mischka]. You can almost justify it because there's really nothing else like this out there. I mean, the bow under the shoe! Really, you can't justify it, but you can dream about it. For something cheaper, Topshop has the best affordable, low-heeled party shoes right now. Hands down. These are so fun and inexpensive, like a sparkly Cookie Monster shoe. I also love that it's a low heel so you're not in horrible pain. My own personal weakness is for Céline shoes. I own a few and wear them all the time, but I'd love more.
What makes them special?
I think Phoebe [Philo] makes really interesting flat and low-heeled shoes that aren't conventionally pretty. In fact, I'm sure most people would call them ugly, but I like how strange they are. The only downside is that you'll see like five different fashion editors with the same shoes.
Is it a fashion-person thing to not want things that are conventionally pretty?
No, not necessarily. There are certainly people who work in fashion whose vibes skew more toward prettiness. My tastes just tend to edge more toward weird things. I'm not traditionally feminine. I don't wear most florals. I don't wear a lot of color. My wedding dress wasn't even a real wedding dress. I went to the Jil Sander sample sale when they were selling the very last collection when Raf Simons was still designing. I bought this dress for $425 with tax.
Bargain hunter! What's the accessory splurge you'd want as a gift?
In a fantasy world, a Cartier ring. I've been wanting one for ages. I've toyed with the idea of getting a band to stack with my wedding rings, but I think the Infini ring is what I'd truly, truly want. I don't wear a lot of jewelry but I love that ring. It matches my wedding set without being distracting.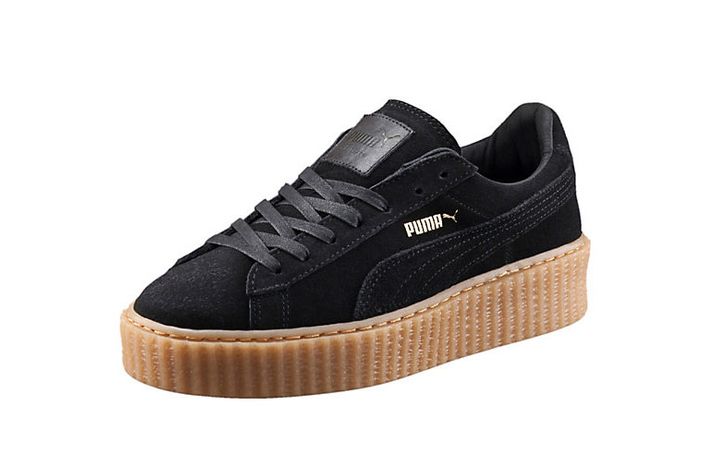 Okay, can we do a lightning round? Is athleisure still cool?
Still cool. Especially if we're talking about Rihanna's Fenty Pumas. The creepers are sold out absolutely everywhere. [Editor's note: These are similar.]

Mansur Gavriel?
Not like before. But it still has its devoted following.
Millennial pink?
Still going strong, though it's moving a bit more in the direction of a bold rather than pale pink. I saw lots of it in the spring collections for 2017, so it's not going away.
Sideboob?
Not specifically, but bodysuits are a huge trend for fall, so as a side effect of that, if the bodysuit is cut low on the sides, then yes, you'll be seeing it.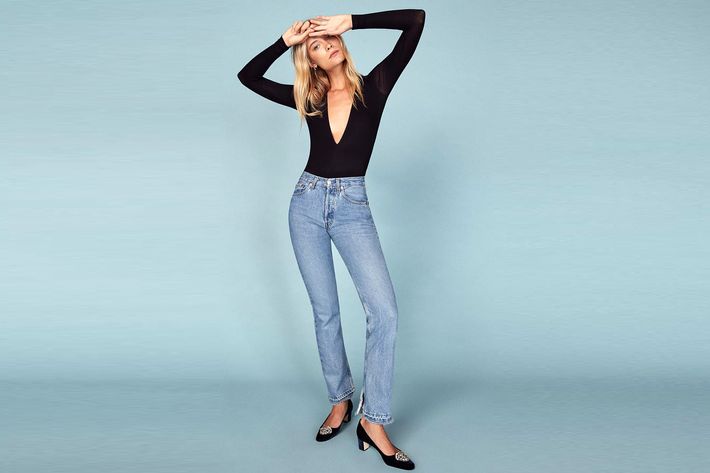 You mean like a swimsuit you're not going to swim in?
Ha, kind of. You wear them under jeans most often. Everyone is making bodysuits, from Zara to Topshop to Aerie to Aritzia to Urban to Reformation. This Reformation version is huge right now.
Chokers?
God, they won't die. Everyone makes them, from lower-end mall brands to mid-level brands to big-name designers to department-store brands and even to the high-end jewelry brands. Hell, I even saw one at David Yurman for spring, and I would never have expected that.
What do you think jumpstarted it?
Another Kardashian/Jenner thing. Plus Gigi Hadid.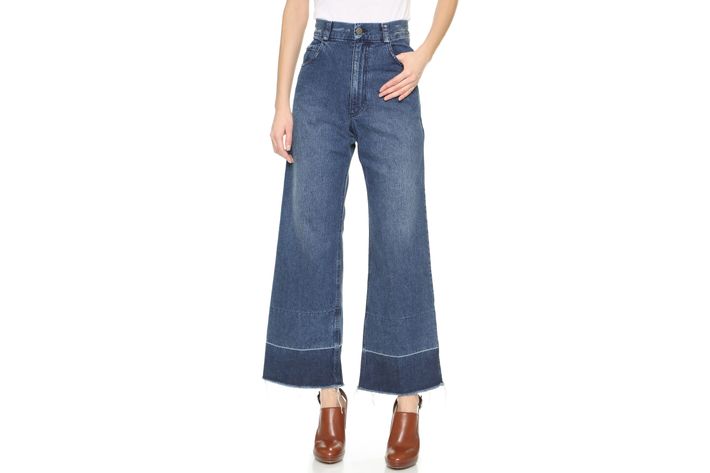 Mom jeans?
Still happening, especially the high waist with the unraveled dropped hem à la Rachel Comey's Legion jeans. That's the denim silhouette that's happening right now. Those sell so well for her. This version's similar for less than $80, too!
Leather biker jackets?
Classic, so yes. Acne's is good. The Arrivals does a great one at a lower price point. Veda's is fantastic. And if you have the money, Saint Laurent. If you don't have the money and want to go the faux-leather route, there are some great shapes from Topshop and Forever 21, too.
Helix earrings?
Sure, especially ear piercings that aren't just the lobe. So other parts like the daith or tragus or conch — basically Colby Smith's work.
A logo tee? Like a Vetements DHL?
Er, not really.
Over already?
Dude, that's fashion. —as told to Jason Chen
The Strategist is a new site designed to surface the most useful, expert recommendations for things to buy across the vast e-commerce landscape. Some of our latest conquests include the best notebook, black T-shirts, fashion-editor-approved jeans, toothbrush, and apartment décor. Note that all prices are subject to change.

If you buy something through our links, New York may earn an affiliate commission.