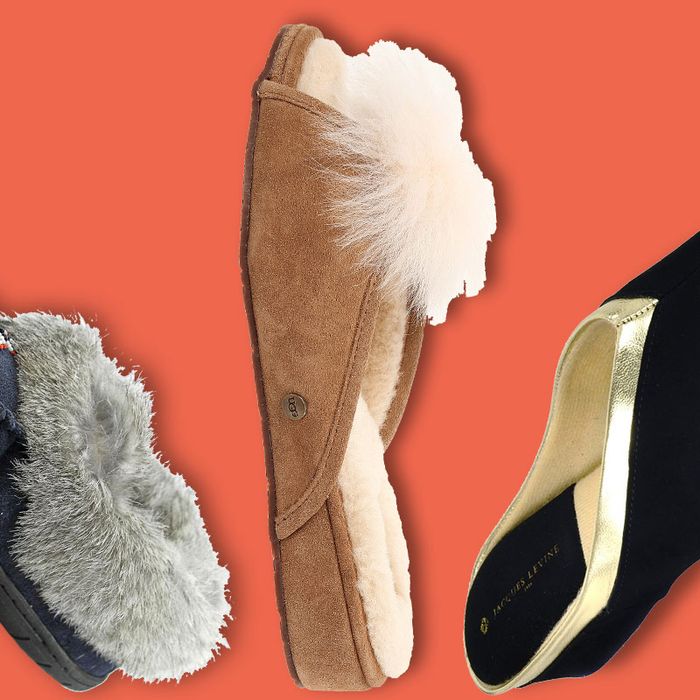 (L-R): The Pajar mocassin, the Ugg Yvett, the Jacques Levine slide.
When in doubt, a pair of slippers pretty much always makes a great gift. But which ones to get?!? We asked writer Sadie Stein, who has three pairs (about which she is extremely passionate), to weigh in.

While three pairs of slippers seems like a lot (it is a lot), I work from home. People assume you spend your day lounging around in pajamas. I guess this is theoretically possible, but for many of us, it's actually very important to impose a little structure on the day by getting dressed. And this is when you find yourself owning three pairs of slippers. Or, I do, anyway. When you don't wear a single pair every day, it takes slightly longer to become completely revolting. This is not nothing.
I have a soft spot for the kind of stretchy old-lady slippers my grandmother used to wear, and have been known to pick these up in drugstores while on vacation. The nylon sort don't wear well, however, and provide minimal warmth. When you want a touch of sleek old-ladyish elegance and high durability, there is one brand you want, and that brand is Jacques Levine. Depending on the level of dowdiness you desire, you can find their scuffs in pastels, in black, or — most Norma Desmond–fabulous of all! — in gold. I have worn the black suede with gold trim for years — it looks elegant with everything and makes me feel like I am making an effort.
Like many people, I have a very cozy pair of Pajar Canada moccasins, which are sturdy enough to take you to the mailbox or bodega, and lend all outfits a touch of rustic cabin charm. These are the workhorses of the slipper wardrobe: classic, hard-working, durable. After a few months, they start to look like sad, dejected animals in the best possible way.
Recently a new slipper came into my life, and I know it doesn't sound chic but I swear to you, it is. It is made by Ugg. I know what you're thinking, but trust me, the Ugg Yvett slipper is a marvel of slipper technology: It is somehow both dainty and sturdy, grounded and playful, comfortable beyond belief but at home with the slinkiest silk nightgown. It has a slight wedge, never a bad thing. Although the style is vaguely retro, the wild sheepswool pompom saves it from precious girliness. And while I'm not suggesting it's a substitute for an Agent Provocateur mule, I would argue it's not without a certain unexpected sex appeal. (And, again, much easier on the neighbors.)

For looking like Norma Desmond: Jacques Levine slides, $110
For some rustic cabin charm: Pajar Canada moccasins, from $27
For a slipper that's both dainty and sturdy: The Ugg Yvett, $85
For a man: Andre Leon Talley's favorite slipper: The Ugg Scuff Slip-On, from $41
The Strategist is a new site designed to surface the most useful, expert recommendations for things to buy across the vast e-commerce landscape. Some of our latest conquests include the best notebook, black T-shirts, fashion-editor-approved jeans, toothbrush, and apartment décor. Note that all prices are subject to change.

If you buy something through our links, New York may earn an affiliate commission.