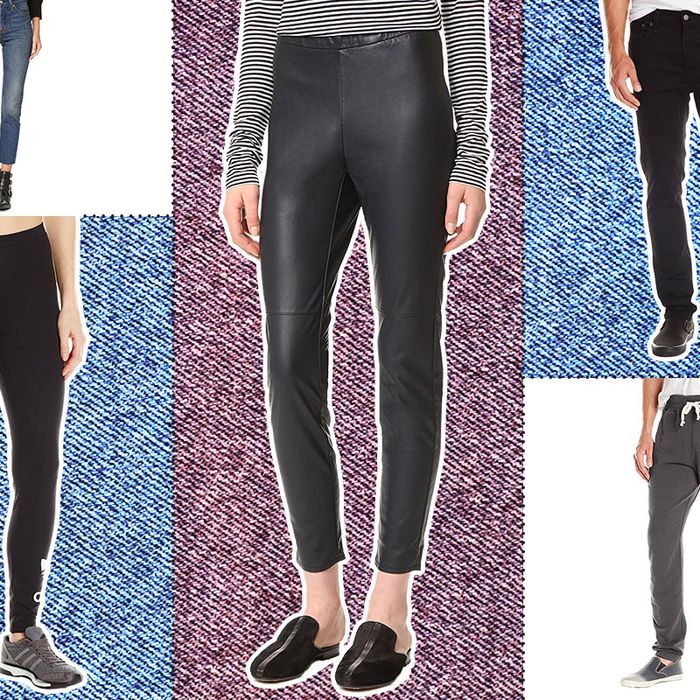 For when you need pants—fast.
Welcome to Pants Week, where the Strategist will be tackling all things pants-related (given that you'll be wearing them pretty consistently from now through spring). Throughout the week we'll be surfacing everything from the best jeans for men and women, to the best lounge-about-the-house-pants, to the best work-appropriate trousers.

Sometimes, you need a pair of pants and you need them fast. Thank goodness, then, for Amazon, which actually has a ton of very nice pants offerings. Who knew you could get a pair of Rachel Comey cropped jeans or JNCO's in two days?
Levi's famously butt-flattering wedgie jeans. Which also come in black.
These black M.I.H. jeans flare in that perfect spot just above the ankles.
Some faux-leather leggings that don't look cheesy, from Cupcakes and Cashmere.
Some high-waisted black skinnies from Current/Elliott.
We love the ankle-logo placement on these Adidas leggings. (For more leggings we like, click here.)
If you prefer your leggings to flatten out your tummy, these Spanx ones are supposed to be great.
Who knew that you could get Rachel Comey jeans on Amazon?
Some cute Lark & Ro work pants, with two fun patch pockets in the front.
Some basic (yet pretty chic) lounge-about-the-house Nike sweatpants.
A pair of deep-red corduroys are always good to have in your winter pants rotation.
JNCO's are back, believe it or not. These "Hypnotix" feel straight out of a Delia's catalogue.
Just cuz: Some Bieber sweatpants.
A sturdy/flattering pair of Todd Snyder x Champion sweats with a handsome white elastic tie.
A pair of basic black slim-fit jeans from Swedish cult-denim line Nudie Jeans.