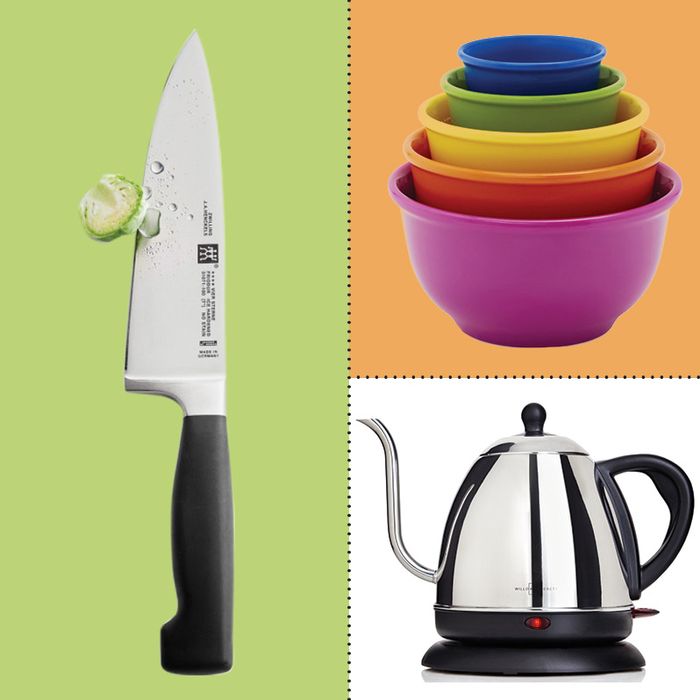 On top of clothes and fitness gear, one great thing about January sales is that you can actually get a slew of kitchen and cooking tools at a heavy discount. We surveyed the scene and found 18 things you'll actually want, from handsome aluminum coasters to a Staub Dutch oven for nearly two-thirds off.
An almost architectural French press for brewing all those fancy gourmet beans you got for the holiday.
Original Price: $40
If you only have one knife in your arsenal, make it a well-crafted chef's knife that can do everything from dice onions to debone meat.
Original Price: $115
Handsome little hexagons you wouldn't mind setting on a coffee table to impress your houseguests.
Original Price: $40
An icon of French cookware, the Staub cocotte — perfect for low-and-slow stews and braises — is one of the few pieces that can go straight from oven to tabletop.
Original Price: $371
The super-affordable vegetable peeler that every chef swears by is now even cheaper.
Never dice scallions — or leeks or chives — again with these herb scissors that come with a nifty silicone tool to clean between the little grooves.
Original Price: $30
The smart and quirky design brains at Joseph Joseph came up with a cutting board that folds into a little nest for effortlessly transferring food to pot.
Original Price: $17
Every spatula-like utensil you could ever need for cleaning bowls or scrambling eggs or brushing meats; it even comes in a handsome Le Creuset ceramic storage cup.
Original Price: $90
A digital scale is one of those things bakers swear by (it's much easier to just dump out a couple grams than break out every measuring apparatus), but it's useful for cooks who need to weigh their meat or liquids, too.
Original Price: $30
A soft-ended set of tongs that's great for picking up delicate foods like flaky fish or soft vegetables.
Original Price: $17
The tiny stem of this kettle keeps water piping hot while you pour, and its resting base means you don't need to clear any space on the stove top.
Original Price: $99
No meal is more January-appropriate (or frankly, easier) than one you throw into a slow cooker before work to have ready by the time you return.
Original Price: $110
Simple and handsome kitchen towels you'll always find use for, whether it's handling a hot pot or wiping your hands after washing vegetables.
Original Price: $17
A narrower stemless wine glass designed to hold your favorite white, from trusted glass-making brand Riedel.
Original Price: $75