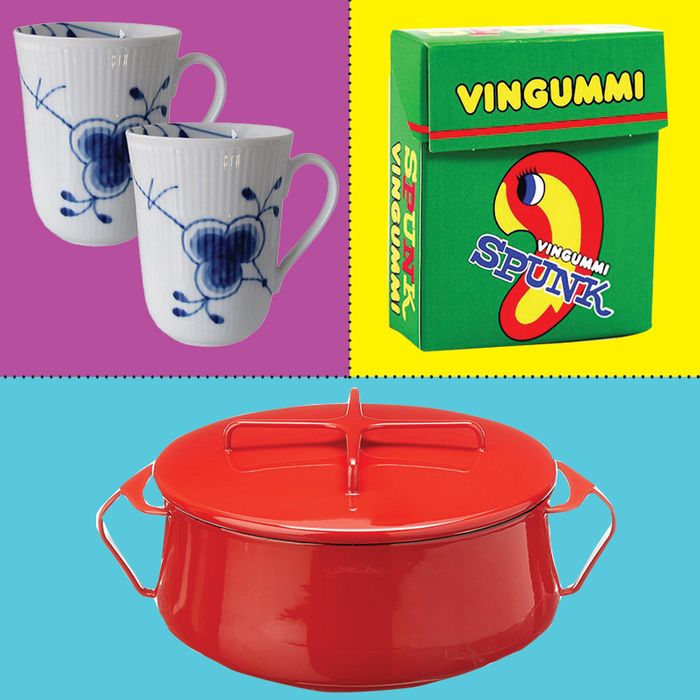 While we have no problem with hygge (the Danish word for cozy, which recently took the New York Times "Styles" section by storm), we're kind of hygged-out. Maybe it's because of how loosely the term is being tossed around. No, watching Summer House in your pajamas while eating lukewarm Pad See Ew is not hygge. However: We are not beautiful-things-from-Denmark-ed-out. Which is why we've decided to round up a few items you can buy very easily on Amazon that are actually from that aesthetically superior country. Not all of them are in the spirit of hygge, though, okay, a good number of them are. Because, yes, it does sound very nice to sit in front of a fire in our Glerups, munching on an aebleskiver and watching Borgen.
There is little more elegant than these classic blue-floral Royal Copenhagen mugs. (Here are more non-Danish mugs we like.)
Some cozy felt slippers from the culty Danish slippers line Glerups.
So you can make aebleskivers (delicious Danish pancake puffs) at your leisure.
Or if you'd rather not cook your Danish pastries, why not subscribe to a kringle-a-month club? (A kringle is a buttery pretzel-looking pastry that was first introduced to Racine, Wisconsin, in the 1800s by Danish immigrants.) These kringles are made in that very same Wisconsin town by O&H Bakery.
The greatest Danish TV show — Borgen, about a female prime minister — in all its three seasons of glory.
It used to be if you wanted a Dansk Kobenstyle casserole you had to scrounge for one at a vintage shop or on Etsy. Thankfully, Dansk rereleased their classic enamel cookware a few years ago.
Finn Juhl, one of the great Danish mid-century furniture designers, also happened to be a wonderful watercolorist. This book, the first to collect his paintings, is out January 24, but you can preorder it now. (For our favorite coffee-table books of the past year, click here.)