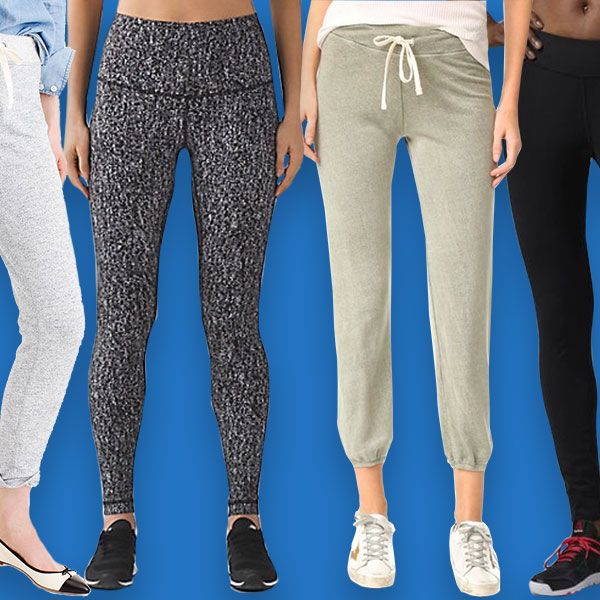 Photo: courtesy of retailer(s)
Welcome to Pants Week, where the Strategist will be tackling all things pants-related (given that you'll be wearing them pretty consistently from now through spring). Throughout the week we'll be surfacing everything from the best jeans for men and women, to the best lounge-about-the-house-pants, to the best work-appropriate trousers.
Once, a very fashionable person shared with me her wise fashion mantra: "Never wear pants with stretch." To do so was embarking on a slippery slope, a downward spin into a leggings-as-pants mentality that could only end in slovenly disorder, an embrace of athleisure, and being kicked out of fashion's inner circle (or, more likely, never invited in the first place). I imagine, since the beginning of stretchy fabric, this mantra has been handed down as a rule to live by — a way to ensure you're never looking so unkempt you actually startle the delivery guy who's bringing you sushi.
But sometimes rules are made to be broken, and sometimes people just break rules. I don't just wear stretchy pants. I love them, I revel in them, I will shout their benefits from the rooftops (luckily, it's an easy climb in said pants). And the best stretchy pants — even better than stretchy jeans, which can hug a bit too tight and leave red marks on the skin — are those slip-them-on-to-run-out-and-grab-coffee-and-whoops-leave-them-on-all-day pants.
Let's call them house pants, because you're only supposed to wear them around the house, but inevitably you take them out on the road. You can sit in them cross-legged as you type on your laptop on the couch! You wear them to bed and get up and go to the gym and then do errands in them! Maybe you throw on a chambray shirt and go meet a friend for drinks, even! They are loose-fitting but also, somehow, supportive; they cling but give, like a pair of Spanx, or perhaps they wrap you in a gentle swath like the mother you long for. They range from leggings to actual sweatpants to yoga pants to sort-of-fancy-maybe-pajama-pants to workout gear, and they are all, to my eyes, beautiful — and also necessary: If I didn't have them, I'd probably be wearing a robe around town. Below, my favorites.
You might balk at a pair of sweatpants that run you $100-plus, but let me explain. These are so incredibly comfy, like that favorite pair of sweatpants you wore and washed as a teen until they had that perfect faded color and a texture as soft as a favorite blanket. And then your mom threw them away and you were so mad, but, look, here's your chance to have them again! They're kind of capris, and light enough to be good for all seasons. Save money on blankets and buy these instead.
Note: These vintage styles are sold out, but Sundry has another basic version and a relaxed striped pair.
I got these as a gift a few years ago from family members, and they have been in constant rotation (especially in the colder months) ever since. They're cozy and thick and black-flecked-grey with a drawstring waist featuring a cute ribbon as well as an elastic band, which means they never fall down, and there's a nice, long leg line. J. Crew claims they're "simply too chic to be limited to lounging," which means you might not wear them to the office, exactly, but you could get away with them at the grocery store.
My boyfriend got me a pair of these (Is it a problem I get so many house pants as gifts? No, the answer is no.) In fact, these have been complimented more than any other pants I've owned, house or not. They're stretchy yet structured; they have a long, high waist and are thin enough to sweat comfortably in, but thick enough to offer great coverage. Another pair, please.
Say what you will of Lululemon and the never-ending capitalist yoga conspiracy: Their pants have always been some of my favorites (as long as you don't buy the see-through kind). They offer the highest of waistbands, which means I'm free from wardrobe malfunctions whether I'm doing yoga or falling off my couch. They suck you in and offer give where needed. And there are infinite designs and patterns, so you can really make your house pants shine. I think even my fashion-forward friend would agree.
The Strategist is a new site designed to surface the most useful, expert recommendations for things to buy across the vast e-commerce landscape. Some of our latest conquests include the best notebook, black T-shirts, fashion-editor-approved jeans, toothbrush, and apartment décor. Note that all prices are subject to change.

If you buy something through our links, New York may earn an affiliate commission.