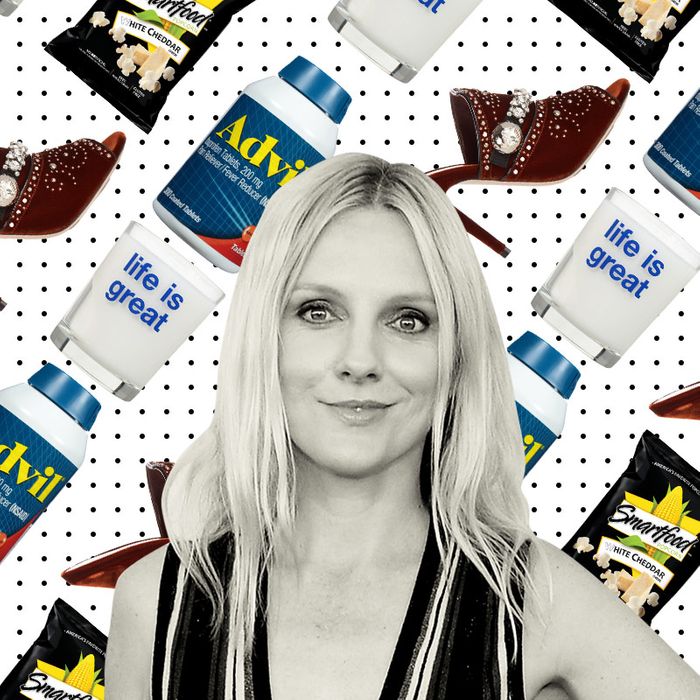 If you're like us, you've probably wondered what famous people add to their carts. Not the JAR brooch and Louis XV chair, but the hand sanitizer and the electric toothbrush. We asked InStyle editor-in-chief Laura Brown which items she can't live without.

I can't sleep. I have an issue turning off my brain, and I find that if I have some sort of white noise, it helps me not to listen to other sounds, like someone upstairs or downstairs or in the yard. I really rely on my white-noise machine to drown out the other sounds. You know how I got the idea, actually? I think it was a hot day, and I had a fan blowing, and I liked the noise and what it did to my head (quiet it). I am "on" all day, and then I get knackered at night but can't sleep, so it's been really helpful. Please make sure you call it my brain trainer.
They're like a warm hug, especially because they're worn in a bit now and make my bed feel like pure luxury. I think I was sent some linen sheets by Calvin once, and I just kept buying them after I got hooked. I used to think sheets were just sheets, but, no, a sheet is not just a sheet. When I have a freshly laundered set of Calvin Klein sheets I feel like I've achieved everything I want in life. They're my "thank God" sheets.
I have an adolescent taste in lots of things. I like slogans very much. I was in Colette a while back and saw a candle that said, "Life is Great" and thankfully it smells delicious because I love the way it looks. I put it in my office and when people walk in, they'll say, "Oh, it smells like a spa. L.B. Spa." I keep ordering them three at a time and keep a constant rotation. What does it smell like? I don't know actually. Gardenia-y maybe? Fresh? I just like it.
This candle is unfortunately no longer available (RIP Colette), but here's another fresh, cheeky candle that'll garner positive attention.
Whenever I get a pair of new shoes, I get really excited because I mostly wear jeans and T-shirts, and shoes are my moment to really kick up the outfit and add a bit extra. I just got this this pair of brown velvet diamante-crystal-covered shoes that are very princess-y. They're shoes I imagine would be worn by Marie Antoinette, though in my imagination if she'd worn these she'd have had a better ending.
I'm Australian, obviously, and even though I've been in the United States for ten years now, I still get homesick. So I've developed a little bit of a marsupial fetish — I have an inflatable kangaroo in the office called Roger and I give little clip-on koalas to people when they've done a good job at work. My girlfriend gave me a pair of these koala slippers, and they're unbelievable. I wear them whenever I'm home. I stick my feet in two little koalas — right into their belly intestines — and I find them soothing in all ways.
These exact slippers are no longer available, but here is another, very similar option.
Ugh, the best. I don't know how they taste so good. It's a snack that's not like crisps, you know, so you feel a little healthier. I try to get the small bags for portion control, and now that it's the new year, I've tried not having as much of them, but that hasn't lasted long. I probably do eat enough to make it equal to a huge bag. It's just cheesy air. I've tried other cheese popcorns and it's either not cheesy enough or too cheesy or leaves too much residue on your fingers. These still leave residue, but not so much. When I eat them, I need to be near a sink.
Living in a New York apartment with no storage and being a fashion lady with lots of clothes, I've always been searching for better storage solutions. I thought I was really chic with these white wooden hangers (no wire hangers!), but they just took up so much space. The stylist Michelle Jank told me about these velvet hangers that are very thin — and in ivory, rather pretty — and they've doubled the space in my closet.
I love Advil. I wrote once on Twitter that I would do ads for Advil and they sent me a whole bunch. Isn't that funny? It was tweet-as-wishing-tree, like I'm Kim Kardashian tweeting that I like Oreos and suddenly a whole truckload turns up. I have a family history of headaches — my dad used to get migraines — and will get them often so it's good to have Advil around. Even when I don't have a headache, I like having them near.
The Strategist is a new site designed to surface the most useful, expert recommendations for things to buy across the vast e-commerce landscape. Some of our latest conquests include the best notebook, black T-shirts, fashion-editor-approved jeans, toothbrush, and apartment décor. Note that all prices are subject to change.

If you buy something through our links, New York may earn an affiliate commission.