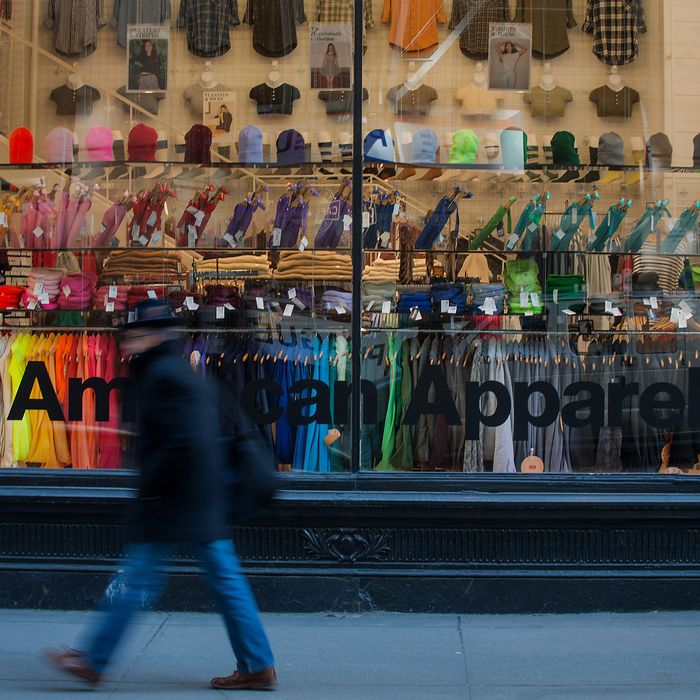 Photo: Craig Warga/Bloomberg via Getty Images
The news that American Apparel is going under hit me hard. American Apparel makes up roughly half my wardrobe and roughly all of what I wear most days. I live in their thigh-high stockings; I recall bad dates when I glance at the tight-fitting, too-short dresses in my closet; every time I see a green AA zip hoodie I am overcome with happy memories of my college roommate. It had been a rough couple of years for the brand — its CEO was ousted, the company twice filed for bankruptcy, and there'd been discussion of outsourcing production a few months ago. And throughout its existence, American Apparel got a lot of flak. But it made beautiful basics, paid fair wages, launched the migrant-rights-focused Legalize LA campaign, and provided thousands of American jobs. And now it's closing its headquarters and stores, and Donald Trump is tweeting nothing about it.
The official exit is said to happen by April (that's when all its physical stores will close; it's unclear what will become of the brand after that). Whatever becomes of the brand, the low stock in stores and online (where all items are 40 percent off) makes it clear that fans like me have been hoarding. So: It's sad, but we must move on. Tight, short dresses are easy to find. But what of the rest of American Apparel's all-stars? We searched for some suitable replacements.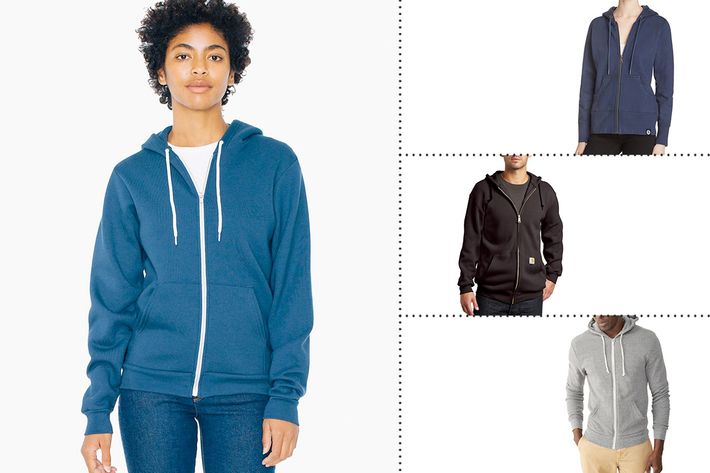 The American Apparel Version: Is there any more iconic item American Apparel made (or anything that screams "college student" more) than the Unisex Flex Fleece Zip Hoodie? I doubt it. First things first: There are a number of hoodies for women and men left.
The Replacements: Most obvious is sustainably minded Alternative Apparel, which sells pretty good hoodies — I've always thought they pill a bit quicker than American Apparel's, but how can you beat the champion? — for a similar price. People are obsessed with that American Giant hoodie (the start-up's attention to detail means the U.S.-made hoodies are well-stitched and sturdy), and though it's $89, it has a lifetime warranty. And American-worker brand Carhartt sells a nice zip-up for men and women (both from $40).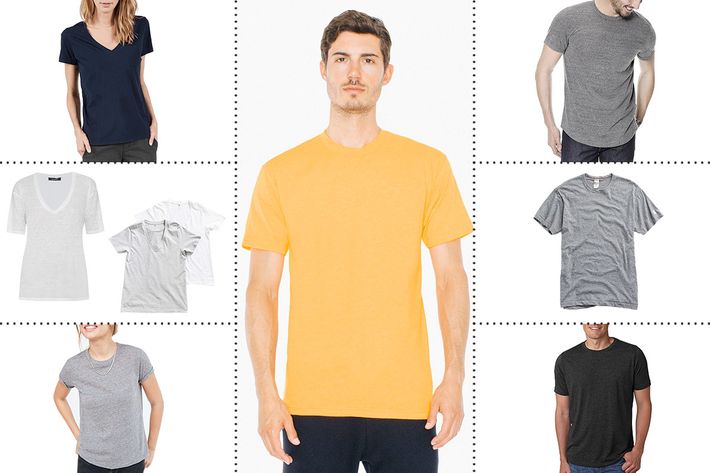 The American Apparel Version: What a product this was! The tees were the kind you'd sleep in, then just not bother to change out of on your way to work the next day. They're also the uniforms of plenty of servers around town at high-casual restaurants. AA isn't sold out yet. There are lots of men's crewneck shirts left in particular.
The Replacements: You should probably size down for the tighter fit you might have gotten with the 50/50 tees, but Everlane offers a comparably priced ($15) V-neck tee in ten different colors. It's super soft (though 100 percent cotton, not a polyester-cotton blend). If you want the poly-cotton feel, you can try Next Level's T-shirts, which often go for under $10 on Amazon, but it's not the way to go if you're looking for manufacturing transparency. In this $20 two-pack of tees, made by Hanes for Urban Outfitters, the grey V-necks are a poly-cotton blend; Urban also has a cute "boy fit" crew neck. And this semi-sheer white V-neck from Isabel Marant is expensive, but currently half off at $110. Men should consider this Todd Snyder slub-cotton T-shirt (which is made in a "family-owned" factory in Canada) and this soft, gray, cotton-blend, rounded-hem Buck Mason tee. (P.S.: The Strategist has looked at men's and women's T-shirts before.)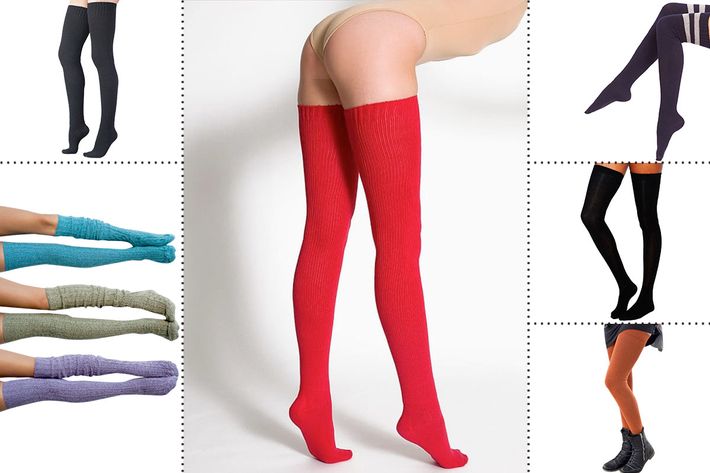 The American Apparel Version: A personal favorite — I've probably owned 30 pairs of AA's warm thigh-highs. They're mostly a cotton blend, plus a little elastane and nylon, and whereas almost every other thigh-high I've tried has meant I'm tugging at them all night, trying to force them to stay up, these truly get the job done. You can still buy a pair — only in red, but worth it. (Also, they are flirty as hell. American Apparel used to sell a T-shirt with Sasha Grey on the front in nothing but these stockings, and I lost the shirt, and that's now high on my regret list.)
The Replacements: Here's a U.S.-made pair I'm going to start trying, from SockDreams. They have a similar textile makeup and length as AA's. ASOS sells a cute pair for under $10. At Saks there are "sporty" socks from Ilux that look like those AA ones with a stripe at the thigh; Ilux also offers a solid-black cashmere-silk-nylon blend (currently on sale). And this Seattle-based Etsy sock shop sells cable-knit thigh-highs that look a lot like American Apparel's.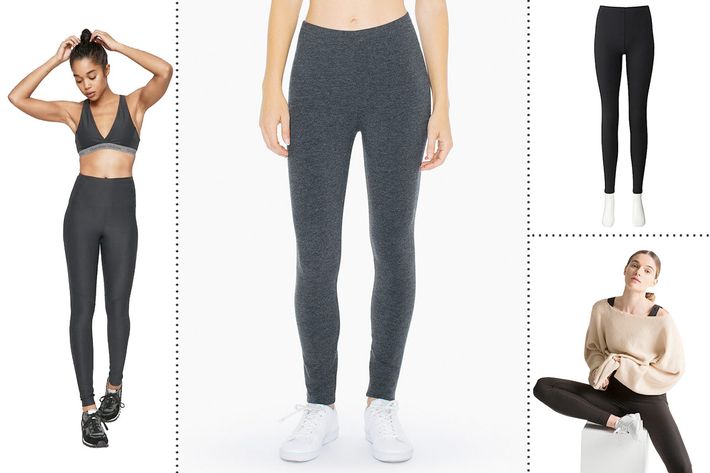 The American Apparel Version: Okay: So, American Apparel's normal leggings were kind of bullshit. They tore at the seams pretty quickly, they weren't really warm, they didn't provide any support. But the winter ones were beautiful — thick and warm, never tore once after hundreds of wears, easy to wash, didn't fade.
The Replacements: A close friend swears by the Seattle-based, Vietnam-made Girlfriend Collective leggings, which you can currently buy for just the cost of shipping; the company says its marketing budget is devoted to giving out sample leggings for that price. The leggings are comfortable, warm, and make your butt look great; plus they're made from recycled water bottles. (P.S. The company is SA8000-certified.) Also good are the Outdoor Voices Hi-Rise Warmup Leggings. They're more expensive, at $95, but they have a hidden pocket, and you'll be following in the footsteps of the fashion set. And Uniqlo has a $20 pair of Heattech leggings that likely won't be as supportive, but are thin and light and warm. (I wear the unlined Heattech leggings with a "waist warmer" as if they're tights, but they're a touch see-through on their own and provide about the same amount of warmth that average tights do.)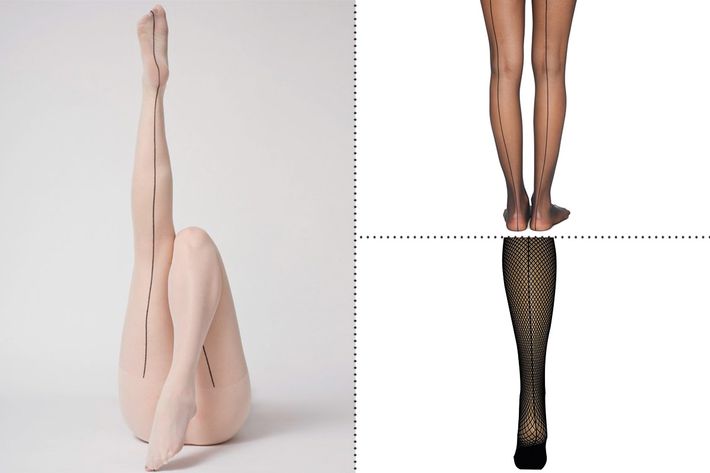 The American Apparel Version: These were the star of many a super-sexualized, highly criticized advertisement. (American Apparel was bad sometimes.) But wearing them made you feel so, so good — and they were affordable, around $20.
The Replacements: Wolford has a pair that are softer and smoother and just as flattering, if quite a lot more expensive, at $57; the dance company Capezio sells pretty seamed fishnets for $21.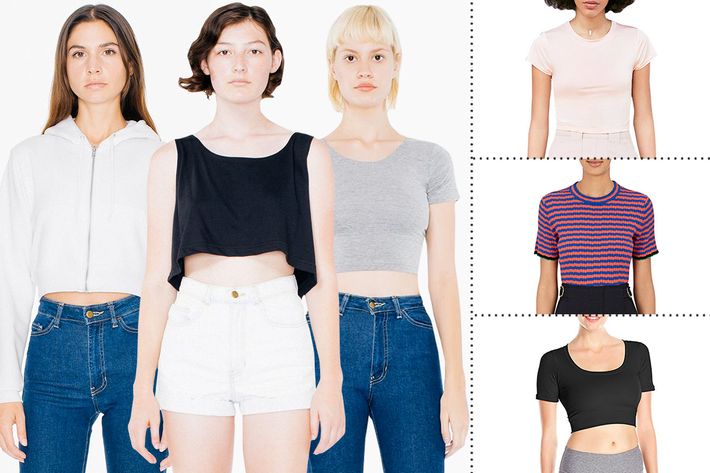 The American Apparel Version: What will summer be without AA's megacollection of tiny crop tops? The variety! The cotton-spandex tee crops, the long-sleeved crop tops, the loose-fitting crops (great for sleeping in), the crop-top hoodies. (To what kind of event does one wear a crop-top hoodie? Who knows, but we should mourn it anyway.)
The Replacements: Urban Outfitters has some nice ones ($34). Barneys sells what, at $450, we could call an investment crop top, made of silk and cashmere, from Proenza Schouler. Like with many American Apparel items, dancewear companies offer similar styles, like these short-sleeved Capezio crops.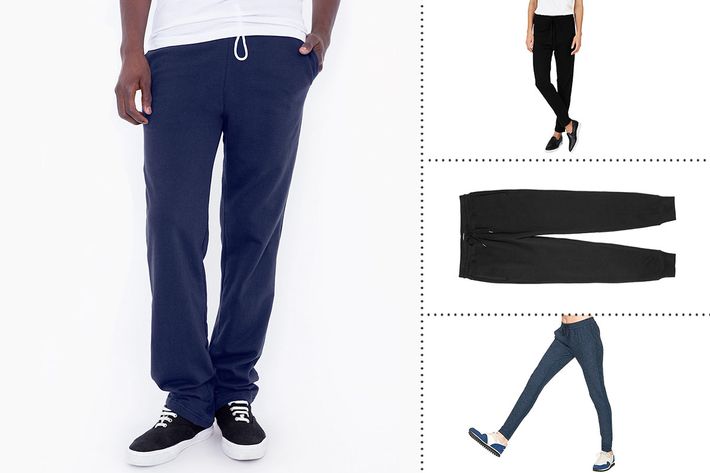 The American Apparel Version: AA's California Fleece Slim Fit sweatpants have legions of fans. They're soft and then they get better with every wash and wear. (And lest you think the brand was popular with only NYU students: My Missourian mother quickly ordered five pairs of these sweats, for wearing around the house, when she heard the brand was shutting down.)
The Replacements: If you can stomach spending $140 on sweats, Everlane's cashmere pants for women are absurdly soft and comfortable. And if you can't stomach that, the brand also has a $58 cotton-poly terry-fleece pair. And the Strategist has recommended sweatpants before, from Outdoor Voices.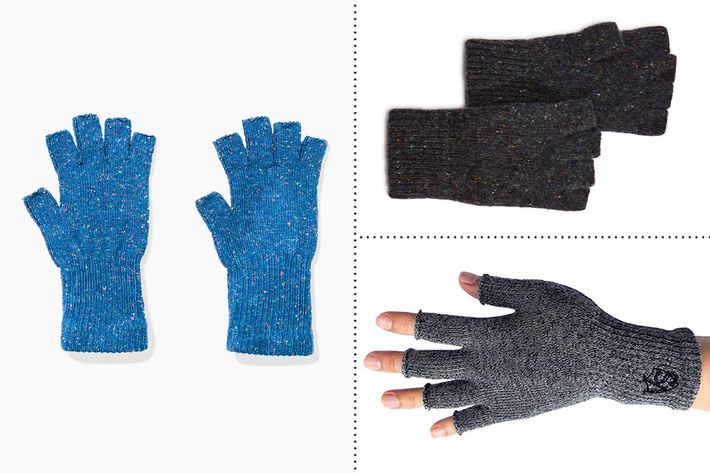 The American Apparel Version: You know how those gloves that supposedly work with your iPhone totally do not work at all? American Apparel's fingerless gloves (only blue ones are left) solved that. And at $12, it wasn't that big of a deal when you inevitably lost a glove.
The Replacements: Bloomingdale's has some wool-nylon ones from the men's store; at $44 they're pricier, but most of AA's gloves were acrylic. A brand called Vital Salveo sells a gray pair that extend over the wrist like short arm warmers, like AA's did, and are similarly priced at $14.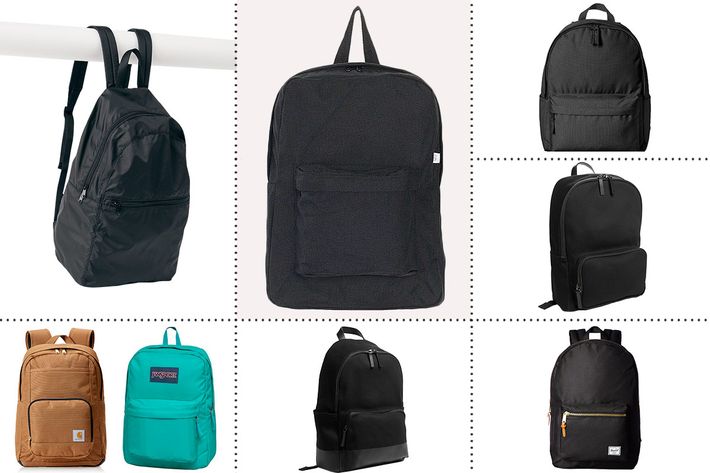 The American Apparel Version: The store's backpacks had a huge fan base, who loved the cotton-canvas, nylon Cordura, and denim bags, which came in plenty of colors and patterns.
The Replacements: Amazon's Basics line has an excellent simple offering that's only $17. Everlane sells a black-colored cotton-twill backpack ($80) that'll fit your laptop and is reinforced on the bottom, so you can feel more comfortable placing it on the ground; Everlane also offers a smaller classic bag ($58). An obvious answer is a Herschel bag, which is similarly simple and comes in plenty of colors (from $42). Baggu makes a machine-washable light nylon bag in black ($32) and a few fun patterns. Carhartt — which, like AA did, has its factories in the United States — sells a "Legacy Classic Work Pack" in Carhartt brown for $42. It'll fit your laptop and it's water-repellent. Finally, don't knock the Jansport Classic Superbreak bag; this teal one is just $29.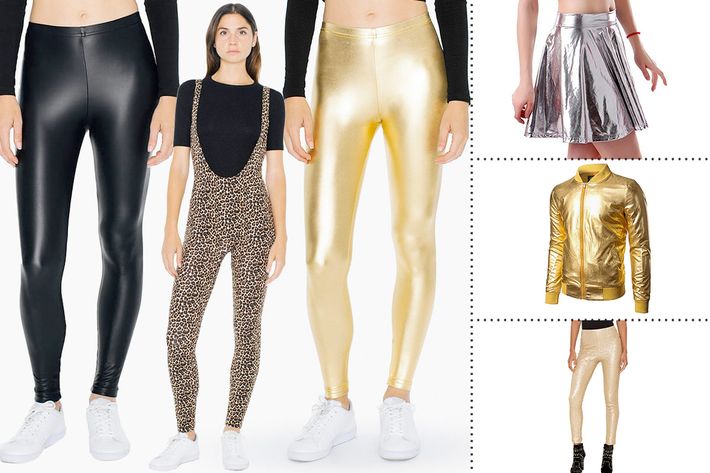 The American Apparel Version: Let me tell you, do these ever come in handy after everyone's had five cocktails at a house party. Suggestion: Buy anything weird at American Apparel that's left, like this odd leopard-print "suspender catsuit" thing ($12 after the discount code, "take40") and, of course, the shiny lamé leggings (still available in a few sizes!). Just do it. Add them to your cart now. Anyway, to be honest, should we even celebrate Halloween or wear costumes anymore if American Apparel doesn't exist? I guess we have to, so …
The Replacements: Amazon sells these crazy "wet look" skater-flare skirts (from $7), and Nasty Gal sells things like these currently-on-sale sequined gold leggings ($41). For men there's gold bomber jackets on Amazon ($37).
The Strategist is a new site designed to surface the most useful, expert recommendations for things to buy across the vast e-commerce landscape. Some of our latest conquests include the best notebook, black T-shirts, fashion-editor-approved jeans, toothbrush, and apartment décor. Note that all prices are subject to change.

If you buy something through our links, New York may earn an affiliate commission.