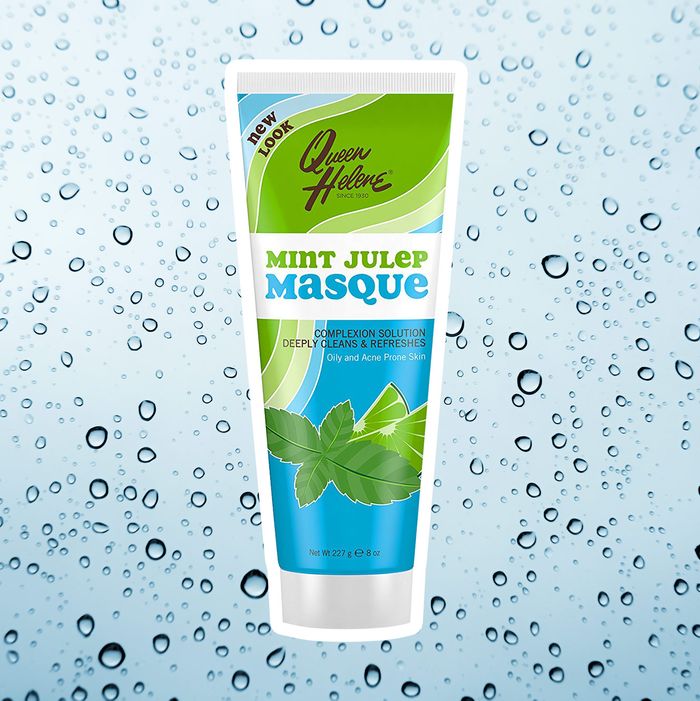 Photo: Sebastian Kopp/EyeEm/Getty Images
As a pimply preteen, I constantly perused my local drugstore's aisles for any cheap, over-the-counter magic that could clear my acne overnight. Most were crocks of shit. But one tube stood out with its bright-green packaging: Queen Helene's Mint Julep Masque. I opened the cap (because of course it was all about how it smelled) and fell instantly in love — it was a fresh mint, not too harsh or mouthwash-like.
Made with kaolin clay, the mask was meant to be smoothed all over the face, at which point it would harden and supposedly dry out pimples. Hesitant, I used it as a spot treatment first: A blaring red zit would shrink to a tiny scab overnight. Whenever I felt a bastard popping up, I'd put a little Mint Julep's green goop on it and it wouldn't even begin to sprout. After going off to college and leaving my neighborhood drugstore behind, I forgot all about Queen Helene until I ran into her again at another drugstore. I bought another tube to use on my pimples and even wondered what would happen if I actually did use it all over my face. I found that — as it says right on the $6 green tube (now you can buy two online for $12 so why wouldn't you?) — it really did smooth my skin and remove pesky zit-causing impurities. I even started wearing it as a face mask as I slept, leaving green flecks all over my pillow in the morning (you're really not supposed to leave it on overnight, but I was devoted).
By now, I've used this product on and off for about 15 years. Sure, it clears up a zit, but no expensive face mask has ever worked as well at refreshing my skin either. There's a tightening sensation you feel as the clay mask dries that I swear tightens my face even after I've rinsed it off. I hesitate to even tell you about it, because Queen Helene could triple its price and I'd still buy it.
This first caught my attention thanks to an old Goop newsletter. And yes, Gwyneth Paltrow was right. A313, formerly known as Avibon, is a low-percentage vitamin-A cream. The amount of vitamin A is low enough so that it doesn't cause the flakiness of typical Retin-A creams, but strong enough that you'll notice a difference. I've used it successfully as a blemish treatment, dotting it on oncoming zits to find them completely gone the next morning. Note: The texture feels like a gluey Vaseline, so be sure to rub it between your hands to spread it evenly over the skin. And people who are allergic to wool, beware: it does contain lanolin.

— Kathleen Hou, senior beauty editor, the Cut
Photo: Cupidrop
These pimple patches from Korea are round, clear, and available in three sizes — from the size of a pea to a dime. Each patch holds a tiny amount of salicylic acid to penetrate zits and reduce their size, and the hydrocolloid in the stickers is recognized by the Korean Drug and Safety Department as a wound protectant, meaning it reduces the chances of scarring and irritation. The instructions are straightforward: Peel off a sticker, place it over clean skin (save the serums and moisturizer for later), and wait for your blemish to shrink.
I tried the patches on a few medium-size blemishes for several nights in a row. Though I slapped on a serum and night cream before I went to sleep, the stickers didn't migrate, holding steady over my zits until the sun rose. Each morning revealed smaller and smaller zits until they fully disappeared on the third day. Sometimes I scar after a breakout, but the stickers protected from my skin from irritating bacteria, keeping it totally calm. By design, the salicylic-acid patches won't dry skin like traditional benzoyl-peroxide treatments, but they also have the benefit of a targeted approach, attacking zits directly without disturbing the rest of your face.

— Ashley Weatherford, associate beauty editor, the Cut
The Strategist is a new site designed to surface the most useful, expert recommendations for things to buy across the vast e-commerce landscape. Some of our latest conquests include the best notebook, black T-shirts, fashion-editor-approved jeans, toothbrush, and apartment décor. Note that all prices are subject to change.

If you buy something through our links, New York may earn an affiliate commission.