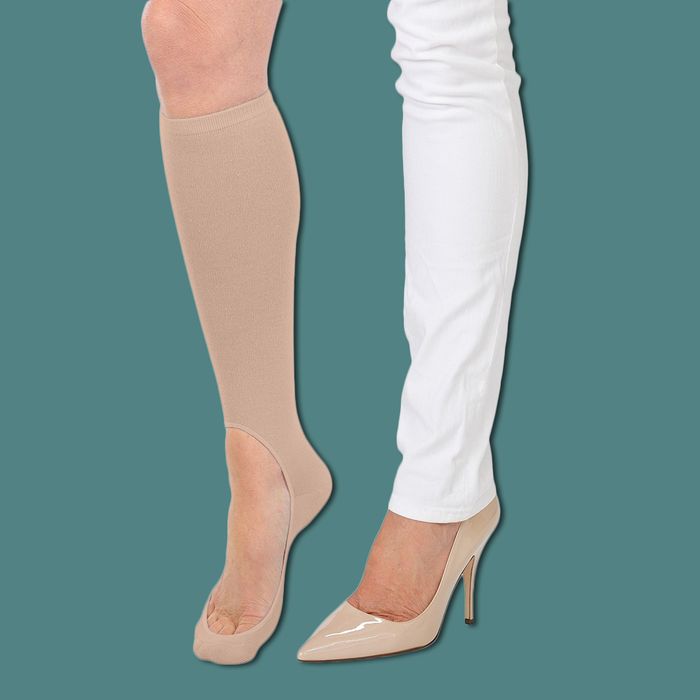 Unlike regular no-show socks, these actually stay up.
You've likely never considered how bad famous feet can smell at the end of a long day of filming, but as a costume designer working in Hollywood, I'm a little too familiar with this particular stench. It's not just male actors who suffer from foot funk — more often than not, it's the ladies with bare feet in pumps or flats whose shoes are the worst offenders. Pantyhose helps — but doesn't eradicate the problem entirely.
That's where Keysocks — knee-high no-show socks — come in. Kind of like a pair of Peds on steroids, they're meant to cover your toes, foot bottom, heels, and calves while still leaving the top of your foot and ankle exposed. This means you can wear them under jeans or pants with high heels, moccasins, oxfords, ballet flats, or even Toms (seriously, have you gotten a whiff of your Toms lately?), and absolutely nobody will be the wiser. Not only are sweat and odor cut in half (Keysocks are made with 80 percent Coolmax Polyester, a moisture-wicking technical fabric invented by DuPont), but your toes also stay toasty when you're wearing ankle-baring jeans in the winter.
For me, Keysocks come in handy because I loathe the sensation of bare feet in shoes (plus, the very minute leather touches my heel, a blister spontaneously begins to form), and regular no-show socks are forever sliding off the heel and winding up scrunched beneath my toes. Since Keysocks are anchored around the calves, they stay put no matter what — and I can easily adjust the hole to suit my personal amount of toe cleavage.
Available in multiple weights for winter, spring, summer, or fall wear, Keysocks have made a big dent in the amount of foot sweat I deal with on set. They also come in wide-calf widths, so twig legs and power calves alike can enjoy warm, dry, and totally stink-free feet.
The Strategist is a new site designed to surface the most useful, expert recommendations for things to buy across the vast e-commerce landscape. Some of our latest conquests include the best notebook, black T-shirts, fashion-editor-approved jeans, toothbrush, and apartment décor. Note that all prices are subject to change.

If you buy something through our links, New York may earn an affiliate commission.