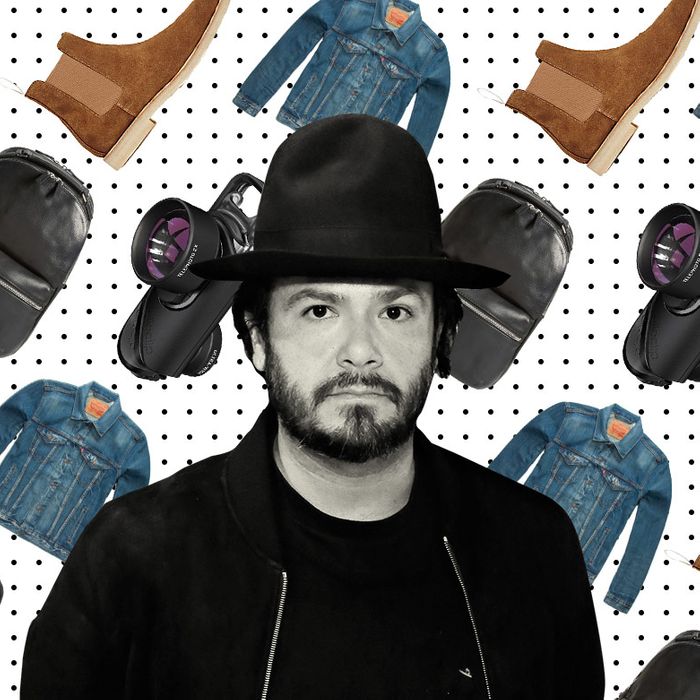 If you're like us, you've probably wondered what famous people add to their carts. Not the JAR brooch and Louis XV chair, but the ground coffee and the bathroom rug. We asked Carlos Quirarte, co-owner of The Smile, Le Turtle, and the newly opened OTL in Miami, which items he can't live without.
A lot of times I feel like I'm probably stoned and shouldn't be shopping online because I'll just see something and think, "That looks cool!" This was one of those purchases that worked out. I bought the first one of these Olloclips two or three iPhones ago, and I made everyone in my life walk toward the camera like it was a Beastie Boys video. Everything gets captured in it and looks like a party no matter what you're doing. I've gotten new ones for every new phone.
A friend of mine who was a sound artist and also a Japanese incense dealer (which sounds like he sells drugs) would come over to sell all these different kinds of incense. Of all of them, this one stuck in my head because I realized it's the same exact one that they use in the R by 45rpm store. I smelled it and said, "Oh my god." I literally can't live without this stuff. I travel with it. It's how my apartment smells. I use a little incense holder that I've probably had since Reggae Fest 1985 in San Francisco.
My go-to bag for a boys' trip. So this is a dry bag (which is a military-style bag that's meant to float in water if you drop it into the ocean or something) that I became obsessed with. If you're walking with it, it looks like you're ex-military and you feel super tough. It's also practically indestructible. Actually, if you do manage to ruin it, it has a lifetime guarantee, so you're fine.
Unfortunately this black version is sold out, but here is a great green option.
The most comfortable boots I own. When I first put them on, I thought they were too crispy — if you get them, don't worry about that. They break in. Now, they're like wearing slippers. They're actually one of the only pairs of shoes I've been stopped about, on flights or on the street, by people asking, "What are those?" As they've worn in, they have gotten nicer and nicer. They kind of have the profile of a nice cowboy boot, but they won't fuck up your back.
So the two jackets I probably wear most often are this Adam Kimmel x Carhartt jacket from a few years back and layered underneath, this Levi's denim jacket. Actually, I wear the denim jacket layered under everything. I've had it forever. The whole collar's torn up. The seams are coming off and undone. I would have to go to an actual denim-repair shop to get it fixed rather than just any old tailor. I actually have a handful of these denim jackets but I always go back to the same one because even within the same brand the fit is different. This one is just perfect. The new ones aren't quite the same, but who knows, you might get lucky.
When I want to look like a boss, this is the backpack I'll use. A lot of times when you go to a fancy hotel, a tough or casual backpack doesn't look as nice, you know? When you do fancier stuff, it's better to have something more well-made. This is embarrassing, but I am a shopper and have become obsessive over things — I had a collection of 300 jackets that I purged and was amassing a huge bag collection that I also culled. After getting rid of all those bags, this was one I kept. It's just the best.
The Strategist is a new site designed to surface the most useful, expert recommendations for things to buy across the vast e-commerce landscape. Some of our latest conquests include the best notebook, black T-shirts, fashion-editor-approved jeans, toothbrush, and apartment décor. Note that all prices are subject to change.

If you buy something through our links, New York may earn an affiliate commission.