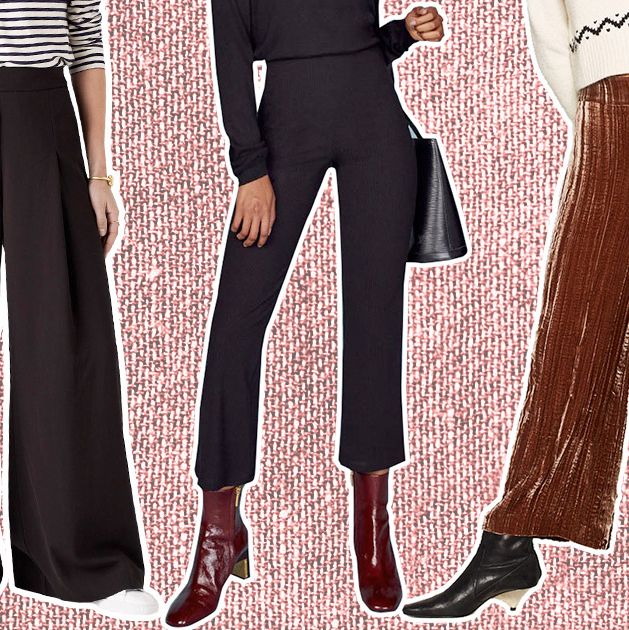 The pants I seek are slightly high-waisted, obscenely soft, unstudied and yet cerebral.
Welcome to Pants Week, where the Strategist will be tackling all things pants-related (given that you'll be wearing them pretty consistently from now through spring). Throughout the week we'll be surfacing everything from the best jeans for men and women, to the best lounge-about-the-house-pants, to the best work-appropriate trousers.
To date, I own nine pairs. To be clear, I'm not the least bit interested in joggers. I'm talking about proper trousers. I care only for pants not designed to go from gym to office and back again. I'm no athlete. I don't want to pretend to be sportier than I am. Our national obsession with perfecting our bodies bores me to death.
Two reasons I obsess. 1) These pants don't broadcast a yoga or spin-class lifestyle. 2) These are pants that represent adulthood, as opposed to the starved waif-child/jegging aesthetic we've been mired in. Pants that call to mind Greta Garbo, Yoko Ono, Diana Ross, Lauren Bacall, and, on some level, I suppose, Hillary Clinton. Late at night, hunched into the glow of my laptop, I log long hours, toggling from Rachel Comey to Madewell to Eileen Fisher to Everlane to Steven Alan, combing product descriptions and zooming into waistlines on the hunt for the ideal pant, elegant and elasticized. The pants I seek are slightly high-waisted, obscenely soft, unstudied and yet cerebral, and are cut to draw attention to the ankles. Such a buttonless pant is both comfortable and connotes a subtle sensuality more perverse, confident and interesting than the attention most jeans pay to butts.
It started about a year ago, with two new blue pairs I splurged on around the time I began undergoing fertility treatment. "Listen," a friend who'd grappled with infertility prior to a recent pregnancy advised over the phone, "You have to go into warrior mode. Visualize your goal at all times. Power through the rest." A week later, I bought my first pair—slinky, satin, inky blue Piamitas. (Asos now makes a similar pair.)
One year and seven black pull-on pants later, the pair that ranks highest in my wardrobe rotation are pleated Black Cranes that hew close to the calf. According to their designers, Alexander Yamaguchi and Momoko Suzuki, the Black Cranes are inspired by Japanese civilization, focusing on a silhouette that complements supple lines and comfort. They are such a muted shade of black and are woven so thin, I sometimes feel, stepping into the Black Cranes, as though as I'm putting on my own shadow.
Only recently, it hit me: I'm not alone. Suddenly, pull-on pants are everywhere. Before, I scoured retail sites to find the kind of pants I had in mind. Now, I sift through overwhelming options. Different brands call them different things. Zara calls them "palazzos" or "culottes" and I've got a hankering for their mink velvet culottes. Reformation, in light of their Joss Pant, suggests: "If you have to wear pants, wear pants that feel like pajamas." Uniqlo launched a whole line of elasticized pants with a "dressy touch" this fall under the moniker "Smart Style."
Comfort alone does not suffice. Only when the pull-on pant manages to elevate nearly every piece paired with it does it transcend the sweatpant. I have worn Madewell's Caldwell trousers with oversized sweaters and giant earrings. I have worn them with a plain white tee, tucked, and chunky heels. I have worn them with a slouchy blazer and Puma sneakers across days full of doctors' appointments and work meetings that seemed to never end, and I have worn them with a slinky blouse on impromptu dates with my husband. Whether maximally layered or minimally paired, the overall aesthetic these pants embody is unstudied. After a decade of jeans that vacillate between skinny and boyfriend (as if those two words dictate every fashion choice a woman makes) it's a relief to pull on a pant that goes with everything and quietly accentuates the body within, rather than putting it on display. In this way, the pull-on pant is the antidote to bodycon: body un-self-conscious.
Note: These are sold out, but H&M carries a pair of wide-cut satin pants in black and blue-gray here.
Note: These are sold out, but Black Crane's Carpenter Pants, Crinkle Pants, and Burlap Pants are all slouchy, pull-on perfection.
Note: These are out of stock, but Madewell has a pair of velvet pull-on pants that would look great.
Note: These are sold out, but here is a pair of Harem Pants in jersey from ASOS and another slouchy pair by Eileen Fisher here.
Note: These are sold out, but here is a similar relaxed pair by 3.1 Phillip Lim.
Note: Both of these Eileen Fisher options are sold out, but this pair is slinky and silky.
Note: These are sold out, but here's a similar pair: the Dual Canvas Pant.
Note: These are sold out, but here is a pair of velvet culottes with a frill hem.
The Strategist is a new site designed to surface the most useful, expert recommendations for things to buy across the vast e-commerce landscape. Some of our latest conquests include the best notebook, black T-shirts, fashion-editor-approved jeans, toothbrush, and apartment décor. Note that all prices are subject to change.

If you buy something through our links, New York may earn an affiliate commission.