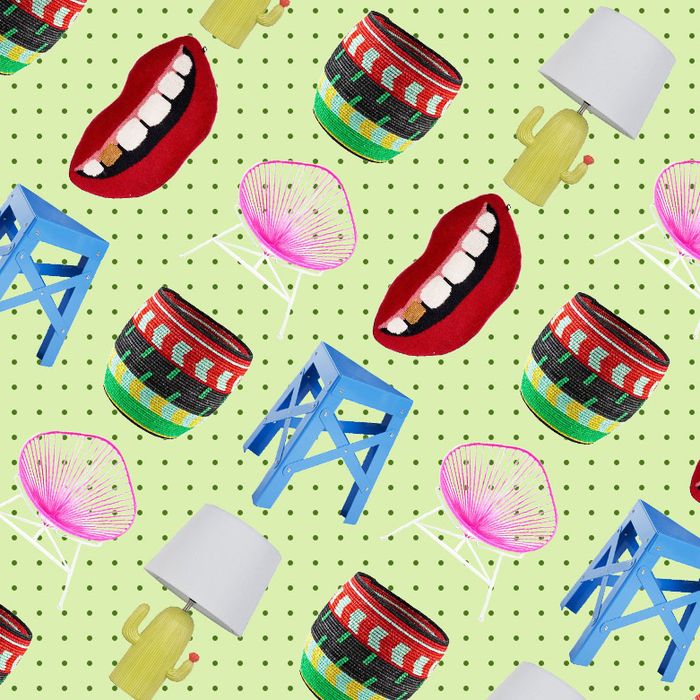 It's come to our attention that when shopping online for home décor and furniture, it's always a good idea to check out the kids' section. Not only are the offerings sometimes surprisingly super chic, they also often have some key advantages over their adult counterparts: color (delightful pops of it), size (slimmer profiles that work well in small spaces such as a New York City apartment), and price (sometimes just cheaper, for taxonomical reasons only). Here's a roundup of some of the best stuff for kiddos that you'll want for yourself.
Floor bins and baskets are not just for toys — these vibrant, handwoven vessels are perfect for throws or shoes or anything else you need off the floor.
Note: This green and black version is sold out, but Land of Nod makes a purple and blue version and it's currently 35 percent off.
This one from French kids' line Deuz is also quite wonderful.
Note: There are only a few left of the dotty design, but Deuz has more baskets with hearts, large dots, swallows, and yellow lemon-like shapes, too.
Is it crazy to cozy up on the couch with a Burberry baby blanket? Maybe, but it's a hell of a lot cheaper than its adult counterpart, and not that much smaller. (This Gucci baby blanket would make a nice/ridiculous throw, too.)
A very traditional-looking, hand-tufted black-and-white geometric wool rug gets a playful, stylish bump from just a few well-placed pops of pale pink.
Note: This is no longer available, but the Ryder Diamond Rug and Emily & Meritt Ta Da Rug are very similar.
There's nothing traditional about these '70s-inspired rugs, designed for Land of Nod by the Kansas City–based studio Ampersand Design, but they're fun and cheerful, and abstract enough to be versatile.
Note: This is no longer available, but here's another option that has those elements of fun and abstract versatility.
This minty metal desk is sleek and stylish, plus perfectly sized for making a work space in a bedroom or living room.
You could pair the desk with a handsome stool from the Rotterdam-based design studio Rafa Kids, which doubles as a nightstand or end table. (It comes in white, too.)
Frankly, this pillow is sort of a weird choice for a child, but could look very cool on a design-forward adult's living-room couch or bed.