Photo: Molly Young
Friction is not enjoyable in any form. Emotional friction? Stressful. Sexual friction? Fun for a minute, and then exhausting. The friction of cracked, winter-parched skin against clothing? Repulsive! Truly the sensory equivalent of nails on a chalkboard.
Like many people, my hands get terribly dry in winter. Also like many people, I work at a computer, which means I am looking at my dry hands all day. Finding an adequate hand lotion is not easy. Some formulas contain glycerin, which results in a patent-leather skin texture that is more "slicked" than "moisturized". Others are oppressively scented — too floral, too medicinal — or too expensive. Some contain SPF (don't need it; I'm indoors all day!). Others require reapplication every 20 minutes, and nobody wants to be the person in the office who is constantly reapplying hand cream. (A close relative of the person who listens to music too loudly through her headphones.)
My hand-moisturizing solution is this oil in a spray bottle designed for pregnant women. I scrub the label off with hot water and a sponge (takes two minutes) in order to avoid having to deny being pregnant to my co-workers, and also because the design aesthetic is unacceptable. Half a spray on my hands lasts all afternoon, and the smell is faint. I rub it into my cuticles too. I even use it as lip balm, spritzing on the back of my hand and then furtively kissing the spritz. This is a multi-use product. If nobody's looking, a quick little arm massage can even be achieved.
The spray bottle somehow makes this product more appropriate for the office than, for example, a pump-top container of massage oil. There's nothing sensual about a spray bottle.
Something to note about the Palmer's Cocoa Butter Formula Soothing Oil is that it is, in fact, oily. Not greasy; just rich and plumping. The key is to let it soak in adequately before playing with your phone or typing on a laptop, in order to avoid leaving fingerprints. This is not a moisturizing agent to use on careless summer days. It is the big guns, and it will protect your appendages from harsh conditions.
I wouldn't necessarily recommend looking at the ingredients. Just understand that it works, and that a $7 bottle lasts all season.
Palmer's Cocoa Butter Formula Soothing Oil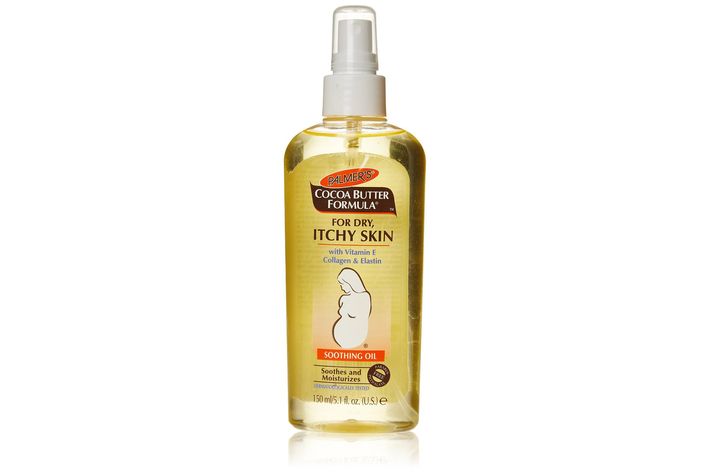 The Strategist is a new site designed to surface the most useful, expert recommendations for things to buy across the vast e-commerce landscape. Some of our latest conquests include the best notebook, black T-shirts, fashion-editor-approved jeans, toothbrush, and apartment décor. Note that all prices are subject to change.

If you buy something through our links, New York may earn an affiliate commission.