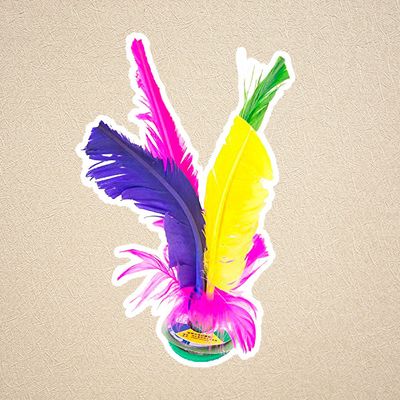 Easy to travel with and even easier to master.
Photo: Russ Aquarius/Getty Images/iStockphoto
Mallrats have always made Hacky Sack look so easy it's practically boring to watch. But even those born with sporty enthusiasm can find it difficult to sustain a long game. In search of something easier to play for extended periods (especially with less sure-footed partners), I found the jianzi, a Chinese feathered device dating back to the second century B.C. Back in high school, my younger brother brought one home from school after a favored teacher who'd recently returned from China bestowed it on him. We would kick it around in the living room when we didn't feel like doing homework. With four feathers, typically dyed bright colors, affixed to a plastic or rubber base, it looks almost like a badminton shuttlecock, but instead of hitting it around with racquets, you're meant to keep it in the air by kicking it like a Hacky Sack.
The feathers provide resistance and slow the jianzi's fall, making it easier for younger players to anticipate its landing. But it's not just a low-skill game for kids; the lightness of the jianzi can give those with excellent hand-eye coordination the opportunity to develop tricks (check this guy showing off with his knees and tops of his feet).

The jianzi, which goes by different names all over Asia, has become a permanent travel companion for me. Cheap, low-impact, and straightforward, it's easy to take with me anywhere. The only tricky part is finding a way to store it. A jianzi is hard to break, but bending the feathers will ruin it. Tuck it in an empty tennis-ball container or the water-bottle pocket on most backpacks. You'll have something to do when the flight home is delayed yet again.
The Strategist is a new site designed to surface the most useful, expert recommendations for things to buy across the vast e-commerce landscape. Some of our latest conquests include the best notebook, black T-shirts, fashion-editor-approved jeans, toothbrush, and apartment décor. Note that all prices are subject to change.

If you buy something through our links, New York may earn an affiliate commission.