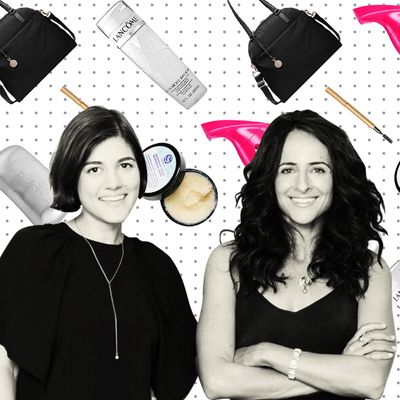 Erica Cerulo (left) and Claire Mazur founded Of a Kind in 2010.
Photo: courtesy of retailers
If you're like us, you've probably wondered what famous people add to their carts. Not the JAR brooch and Louis XV chair, but the hand sanitizer and the electric toothbrush. We asked Claire Mazur and Erica Cerulo, co-founders of website Of a Kind, which items they can't live without. (In its way, the site is all about the things they can't live without, so you'll find much of it there, and on their parent site Bed Bath & Beyond.)
"You might recognize her from the Jennifer Lawrence blockbuster, but Joy Mangano made her name inventing all these household items [editors' note: Including Huggable Hangers]. This is her mini-steamer that packs in your luggage. I don't use an iron anymore because of it. It's really easy to get started and doesn't require an ironing board, which is obviously annoying in a small New York apartment. In fact, whenever Erica and I travel, we always have to confirm who's bringing the mini-steamer. It's so easy, so quick, and really works."
"So I randomly discovered this at some shop in Brooklyn. I have tried so many lip balms that don't work (I don't know why it's so hard). Most of them just sit on top of your lips and don't absorb, but I decided to try this one and fell in love with it. I then, of course, lost it in the back of a cab and immediately went back to the store — and they were sold out! I couldn't find it online either. So we took it into our own hands and figured out a way to sell it ourselves. I don't even know how to describe how good it is. It's silky, smooth, and absorbs really quickly. And we can't keep it in stock."
"This stuff is amazing. It's an all-natural cleaning spray for counters, and you use it in the kitchen and bathroom. My apartment is so small that anything you spray on the counters gets sprayed on the fruit bowl and utensils, so it's important that it's not, like, poison. It also just smells phenomenal. It's got this citrus scent because of the neroli, and it doesn't even smell like a cleaner. It's more like a candle or room spray. We use it in the office, and whenever someone comes in, they're like, 'What is that?'"
"This is something I think French women have been using forever, but has only recently started taking hold in the U.S. It's a cleansing water for taking off your makeup, which you put on a cotton pad and use to wipe your face. One of the things that's impossible for me are those presoaked cleansing wipes. I feel like they always leave my face gross, and just don't work. But this water leaves my face soft and clean. Most days, I get home and I'm tired, and I never want to wash my face off at the end of the day, but I always remember to use this. I don't know how I turned into that person — you know, people who never exercise and then start, and it's such a fundamental personality shift? That's how I feel about what I've turned into. It has to be the Lancôme. I know there's the Bioderma that people like, but this is better."
"Two alums of Warby Parker started this brand [editors' note: We've written about it], and one of the founders is one of the most well-traveled people I know. She created the perfect suitcase. It has the phone charger, which is clutch, as anyone who's on the floor of the airport knows. For me, though, the wheels are the most important part. They are so much easier to roll. Unlike regular suitcases that you have to drag, the bearings on this are so much better. Usually, I get the worst shoulder tension from dragging a suitcase (it always leads to migraines), but this makes it so easy."
"I don't just like this deodorant. I'm obsessed with it [editors' note: We've written about this, too]. I was on the hunt for a natural deodorant for a while. I'd read about the aluminum in antiperspirant, and I did want to stay away from it, but I tried a bunch of natural deodorants that never really worked. There was one I tried one summer that was ineffective to the point that I was reapplying on the street with Claire, right after a meeting. This deodorant isn't an antiperspirant, but it has clay in it that soaks up sweat in a different way. When I started using it, I felt transformed. I had email exchanges with people about it. I remember Edith Zimmerman wrote about it, and I felt close to her. It sells like hotcakes for us."
"These things are awesome. I guess EVA is a molded-acetate thing, so they just really conform. They weigh under a pound, and are so light that I bring them in all my carry-ons. I've actually been on trips where I've made so many people lift these shoes just to see how light they are. They're great for girls and guys. I just wore them on a trip in Palm Springs. They're great house shoes. In fact, I should probably get an indoor and outdoor pair just to keep the functions separate."
"I had never really done much to my brows because I didn't feel like I needed it. But this pencil totally changed that. So on one end is the pencil, which is angled (that makes such a difference). And the other end holds the brush, which you use to blend. So you define it with the perfect pencil and blend it with the other side, and it transforms your face. In fact, one of our friends told Claire and me that she had nicknames for us — Claire was 'Hair' and I was 'Brows.'"
"Oh my gosh. This thing. So I don't understand people who cook a lot and don't have this thing. I hate how after you cook with garlic or onions, your hands will smell like them for 36 hours. Even if you use soap, your hands will still smell. It drives me crazy. But this is just a solid stainless-steel bar, and apparently stainless steel has odor-absorbing qualities. You rub it with your hands (you don't even need soap, but I use soap, because I think not using soap is a little weird), and it absorbs all the nasty smells. And it never goes bad. It never gets old. You just keep it there by the kitchen sink, and it does its job forever."
"This is an awesome travel bag created by two brothers who started their business with their mom, which I think is adorable. I've had this bag for almost seven years, and it's completely held up. I use it as a carry-on bag when I fly — it has a sleeve for a laptop and an interior pocket for a book or Kindle, plus an interior pocket on the side for shoes or a wallet. It's just really genius and well-done, but also simple and not crazy statement-making. I recommend it to anyone who travels."
The Strategist is a new site designed to surface the most useful, expert recommendations for things to buy across the vast e-commerce landscape. Some of our latest conquests include the best notebook, black T-shirts, fashion-editor-approved jeans, toothbrush, and apartment décor. Note that all prices are subject to change.

If you buy something through our links, New York may earn an affiliate commission.