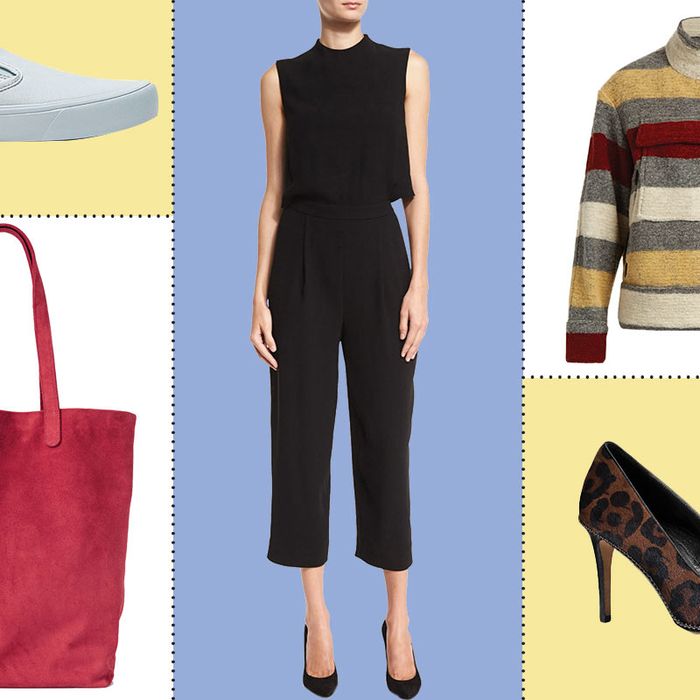 This week, we sniffed around the sales-scape and found you a perfect pair of pastel Vans, a 72 percent off weekender, and an everyday tote from Barneys.
These "dawn blue" slip-on Vans are very Common Projects-y, but at a fraction of the price.
Original Price: $55
A kicky pop-over jumpsuit from DVF.
Original Price: $428
If you plan on doing a lot of "hiking" this spring (or just want a cute, new backpack).
Original Price: $99
This billowy (but not too billowy) Rachel Comey blouse has buttons down the back.
Some simple(-ish), strappy sandals from Vince.
Original Price: $350
A 72 percent off John Varvatos canvas-and-leather weekend bag. (For more weekend bags we like, click here.)
Original Price: $450
Sometimes, leopard-printed heels are a little much, but these Coach pumps are perfectly understated.
Original Price: $250
Sometimes, a gal (or guy) just needs some not-too-loud floral sheets to soothe the soul. (For more sheets we like, click here.)
Original Price: From $70
This Rag & Bone black cotton turtleneck is one of those basics that will surely come in handy.
Original Price: $95
We loved illustrator Jason Polan's collection for Uniqlo (especially this T-shirt with an orange on it, which we bought, and which is sadly sold out). Luckily, there is still one T-shirt left — in a bunch of sizes — and it's on sale, and has a lot of different kinds of kitchen items (a Chemex coffee maker, a Lino Sabattini teapot) on it.
Original Price: $15
An everyday satchel from Barneys's house line in the most handsome shade of brown.
Original Price: $300
Not sure where to turn now that we're not supposed to be buying things from L.L. Bean? Try these Michael Kors duck boots, which are 50 percent off.
Original Price: $165
As we've noted in the past, now is really a very good time to buy a winter jacket: This super-warm offering from Barneys's exclusive North Face collaboration looks like a winner. (We have this one, in green, and we love it.)
Original Price: $950
This is a great transitional coat for those upcoming middle-weather days. It's from Isabel Marant, and has a delightfully funky front pocket.
Original Price: $530