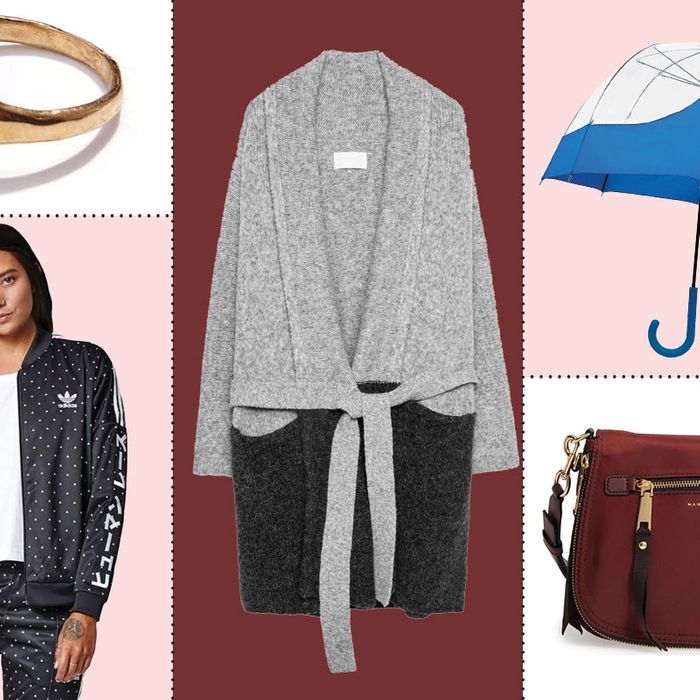 In this week's edition of our meticulously researched sales roundup, we dug up a 70 percent off Reiss tote, a 75 percent off Carven dress, and a 50 percent off waffle iron.
This little black dress from DVF has a little more oomph than your typical little black dress, thanks to its "popover bodice."
Original Price: $328
A sturdy and handsome Hunter umbrella that will keep you very dry. (Here's another umbrella we love.)
Original Price: $60
It's a little early to wear these Rebecca Minkoff sandals, but for $89, it's worth it to snatch these up now.
Original Price: $195
We obviously have a thing for black mock-necks. This one is from Eileen Fisher and has a kicky button-keyhole back.
Original Price: $218
An everyday, neutral-hued, suede leather bag from Reiss for 70 percent off.
Original Price: $465
Update: This is sold out! Here's another on-sale Reiss bag.
This incredibly cute polka-dotted bomber jacket is a collaboration between Pharrell Williams and Adidas.
Original Price: $90
If, like us, you're dreaming of summer right now … a floral one-piece from eco-conscious clothing line Faherty.
Original Price: $168
Stock up on some basic, comfy (there's a padded insole) Coach flats that are 50 percent off.
Original Price: $150
Some basic Coach boots for the fellows out there.
Original Price: $395
Wear this handmade signet ring from Brooklyn-based line Odette on your pinky, for a grandpa-chic kind of look.
Original Price: $97
Also from a New York-based jewelry line, Phyllis + Rosie: the most delicate pair of handmade silver hoops.
Original Price: $125
Yesterday, we noted that Bed Bath & Beyond has some delightful Marimekko sheets on sale. Today, we're noting that there is a delightful Marimekko duvet cover that's also on sale.
Original Price: from $100
Here's another duvet cover we're really into, from Amazon, that's 44 percent off. And if you're in the market for a comforter, might we suggest one of these.
Original Price: $90
A maroon Marc Jacobs saddle bag with a cross-body strap.
Original Price: $295