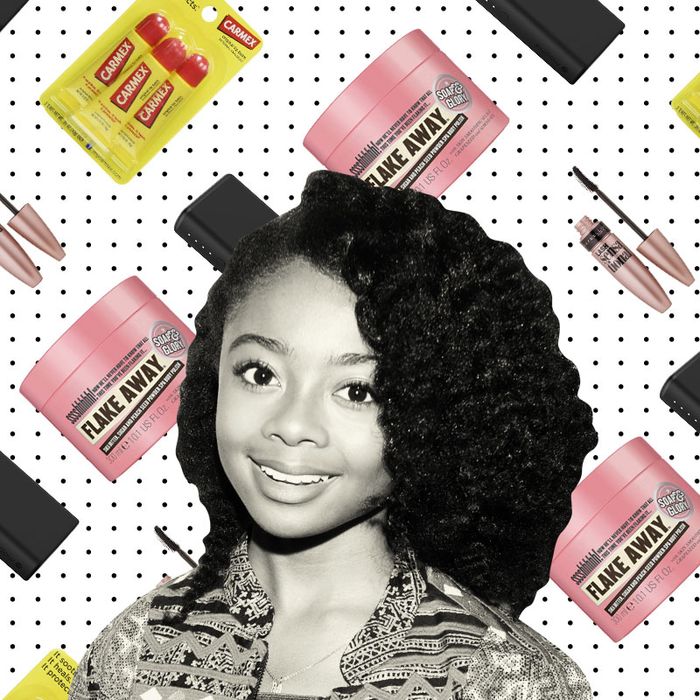 If you're like us, you've probably wondered what famous people add to their carts. Not the JAR brooch and Louis XV chair, but the hand sanitizer and the electric toothbrush. We asked Skai Jackson of Disney Channel's Jessie and Bunk'd which items she can't live without.
"I use this 24/7 because with my hair texture, it has to look moisturized and polished. I definitely don't wash my hair every day, but whenever I do wash my hair and it needs shine, I'll put some in afterwards to style it. And then on days I don't wash my hair, but need to give it a little bit of moisture, I'll use it, so it's really an everyday thing."
"These are so good. My stylist Law Roach actually gave this to me because he was on America's Next Top Model, and I guess they gave him a care package. It's literally saved my life. It just works. I can charge my dead phone up to two whole times. I leave it plugged in overnight every night, so I have it at the ready. I'm not really charging my phone that much — I wouldn't use this if my phone were at 50 percent — because I don't think that's good for it, but when my iPhone dies, this comes right out of my purse. They come in pink and blue and a few other colors, which I'd also like, but I have the one in gray."
"I went to some event — I honestly forget which one — and they gifted it to me. Of course, once I got home, I totally forgot about it, but when I found and tried it, I fell in love. You use it in the shower and it just gets all the dead skin off, so you come out feeling incredibly smooth. It also smells incredible. It smells like an apple-cinnamon tart. Compared to other body scrubs that are way too harsh on the skin, too, this is perfect. I have supersensitive skin, to the point where sometimes I touch my neck and it turns red. I wouldn't say you should use it on your face though. That might be too much."
"Here in California, it is so dry. When I lived in New York, my skin definitely wasn't so dry. I always try to drink lots of water, which helps keep my lips from cracking, but I really need a good lip balm, too. I don't know what's in the Carmex, but it's super-moisturizing. It's almost like Vaseline, but not sticky that way. Compared to Chapsticks, too, Carmex just works so much better and lasts so much longer. I always have it on me."
"Even without makeup on, I want my eyes to pop. This mascara makes your face look ten times better, I have to say. It's my go-to mascara. I've only been using it for a couple of months, but I can't imagine trying anything better. What's great is that it doesn't make my eyelashes clumpy. You know how sometimes mascara makes them look like spider legs? It's not cute. These don't do that. They also make eyelashes ten times longer and darker. Other mascaras also harden my eyelashes so much that they can fall out, which this has never done."
"To moisturize my skin, I have to use shea butter. Lotion works for an hour or two, and then I get ashy again, but shea butter is so incredibly moisturizing that I don't have to think about it all day. My mom actually does this DIY thing where she puts in extra vitamin C and E and mixes it in — then she'll freeze it and let it come to room temperature. That's the ultimate moisturizer."
The Strategist is a new site designed to surface the most useful, expert recommendations for things to buy across the vast e-commerce landscape. Some of our latest conquests include the best notebook, black T-shirts, fashion-editor-approved jeans, toothbrush, and apartment décor. Note that all prices are subject to change.

If you buy something through our links, New York may earn an affiliate commission.