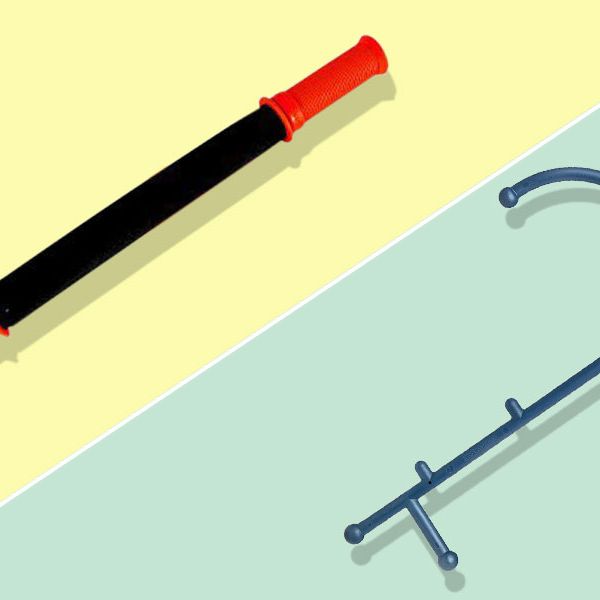 Recently, two writers reached out to the Strategist on the subject of targeted muscle massagers — both extolled alternatives to the traditional foam roller for rolling out tiny knots in the neck, back, and legs. Only thing was, they were two different products. Intrigued, we decided to hear both cases to decide which was more convincing. Each has its purpose! For athletes, the Tiger Tail is a better bet, able to cover a larger surface area of muscle to aid in recovery (much like a regular foam roller). For more sedentary folks (like our columnist Chris Black) who just want to massage that annoying part of the back, the Thera Cane bends and twists in ways a roller never could.
As a girl who does a fairly intense, three-times-a-week, "power hour" weights class, but wasn't a fan of stretching, I found it life-changing to learn a few years ago, while on assignment at the Miraval Resort in Tucson, that I could use the force of my body, on a Trigger Point foam roller, to massage out knots, roll out my thighs, and stretch out my tight quads. And while it wasn't necessarily easy or comfortable (it's a hurt-so-good thing), it was more fun than traditional static stretching and, for me, totally worked.
Until I got home. I ordered a large foam roller only to find out it is a laughable accessory for someone in a studio apartment as small as mine — I literally have to move furniture to create enough floor space to use it. And this is where Tiger Tail came to the rescue. I discovered these hand-held foam rollers at a trade show, and they're sized down to be used while traveling, or on hard-to-reach, smaller areas. That's the key — in certain areas of the body, the thinner roller actually works even better than the full-size version. It's never been easier to roll out knots in the neck or back area, and — most critically — that pesky IT band behind the knee that every runner destroys. I haven't totally ditched the larger model, which I think is more effective on quads, but I now just use that one at the gym. It means I also keep my home-furniture scheme stylishly intact. — Rima Suqi
When the foam-roller trend hit, I was an early adopter. I first used it at the gym after I stretched, before buying my own Trigger Point Grid Foam Roller for home use. These days, I preach the virtues of "rolling out" to anyone who will listen. I even gave one to my parents as a gift, mainly so I could use it when I visit them in Atlanta.
A few weeks ago, I was visiting a friend and noticed an oddly shaped plastic contraption in the corner, sitting right next to a foam roller. When I asked what it was, she told me it was a Thera Cane, and that it had changed her life. The weird-looking plastic device is J-shaped and has six treatment balls. Needless to say, proper usage is not self-explanatory. After a quick tutorial (this video's helpful), I sat on the couch and massaged my shoulders for a full hour. I was able to carry on a conversation and act normally, but I couldn't stop. It felt great.
The Thera Cane was invented by Daniel J. Hennessey, who suffered from a herniated disk following neck surgery. It works by applying intense pressure to the muscles, which maximizes the flow of oxygenated blood. The pressure restores muscle function by breaking up adhesions in muscle fibers, which makes the muscle work more efficiently. Because you're using the treatment balls to hit problem points, it allows the user to target problem areas even more effectively than my beloved foam roller. I actually would have paid my friend double what it cost to take it home that night. I ended up waiting till I got home to order my own, and my back has never felt better. — Chris Black
Thera Cane Massager
The Strategist is a new site designed to surface the most useful, expert recommendations for things to buy across the vast e-commerce landscape. Some of our latest conquests include the best notebook, black T-shirts, fashion-editor-approved jeans, toothbrush, and apartment décor. Note that all prices are subject to change.

If you buy something through our links, New York may earn an affiliate commission.