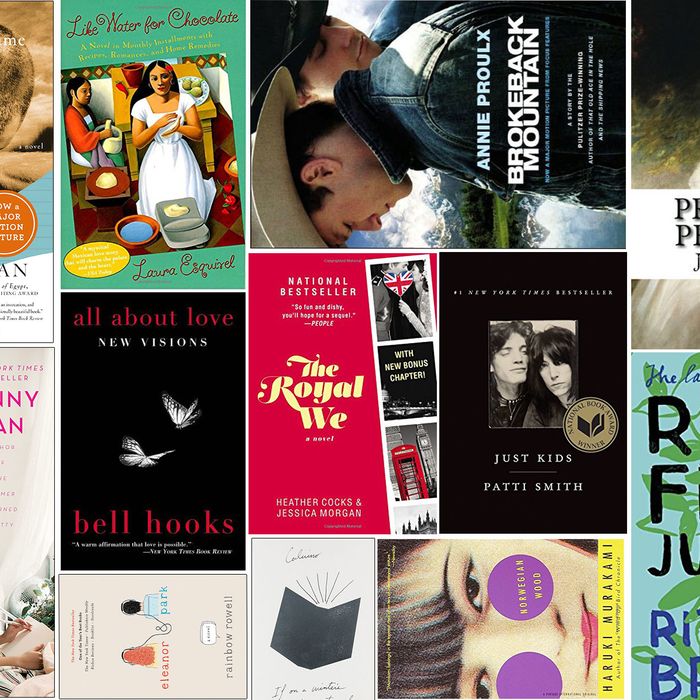 You know the difference between that newly in-love feeling of being on the the wings of soaring angels versus, well, the unfortunate reality of being seated next to some cringe-worthy PDA? Romantic books can run that gamut, too. And some of the loveliest books about love aren't actually romance novels at all (not that there's anything wrong if they are). In anticipation of the big V., here are 12 books about love that won't make you gag (or be ashamed to hold them in full view on the subway). Added plus: You'll love reading them whether you're in a relationship or not.
This crucial meditation on love may not give you butterflies, exactly (or maybe it will!). Either way, it will have you considering those emotional connections we so yearn for in an entirely new and valuable way. Read it and be better at love.
Rowell's young-adult novel about two misfits who find themselves unexpectedly and utterly in love has one of the most beautiful scenes about hand-holding I've ever read. (Spoiler: There will be tears.) If adult novels are more your speed, try Rowell's Landline, a time-travel-love-story-by-phone.
In this gorgeous 2008 novel (set on the Italian coast no less), 17-year-old Elio spends the summer falling in love with visiting American scholar Oliver. It's getting all kinds of new buzz thanks to the movie, a Sundance darling starring Armie Hammer and Timothée Chalamet — read it and fall in love with the book, too.
Not only is this reimagining of the Kate-and-Wills story sweet and adorable, it's also hilariously funny and surprisingly real. (Consider going to college with the future King of England, and then falling for him, too?) It could happen! Or you could just love reading about it.
Is there anything more romantic than love and food and magic? That's a rhetorical question, but the answer is no. This book will make you (literally and figuratively) hungry.
This is a romantic book that's also about writing, and reading, and books, which makes it the kind of quirkily romantic book that literary people dream of (which, if you're reading this list, probably means you).
Devastating and gorgeously wrought, as much for the love story as for Proulx's portrayal of Wyoming. Sure, you've probably seen the movie about cowboys in forbidden love, but Proulx's prose is more swoon-worthy than Jake Gyllenhaal's shoulders.
In this coming-of-age story, Brown's protagonist, the sexually liberated lesbian Molly Bolt, is totally herself, which means that she loves women, and they love her, and what could be more romantic than going after exactly what you want and need?
Smith's first prose book examines her lifelong relationship with photographer Robert Mapplethorpe, whom she loved as a muse, a lover, a friend, a companion, a soul mate. It's simply gorgeous.
Main character Lara Jean is a total romantic, and incredibly lovable herself, in this best-selling young-adult series by Han. It all begins when a bunch of secret love letters are mailed to their recipients (who were never intended to see them, of course). Bonus: The third book, Always and Forever, Lara Jean, will be out in May.
One word: Darcy. More words: You've surely read this classic before, but it bears annual re-reading for the completely realistic romantic ups and downs and missed communications and connections and, oh, that last couple of scenes … Let's all say it together: "It is a truth universally acknowledged, that a single man in possession of a good fortune, must be in want of a wife."
This, the contrarian's pick for favorite Murakami novel, is dreary and sad and lonely and beautiful and nostalgic, which means it's exactly the right sort of romance for people who love the color gray and/or that Beatles song. (I recommend both.)
The Strategist is a new site designed to surface the most useful, expert recommendations for things to buy across the vast e-commerce landscape. Some of our latest conquests include the best notebook, black T-shirts, fashion-editor-approved jeans, toothbrush, and apartment décor. Note that all prices are subject to change.

If you buy something through our links, New York may earn an affiliate commission.