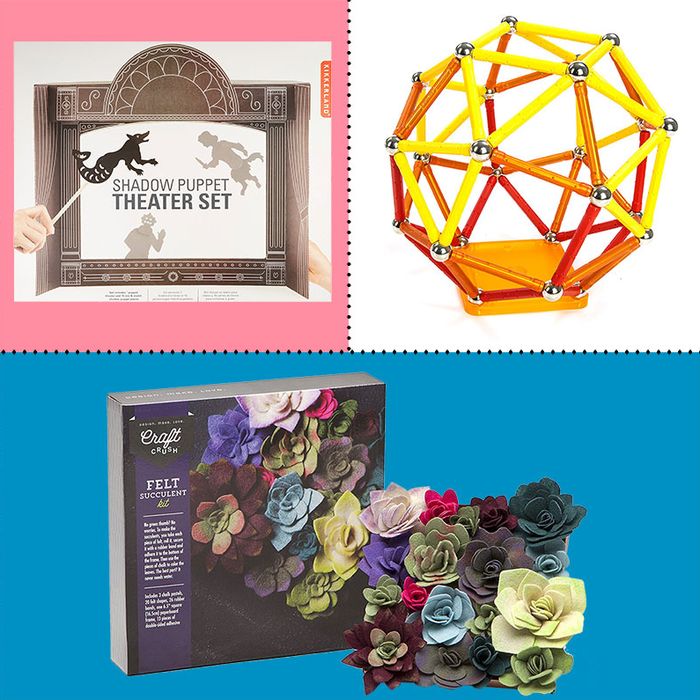 Just some of the best new toys we spotted at the Javits Center.
The 114th International Toy Fair two weekends ago at the Javits Center was a huge, noisy, LSD trip without the drugs. I attended the fair last year, and the shift in trends was as distinct as a neon Nerf ball. Last February, the electronics section was all abuzz with robots and 3-D printers, and drones hovering like large dragonflies above various demonstrators. This year was much less future-y — no drones in the air, no men in suits crowded around a robot dog — but lots of tactile and nature-oriented toys have gained traction. It seems that all those reports over the past couple of years about the dangers of giving your kids too much screen time have finally had a ripple effect in the market.
They're called Sorgenfressers in their home country of Germany, but now the Worry Eaters have come West — just in the nick of time. Your child writes down their worries and fears, and the sweet, plush Worry Eater holds onto it for them. "We're in this together!" reads the instructions. Obviously, this is more for you than for your kid.
WonkaWoo is a crafty name because Wonka is not far from Tonka, and this thing is like a big Tonka truck that your kid can sit on and use to dig to their heart's content. They sit on its plastic swivel seat and scoop away. The arm extends a full 38 inches, and I can't think of a better way to develop hand-eye coordination, while also keeping your kid busy as you suck down another G&T and read your Kindle in your lawn chair on the beach.
Snap Circuits by Elenco had the most inspiring display at the fair — a mix of old-school Erector Set durability in updated formats — like this "green energy" option, with which you can build over 125 projects investigating alternative-energy strategies, including a Solar Cell FM Radio Energy Compartment and Rechargeable Battery Windmill Clock.
Without any hard plastic parts to bang, these felt flowers are for when mommy or daddy needs quiet time. The crafty kits are clearly designed for the burgeoning MMM — Millennial Mom Market. Give one of these kits to your child, along with a turntable and vinyl album of Song to a Seagull, and your work is done.
Escape Rooms are all the rage. But rather than drive your 13-year-old and their eight friends to some weird location, and have to wait around in your car for two hours, you can now build one at home. It also doubles as a secret gift for yourself, because if you were zero help like I was when visiting an escape room in L.A. last year (sorry, guys!), this can be good training, so you don't look like such an idiot.
For the potential Kara Walker in your household, here is a haunting, spellbindingly theatrical toy they can use to build a MacArthur Genius Grant-worthy experience.