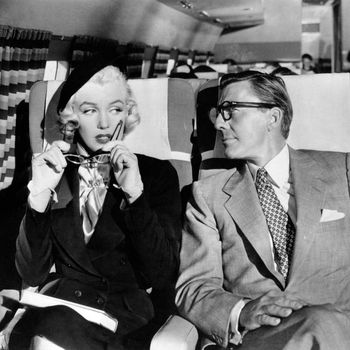 How to hydrate on a trans-pacific flight.
Photo: Mondadori Portfolio/Mondadori via Getty Images
I'm lazy when it comes to skincare — I consider it an accomplishment if I moisturize before bed — but New York beauty director Kathleen Hou said I had to be diligent during my 16-hour flight to Taiwan if I didn't want to land looking like a shriveled plum. I wanted to arrive looking more or less like myself (under-eye bags are a given), but with just a little money and effort, what happened is that I arrived with the best skin of my life.
Airplanes are dehydrating, of course, but I had a carry-on bag filled to the brim with peanut-butter sandwiches and luxe sweatpants; I was not about to start packing delicate glass bottles of facial oil, expensive SK-II masks, or actual makeup, so I filled a plastic baggie with the following crucial products.
Purell usually gets the job done (I think? How can we trust anything now that we know floss and cough syrup are useless?), but Aesop's bacteria killer is much more refreshing. It's infused with aromatic lavender, cedarwood, rosemary, and mandarin orange, so it smells better than Purell, and also doesn't leave your hands feeling dry and sticky. Your hands will feel so clean that you'll feel comfortable smearing them all over your face (important for the following).
Unlike drugstore face wipes, these come individually wrapped, which makes all the difference for preserving moisture. I was skeptical about the brand's claim to gently exfoliate, hydrate, and tone and balance oil levels, but I could notice a clear difference when I ran out of these and used Cetaphil wipes on my flight home. They're infused with aloe, chamomile, and cucumber, and if you close your eyes, your cramped coach middle seat will feel like a very tiny spa.
This was the trickiest product to select: There are zillions of face masks on the market, but I wanted one that was light (and by that, I mean both the formula and the literal packaging), relatively affordable, and not too greasy. This hydrating mask went the distance: I applied it every few hours, and while you're supposed to remove it after ten minutes with a cotton pad soaked in toning lotion, I just left the mask on — it's clear when you gently rub it in, and doesn't dry hard — and it made me look dewy and less puffy right away. Most importantly, the mask didn't cause me to break out. Now, at home, I often use it in lieu of traditional moisturizer.
The Strategist is a new site designed to surface the most useful, expert recommendations for things to buy across the vast e-commerce landscape. Some of our latest conquests include the best notebook, black T-shirts, fashion-editor-approved jeans, toothbrush, and apartment décor. Note that all prices are subject to change.

If you buy something through our links, New York may earn an affiliate commission.