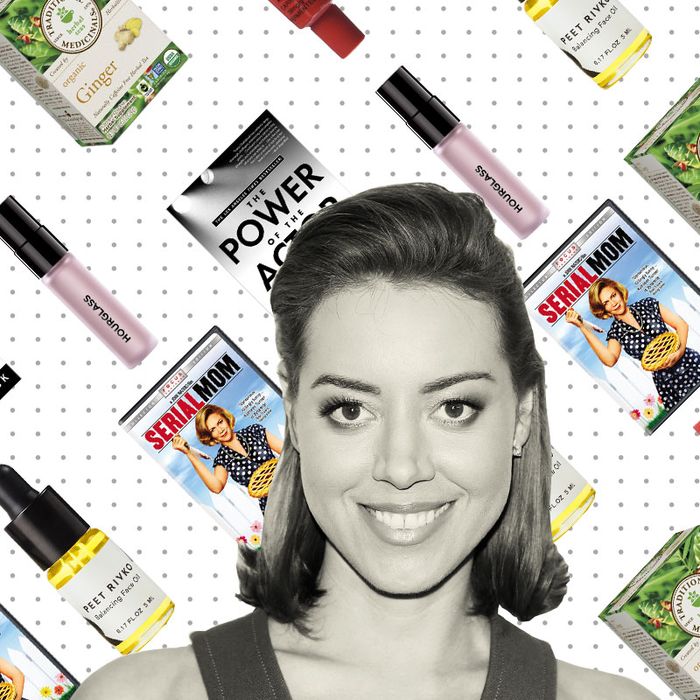 Photo: Courtesy of the retailers
If you're like us, you've probably wondered what famous people add to their carts. Not the JAR brooch and Louis XV chair, but the hand sanitizer and the electric toothbrush. We asked Aubrey Plaza, actress and ambassador of new skincare line Peet Rivko, which items she can't live without.
I just started using this on the last movie I did. I don't know anything about makeup products at all (it's not really my thing), but I learned from professionals that my skin gets really oily — imagine that — so it's a simple thing to put this on before makeup. It absorbs everything and just preps your face. I also love the way it smells. It smells like rosewater. The makeup artist Betsy Marshall used it on me, and I was like, "What is this shit?"
If you don't know about this already, it's basically a miracle ointment. I have it on me at all times. I think it's technically fermented papaya extract from Australia or something? I use it on my lips. I've used it on burns, too. I actually just burned myself with the curling iron on my arm — so if you burn yourself a lot, you should carry it around. Even if you don't, it's the most healing thing you can put on your skin, whether you're parched, or get a bug bite, or cut yourself. I put it on my lips before bed, and it's the number one thing that keeps them from getting chapped and weird.
When it comes to natural deodorant, I don't use anything with aluminum, but I also find that the natural deodorants are never strong enough! With other natural deos, I always felt like my skin was dry, but Judy Greer recommended this to me (I guess she's my deodorant guru). She told me it's the only one that works, and it's true. I don't have to reapply. It's all-natural. It's light and smells good. I do everything Judy Greer tells me to do.
This is made by this magical Japanese woman Keiko Matsuo, who lives in Los Angeles. Anyway, she has someone who goes to Japan and extracts this oil from ancient trees with all these healing and restorative properties, and that's what this room spray is. It's hard to describe. It smells cedary and extremely calming. She recommends spraying it on your pillow or your sleep area, because it's a nice way to wind down in your sanctuary. She even has one for dogs after they've gone outside, which I'd recommend, too.
I have to have this with me at all times. I have a lot of stomach sensitivity, and I'm constantly traveling and eating weird food, and it's just a ritual for me to drink this in the morning. It resets my system. They're individually wrapped, so I take them out of the box and carry them on planes, too! I just ask for hot water.