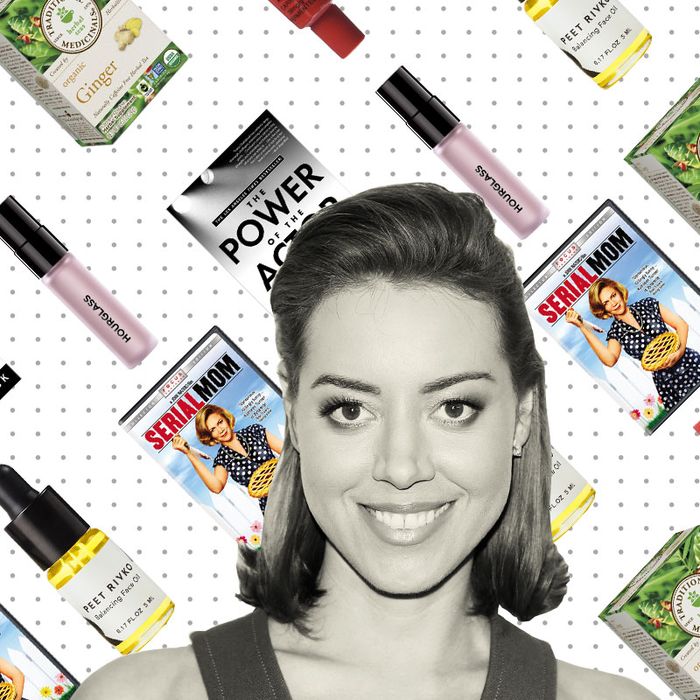 Photo: Courtesy of the retailers
If you're like us, you've probably wondered what famous people add to their carts. Not the JAR brooch and Louis XV chair, but the hand sanitizer and the electric toothbrush. We asked Aubrey Plaza, actress and ambassador of new skincare line Peet Rivko, which items she can't live without.
I just started using this on the last movie I did. I don't know anything about makeup products at all (it's not really my thing), but I learned from professionals that my skin gets really oily — imagine that — so it's a simple thing to put this on before makeup. It absorbs everything and just preps your face. I also love the way it smells. It smells like rosewater. The makeup artist Betsy Marshall used it on me, and I was like, "What is this shit?"
If you don't know about this already, it's basically a miracle ointment. I have it on me at all times. I think it's technically fermented papaya extract from Australia or something? I use it on my lips. I've used it on burns, too. I actually just burned myself with the curling iron on my arm — so if you burn yourself a lot, you should carry it around. Even if you don't, it's the most healing thing you can put on your skin, whether you're parched, or get a bug bite, or cut yourself. I put it on my lips before bed, and it's the number one thing that keeps them from getting chapped and weird.
When it comes to natural deodorant, I don't use anything with aluminum, but I also find that the natural deodorants are never strong enough! With other natural deos, I always felt like my skin was dry, but Judy Greer recommended this to me (I guess she's my deodorant guru). She told me it's the only one that works, and it's true. I don't have to reapply. It's all-natural. It's light and smells good. I do everything Judy Greer tells me to do.
This is made by this magical Japanese woman Keiko Matsuo, who lives in Los Angeles. Anyway, she has someone who goes to Japan and extracts this oil from ancient trees with all these healing and restorative properties, and that's what this room spray is. It's hard to describe. It smells cedary and extremely calming. She recommends spraying it on your pillow or your sleep area, because it's a nice way to wind down in your sanctuary. She even has one for dogs after they've gone outside, which I'd recommend, too.
I have to have this with me at all times. I have a lot of stomach sensitivity, and I'm constantly traveling and eating weird food, and it's just a ritual for me to drink this in the morning. It resets my system. They're individually wrapped, so I take them out of the box and carry them on planes, too! I just ask for hot water.
I always have honey with me, too. I clearly travel with a lot of things. I try not to have a ton of sugar, but I do need something, and that honey is so good and has medicinal properties. My immune system is kind of fucked, I'm always on the verge of getting sick or have a sore throat. Maybe it's psychological, but I find if I have a teaspoon of this, it's good for warding off bugs. I'll stir it in my tea, but if I'm in a rush, I'll just take it straight — right down the hatch.
So Ivana Chubbuck is my acting coach, and I've worked with her on every role I've had since I started acting, which is going on ten years. This is her book, and I've never really recommended it to anyone unless they're interested in her acting method, but truthfully, I have it with me everywhere. I've read it a lot, but it's still a great reminder if I feel lost, or if I'm working on something and need guidance about a character's journey. I have it downloaded on my phone, actually.
I have a little travel-size thing of this in my bag always. My hair doesn't do anything ever. It's the most boring hair, so I'm constantly flipping my hair over and spraying it with Oribe so I have something going on. It's really the only hair product I have. A hairstylist used it on me once, and it just gave me so much volume and texture that I decided I needed it at all times.
Okay, so it's very important to carry DVDs around with you — no, I'm kidding, but John Waters is one of my favorite directors ever, and Serial Mom was one of the first independent films I saw when I was 12 that made me want to be an actor. I saw it way too young, I think, which is probably why my mind is all warped. It pretty much opened my eyes to the possibilities of independent movies. I had no idea movies could be so weird! In all honesty, I don't carry it around in my purse, but I do carry it around with me in my heart. I try to watch it every once in a while to remind myself why I'm doing what I'm doing. You know, I haven't actually met him. I tried to stalk him one time at the Independent Spirit Awards, but I missed him. Maybe someday.
The founder of the line, Johanna Peet, is one of my best friends from childhood and has always been interested in skincare. She developed this line, and I'm now actually an ambassador for it. I honestly take it with me everywhere. My favorite thing is the oil — I don't know why, but I love oils and slathering them all over myself. This one isn't greasy at all. Most face oils can irritate my skin or be too greasy, but this one is just like extra hydration, without heaviness. I actually use it all over my body. In fact, it's a nice way to go to bed. Just lather yourself up and go to sleep.
The Strategist is a new site designed to surface the most useful, expert recommendations for things to buy across the vast e-commerce landscape. Some of our latest conquests include the best notebook, black T-shirts, fashion-editor-approved jeans, toothbrush, and apartment décor. Note that all prices are subject to change.

If you buy something through our links, New York may earn an affiliate commission.