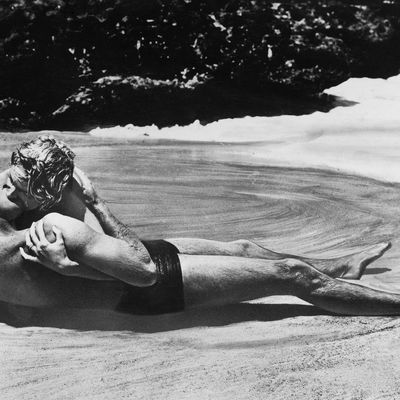 Burt and Deborah would have.
Photo: Columbia Pictures/Getty Images
I have natural deodorant, I buy cruelty-free moisturizer, I put grass-fed cow milk in my coffee. If I have the money, I will even buy sustainable dental floss. Like most concerned citizens in this sanctuary city, I am selective about what goes on or in my body. But the other day, I truly sat up in bed, horrified, because I realized I had missed one major category: my lube.
Considering that the stuff was going into areas way more intimate than body lotion, I became a man on a mission to find the best organic lube out there. My foremost concern was parabens. There are enough studies you (and know-it-all friends) can Google that will inform you how awful they are for your endocrine system and general health. They remain unregulated in the U.S. — and something tells me there won't be any governmental supervision any time soon.
Although people — i.e., the internet — have touted coconut oil as a healthful lube option, that's not a great idea. Turns out there isn't much information about how that stuff gets absorbed through private areas. Natural oil-based lubes can also pose a problem, as they're latex-incompatible and can lead to infection (and we are still using condoms, right, people?). After intense internet sleuthing, I finally went with the well-regarded Babelube (made by the modern and cheery sex shop Babeland) and put it to the test.
I'm not going to go through the particulars of how using lube works — you're an adult — but here's the takeaway. The Babelube definitely did dry more quickly than your run-of-the-mill lube (because all those ingredients that give lube its slipperiness and viscosity are actually preservatives), but I actually found the reapplication process fun. As a gay guy who came of age sexually in the early '90s' "safe sex is fun" movement, I consider frequent applications a sexy part of sex — it just provides more time for communication, connection, and eye contact with your partner. Unlike regular lube, the Babelube didn't leave tacky residue when it dried either. It's also on the watery side, which I prefer to that sticky, gooey style of lube that you often find in complimentary condom bowls at gay bars and clinics.
And a final point: Babelube is one of the few options that's explicitly free of animal testing, something not even all organic lubes can claim. Important, because imagining that your lube may have been tested on some poor bunny is so not something to picture when you are trying to feel sexy.
From 3/6 - 3/31 you can take 15% your purchase at Babeland with code BABEBUCKS.
The consistency of Sliquid was similar to Babelube, but it also felt cooling (though that may have been because I had the window open). Also, I was solo when testing that one — and no matter how much I cherish my collection of vintage '70s porn on VHS, there's not much opportunity for warmth.
Another organic option that's also supposedly probiotic (which, I guess, makes sense because it ends up in the same general place as your yogurt?).
This organic (and less expensive) lube comes in a pretty bottle that you wouldn't even be embarrassed to have sitting on the nightstand.
Lesbian friends of mine swear by this stuff, and I'd trust them with most decisions about my love life.
My sexually active straight ladyfriend (meaning she's active on Tinder) just bought a bottle of elegantly labeled Isabel Fay, which she says works wonderfully.
The Strategist is a new site designed to surface the most useful, expert recommendations for things to buy across the vast e-commerce landscape. Some of our latest conquests include the best notebook, black T-shirts, fashion-editor-approved jeans, toothbrush, and apartment décor. Note that all prices are subject to change.

If you buy something through our links, New York may earn an affiliate commission.