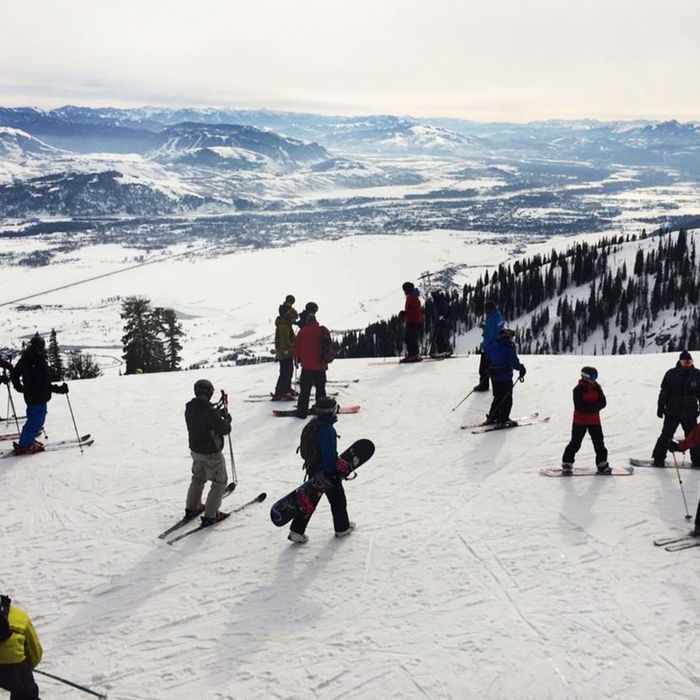 All you need to brave subzero mountain temps.
Photo: Camilla Cho
As anyone who has ever met me or seen my Instagram can tell you, I am obsessed with snowboarding. Every January I head out somewhere on the West Coast, where you can find steep runs and deep powder. This year my friends and I chose Banff and Revelstoke, two spots in Canada known for reliable storms. Too reliable, because we had the unfortunate luck of being there when a true polar vortex hit — the thermometer on our car read -30 degrees Fahrenheit one morning. Normal people go back to their vacation rental. Us? Being true addicts and having forked over money for lift tickets, we headed for the mountain.
If you love snow sports, you quickly learn to adapt to the cold with the right clothes. Even though the warmest it ever got during my trip was roughly 10-15 degrees Fahrenheit, I was perfectly comfortable. I may have fallen into shin deep snow while zipping through the woods and tumbled into drifts when the nose of my board sunk in too deep — but my clothes remained (mostly) dry. I layer just enough to stay warm without being bulky. Here's what I swear by. (Note that I omitted socks and helmets. Those will always depend on your choice of boot and head shape.)
Two important details justify the nearly $700 price tag on this jacket: Gore-Tex and a down filling. The former gives it windproof and waterproof qualities. The latter will keep you warm without adding excess bulk. My version is two years old and has protected me through several snowstorms, aforementioned frigid temperatures, and even the occasional above-35-degree day. To prevent overheating, there are two mesh vents that can be unzipped under the arms, too. And like any respectable ski or snowboarding jacket, there's an elastic powder skirt that you button underneath, especially crucial for preventing snow from creeping down your backside.
One evening during my trip we decided to have a nice dinner in town. In a ski town this means I switched into jeans. Big mistake — my legs felt as if they were being stabbed with icicles with every step. I was so used to the warmth of my snowboarding pants thanks to their windproof qualities that I actually forgot how cold it was outside. I generally prefer neon brights on the mountain (my friends can spot me from a mile away), but the ones I wear have long sold out. This pair might not be as vivid — but it ranks high on my wish list. Not only will it shield from bracing gusts of wind, it also has a waterproof rating of 20,000mm (which is a technical number designating the height per square inch that water could rise before seeping through the material. 20,000mm is the highest it gets.) This means my butt won't get wet, no matter how many times I plop myself down in the snow to wait for slower friends. And for snowboarders who have the BOA lacing system on their boots — a closure system way more precise than laces — there's a little flap that makes it easy to access the dial for adjustments.
Despite what the thermometer said, I only wore two layers under my jacket. One was a flimsy short-sleeve T-shirt for purely aesthetic reasons. The other was this amazing Under Armour base layer. It's from their cold series, where pieces are ranked from 1.0 to 4.0 in terms of protection. The fit is tight, which is key in keeping everything in its place, no matter how vigorously I moved. I learned that the hard way when I wore a different undershirt for warmth, only to have it roll up repeatedly through the day. I wound up with a wet and cold lower back. Another surprisingly handy feature on the shirt? Thumb holes. I'd slip my gloves over them to create a seamless cover over my wrists.
As wind- and waterproof as snowboarding pants are, you still need a pair of leggings for warmth. Depending on your tolerance for cold, you could go all the way up to a 4.0, which is incredibly thick and warm. But any good pair of snow pants will make that unnecessary. I opted for a 3.0, which felt cozy against my skin and provided enough protection for the biting windchill. Since it falls midway on the spectrum, I can also double down on their value and wear them on warmer spring days without excessive sweat buildup.
Choosing goggles really depends on your helmet. You want a seamless gap between where the brim of the helmet ends and where your goggles start, lest you find yourself with a weird strip of windburn. Given that my weird, big head fits only Anon styles, I remain true to the brand and have the WM1 goggles. They're not perfect on my Asian (shallow-bridged) nose — I still have a small gap that would be filled if I had a different nose, but they work well enough. The wide lens gives me great peripheral vision, which is crucial for safety while the magnetic frame makes it easy to swap out different tinted lenses, depending on lighting conditions.
It's a personal choice whether one prefers fingered gloves or mittens, but I go for mittens. They keep my hands from turning into two blocks of ice, especially when combined with the accompanying thin glove liners. Both parts of this Burton set are touchscreen friendly, so I can reply to texts or change my music without exposing any skin. And there's a zippered pocket that can either store hand-warmers or those RFID-enabled lift passes.
Windburn is not fun to treat and the easiest way to prevent it is with a face mask. I prefer Velcro ones that fasten over my ponytail versus the kind that you pull over the head. When you're overheated it's much easier to yank it off quickly than to stop and take off your helmet and goggles. That said, nothing will stop your nose from running all day and I have yet to find a mask that can perfectly wick away the combination of melting snow, breath condensation, and snot that can form (though this brand comes very close).
The Strategist is a new site designed to surface the most useful, expert recommendations for things to buy across the vast e-commerce landscape. Some of our latest conquests include the best notebook, black T-shirts, fashion-editor-approved jeans, toothbrush, and apartment décor. Note that all prices are subject to change.

If you buy something through our links, New York may earn an affiliate commission.