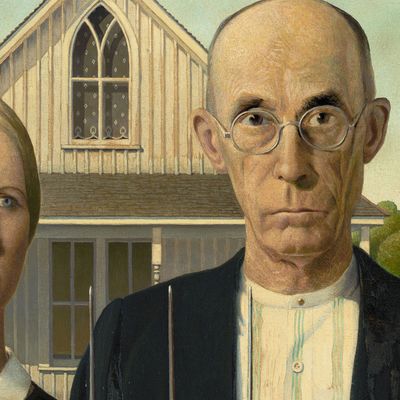 The "American Gothic" guy was so on trend.
Turns out three out of the four Strategist editors have very similar, on-trend wire-rimmed glasses that look excellent on them. I, the fourth Strategist editor, have some old plastic-framed Warby Parkers, and feel very left out. Before I buy my own, I decided to poll my colleagues (who are the best shoppers I know) on what makes their specs so special.
"My main criteria for eyeglasses is that they fit my tiny Beetlejuice head, which means I exclusively shop the Narrow category of Warby Parker's website, which tends to have the most nondescript options (no modernist flat-brow styles or oversize aviators for me). Which is fine. I don't need my glasses to draw attention. But then the Abbotts showed up — lightweight, simple, comfortable circles of Japanese titanium that nonetheless seemed to somewhat transform my face. My husband said I looked like Harry Potter. My MFA-program friends said I looked "adorable." I personally thought — after noticing my yoga teacher wearing a similar pair — I looked calm. Either way, I guess they have a little bit of a 'look.' Which is a nice change."
"Because I've got black hair, I always assumed that I had to wear black glasses — it must've been some rule about coloring that I'd read and internalized — but early last year I grew tired of all the black plastic A Single Man frames in my rotation. I'd seen a former coworker rocking some gold wire glasses (they've since sold out, and only the silver is available, which is still quite nice) and thought they looked radically cool; I shamelessly copied him by heading to the Garrett Leight store. I put on the Wilson frame (with its circular, but not perfectly so, lenses, and intricate detailing on the bridge) and bought them right there (filling the prescription later). I feel like a throwback when I put them on: less Tom Ford, more Wong Kar-wai."
"I spent an entire weekend searching through every glasses store on Madison Avenue between 68th and 90th Streets looking for the lightest pair glasses I could find when I finally came upon Mykita's Gunnar frames. They were unbelievably lightweight, like I can't even barely feel these on my face lightweight, and the perfectly curvy, rounded shape. Not full-on circle, but more like the bottom half of a hard-boiled egg that straightens out with the gentlest of curves at the top. Kind of like a much smaller, much less aggressive version of an aviator. The metal frames are flat, not rounded, and so thin that they only wrap around the lenses down the middle, leaving the glass edges exposed, an unusual detail that adds a different sense of depth. At first the color wasn't as essential to me as the weightlessness, but while I was looking for light glasses I realized they pretty much only come in wire frames, which are most often some sort of silver or graphite metallic. But this gold is like a matte-brushed steel, more subtle, regal, and feminine. They don't feel overwhelming on my tiny face, but rather an accessory more akin to sleek gold hoops. Yes, Mykita is a (very) expensive brand, but these have no screws, only tightly twisted metal so they're essentially unbreakable, and I've never gotten more compliments on anything I've ever owned."
The Strategist is a new site designed to surface the most useful, expert recommendations for things to buy across the vast e-commerce landscape. Some of our latest conquests include the best notebook, black T-shirts, fashion-editor-approved jeans, toothbrush, and apartment décor. Note that all prices are subject to change.

If you buy something through our links, New York may earn an affiliate commission.