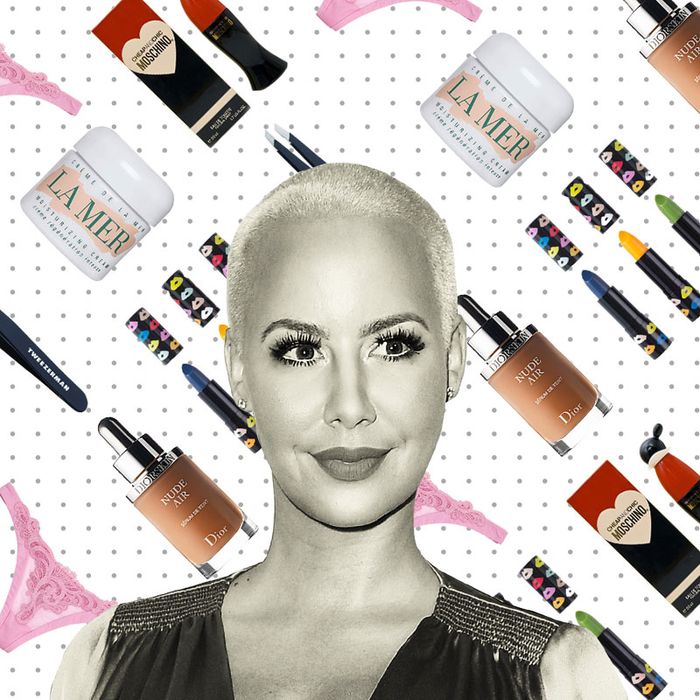 If you're like us, you've probably wondered what famous people add to their carts. Not the JAR brooch and Louis XV chair, but the hand sanitizer and the electric toothbrush. We asked Amber Rose, who's a brand ambassador for the beauty line Flirt (and whom the Cut chatted with back in August), about which items she can't live without.
Basically, I wear a 36E or F, so I can't shop at Victoria's Secret. I have natural boobs, and I constantly need a bra, so that is a must-have for me. And when you have really big boobs, a lot of the brands have the really thick straps that are kind of grandmaish, but Chantelle's bras are so nice; they come in a lot of colors; they have that low cleavage; they're good for girls who have a small back but big breasts. I pretty much have every style of Chantelle bra: I have a million black ones and a million nude ones, just so they go with my clothes, and I have a pink and yellow and peach one, but for the most part, I like to get the nudes and blacks.
So my friend Chyna, we were at Neiman's the other day, and I was picking out some La Perla underwear. They were like $120, and Chyna is like, "What the hell are you doing? Why are you buying such expensive underwear?" And I was like, "Girl this is going to change your life," so I bought her a pair. I know this sounds crazy, but wearing expensive underwear under your clothes gives you a certain type of confidence in a really cool way. She wore them, and was like, "oh my god, they just feel different than Victoria's Secret!" I got her a thong. Chyna will not wear anything but thongs. She's a thong girl. I prefer thongs when I have clothes on, but at night when I sleep, I like good old-fashioned boy shorts. I'll do Victoria's Secret if I don't have a man around, but I won't wear regular cotton briefs if I have a man over.
My makeup artist Priscilla Ono actually came upon the Dior Air, and she was like, "let's try it," and now I love it. It gives you great coverage, but it's not superheavy, so it doesn't look cakey at all. Priscilla only does my makeup if I'm going to be on TV or the red carpet or something like that — so on normal days, when I do my own makeup, I'll apply it myself. It's a foundation, so I'll put it on first before anything else.
So I am not a natural blonde, although I wish I were. I use L'Oréal's Quick Blue alongside its creme developer. I actually have it in my hair right now as we speak. My hair is naturally dark brown, and with Quick Blue, it comes out super-platinum, so I don't have to put a toner in it. It works really fast. I've been using that for years. I found that other bleaches would turn my hair kind of orange; but with this one, the blue takes all the orange out, and doesn't turn it brassy.
I have to do it every four days. My hair is so short, and my roots come in really fast. But I don't have to leave it on superlong: 20 minutes, and that's it. If you have longer hair, you should probably go to a professional. I don't really have much hair, so it works perfectly for me.
I mean, what girl can live without tweezers? I'm Italian, so my eyebrows grow really fast; all my hai