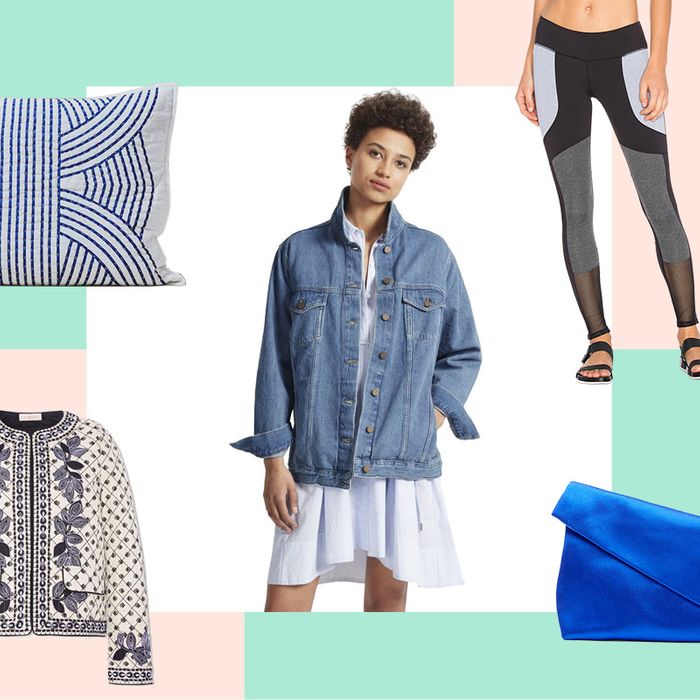 The themes that seem to have emerged from this week's sales roundup are in-between-season jackets, rain boots, and bedroom redecorating ideas.
A slouchy "boyfriend" denim jacket that can also be worn indoors, cardigan-style.
Original Price: $198
Pair this cropped shell top from DVF with a high-waisted skirt.
Original Price: $188
Another DVF offering: a satin, fold-over clutch in the most striking shade of cobalt.
Original Price: $128
This Tory Burch quilted jacket is the perfect keep-at-the-office cover-up.
Original Price: $495
Some flattering flares from The Great (the company that Current/Elliott founders Emily Current and Meritt Elliott launched when they left their namesake line). Click here for more cropped flare pants we like.
Original Price: $265
Star Wars fans will like that this Nixon watch was made as a tribute to Daisy Ridley's character Rey; non–Star Wars fans will appreciate that this is just a very nice-looking 62-percent-off Nixon watch.
Original Price: $225
Some workout leggings that will actually make you kind of excited to work out.
Original Price: $124
Because April-showers season is nigh!
Original Price: $150
Some other on-sale rain boots, which come up to the ankle. The red loop in the back is a very nice touch.
Original Price: $120
This is a very good price for these high-waisted Spanx leggings.
Original Price: $114
Your pillows, covered in these Hawkins New York shams, will look so lovely propped up on the bed. (Pillow inserts are not included — you can order right the size here.) Speaking of pillows, here are our favorites.
Original Price: $130, for two shams
Update: This is no longer on sale. Here it is at full-price.
Our friend turned us onto these Menu lamps, and we're considering buying two of them for our bedside tables. For more bedroom decorating-spiration, click here.
Original Price: $200
A satin stadium jacket from Ines de la Fressange's latest collection for Uniqlo.
Original Price: $70