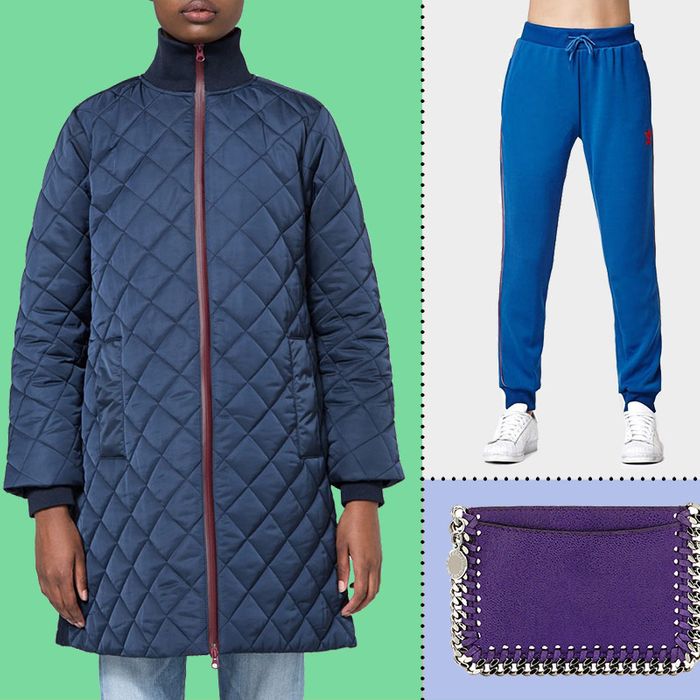 During our weekly dive into the world of online sales, we came up with some Miu Miu sunglasses, a festive throw pillow, and a jacket we really don't need (but which we really want).
This LeSportsac tote can be a gym bag during the week, and a weekend bag by Friday. (For more gym bags we like, click here, and for more weekend bags we like, click here.)
Original Price: $90
Photo: Elisabetta Mares
Yes, it's unnerving how warm and sunny it is, but might as well enjoy it with a new pair of cat-eye sunglasses from Miu Miu. The sides of the glasses have a festive little beaded situation going on.
Original Price: $390
Note: These are sold out! Here are some other on-sale Miu Miu sunglasses.
Since it's almost April showers season … all of Danish designer Ilse Jacobsen's boots are handmade using natural rubber and lined with white cotton fleece. The white laces are a nice touch, as is the sturdy nonskid sole.
Original Price: $189
Don't get our husband started on his Duvetica coat (which he got on super sale at Barneys nearly five years ago). These puppies are expensive, but very warm and high quality. This shiny one is 48 percent off.
Original Price: $670
This shade of pink nail polish is called "Beauty School Drop-out" and it does appear to be same bubblegum pink as the Pink Ladies' jackets.
Original Price: $20
This little woven-yarn crossbody bag from Missoni looks like it's covered in green cheese balls, but in a very cool and chic way.
Update: This is sold out! Here's a similar M Missoni shoulder bag.
The kicky tassle on this slide gives it some personality.
Original Price: $170