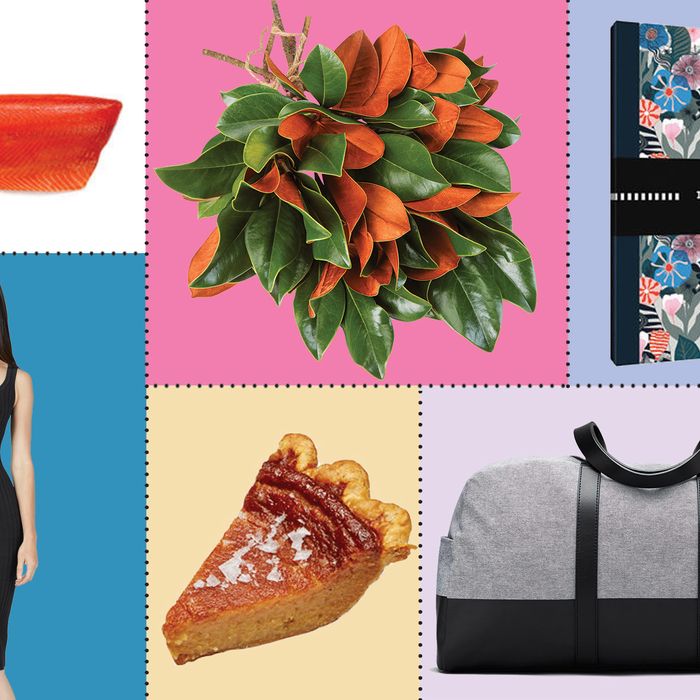 Photo: courtesy of the retailer(s)
Half the fun of ordering something online is tracking the package as it makes its way to you. But, sometimes, you just need something fast — really fast, in an hour or less. We've rounded up six companies that offer one-hour delivery in New York, and some of the most fun, practical, and extravagant items you can order from each.
If your zip code in New York is one that Everlane services (select it from the drop-down menu), your item will be delivered within an hour for $5. Buy two or more things and the shipping fee is waived.
Next time you're freezing at work without an office cardigan, consider this sportier alternative. The cotton knit is a classic take on a trendy bomber; and come spring, the sweater could be worn as a light jacket. We also like this cozy oversized cardigan.
For when you need to get out of town. Fast.
A blazer for when you get invited to a last-minute lunch at La Grenouille.
For when you've suddenly found yourself with after-work plans, and adding earrings to your work outfit just won't cut it. You could wear this alone or under this silky, black jacket, which is also available for one-hour delivery.
For $10 a month, you can be a Postmates Plus member, which entitles you to flat shipping fees of $3 or $4. If you're not a member, the shipping fee will depend on distance traveled. Each delivery will also include a 9 percent service charge.
There is something kind of extravagant about having an item delivered to you so quickly. Why not go really extravagant with truffle mashed potatoes from Bergdorf Goodman?
You can never have enough lotion in the dry winter months, and we like Kiehl's cult classic Crème de Corps. This — or the Energizing Radiance Masque — would make for a perfect last-minute gift.
When it's raining … and you're really lazy. You might want to have them bring you a pair of socks, too.
Place a minimum order of $20 and FoodKick will deliver to select addresses in Manhattan, Brooklyn, and Queens (check on site) for a fee of $6.
When something calls for celebration, stat! FoodKick has plenty of prosecco and Champagne choices, from a cheap bottle of Mionetto to a (much pricier) bottle of Cristal.
Salted Caramel Apple is Four & Twenty Blackbirds' most popular pie — imagine how much more you'll enjoy it when it's brought to you exactly when you're craving a slice.
FoodKick's "Drugstore" department has a slew of highly-giftable little tokens (if it's a co-worker's birthday, for instance, or you need a last-minute hostess gift), like this Marimekko notebook, magnolia branches, Acme smoked salmon, or fancy charcoal hand lotion.
Prime Now is an $8 one-hour shipping service (or free for two-hour delivery) for Prime members who pay $11 a month or $99 a year.
You accidentally invited a friend you ran into on your lunch break to your house for dinner. Order pizza, and get some fancy cheese, meat, and olives from Eataly to nibble on.
If you need to print an important document (a lease, a boarding pass, a W2 form), and Staples is closed…
For times when you're expecting last-minute guests and need a last-minute hand vacuum to clean before they arrive.
Badminton, anyone? Be prepared for your next pick-up game at the park, or the beach, with this all-inclusive set.
For orders under $100, deliveries cost $6 in lower Manhattan and $9 in other boroughs (enter your zip code to see if it's covered). Orders over $100 get free delivery.
You can't really anticipate a waffle craving — you either wake up wanting Belgian waffles piled high with whip cream and fruit, or you don't. For the next time you do, here's your waffle maker.
We're not sure why these earplugs are specifically for women, but we do like that they're called Dream Girl. Perfect for times when your neighbors are being noisy, and you need near-instant relief. For more earplugs we like, click here.
Why not let your dog enjoy the convenience of one-hour delivery, too? These disposable rubber boots would protect your dog's paws on those snowy or icy days when you still have to go for a walk.
Serving Brooklyn, Queens, and Manhattan, a delivery fee between $0 and $9 is charged based on the distance from the restaurant, and an 18 percent service fee is tacked on, too. Order minimums vary depending on order volume in the area.