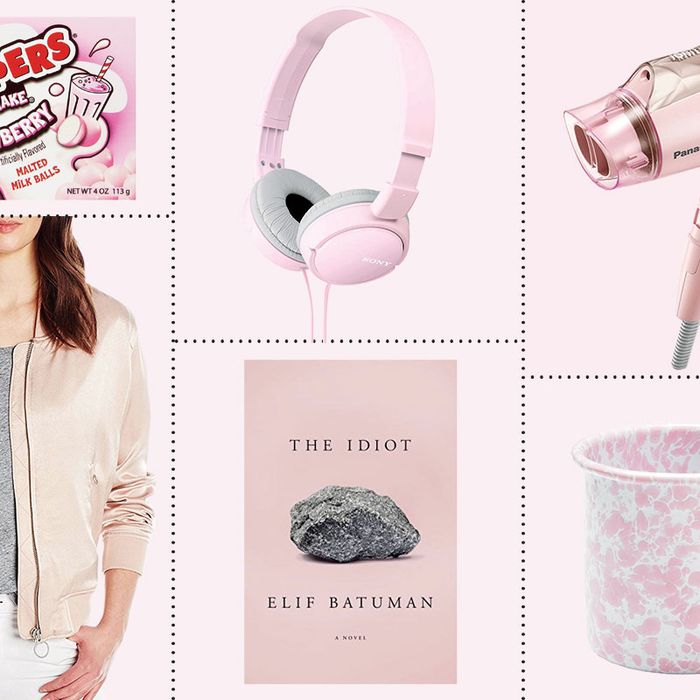 All-millennial-pink everything.
It's that particular shade of pink — which ranges from beige with just a touch of blush to a peach-salmon hybrid — that seems to be popping up everywhere now, from book covers to co-working spaces to that new vegan café. Named millennial pink, for its capacity to define a generation with its perfect balance of serious and frivolous, it also doesn't appear to be going away anytime soon. So to help you embrace the tint du jour, we've found ways to fill every room in your home with the calming shade: There are desk clocks, living-room chairs, colanders, even toilet-seat covers.
A candle with notes of wild mint-geranium rose.
Strawberry-milkshake malted milk balls.
This is no longer available, but here is a similar pink option.
Elif Batuman's latest novel that Miranda July has called "addictive" and "sprawling."
Three bars of True Rose soap.
A Turkish, cotton bath mat.
A duck-head umbrella (with a pink beak!).
Foldable Sony headphones.
An easily attachable toilet-seat cover.
Very '70s Rose Milk lotion.
The Horizontal Tote is sold out in pink, but the very similar Vertical option is available here.
A vintage-looking toaster.
A silky Calvin Klein bomber.
This colander is no longer available, but how about a hand mixer?
A portable spoon-and-chopsticks set.
A five-piece cast-iron set from Le Creuset.
A mini, battery-operated crumb sweeper.