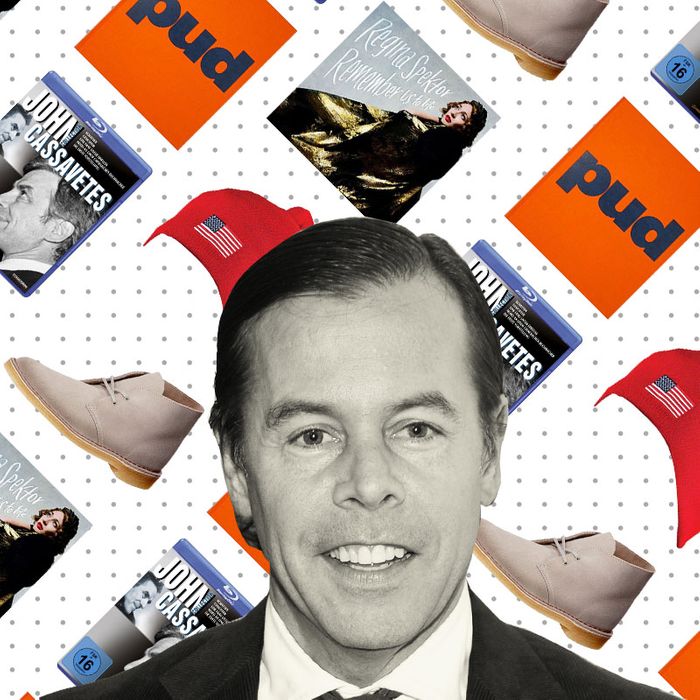 If you're like us, you've probably wondered what famous people add to their carts. Not the JAR brooch and Louis XV chair, but the hand sanitizer and the electric toothbrush. We asked Jack Spade and Partners & Spade founder Andy Spade which items he can't live without.
These are a classic. They're only $41, and I beat 'em up. I have old pairs and then I have new ones, in case I go somewhere formal and need to look cleaned up, too. I have five pairs, and some of them I actually even cut because I like a short desert boot. My daughter paints on them, too, so I have a full collection. The sand-colored one is the most original and classic to me. I've been wearing them since high school, probably because my dad had them. It's why I don't like the funky-colored ones.
I love her album, and I love her and her voice and her story. I saw her on Charlie Rose — she is heartfelt. She's actually a classical pianist who grew up in Russia, and she blended her Russian classical training with her own take on — I don't know; it's not pop, but rock in its way. I just felt like she's a fascinating, smart woman who's a great writer of both music and lyrics. The album is great.
When I was 18 or so, I lived in Aspen, and I cross-country skied. I think that's why I'm attached to these hats. They do one for basically every country — there's Norway and Sweden and the U.S. and Germany, and I'll go on eBay to find the vintage designs. What's nice about the hats is that they're made for cross-country skiing, which gets hot, so they're not bulky. I'd say I have maybe 20 of these. We sold them at Jack Spade for years. I really like them all. There's a white one of Norway I really like; plus, all the solid colors and the Fair Isles are great. There's one with all the flags on them. I'll probably lose two of them every winter.
You plug in your iPhone and it sits on the ground, and it turns any wall into a projection screen. We were just watching it the other night, and the great thing is that you can travel with it, too. We were in Morocco watching on an old-fashioned projector, but it was kind of complicated. This is great because it looks good, too. It's like a Dieter Rams for Braun.
John has all the great movies. So this is Shadows, Opening Night, Faces, A Woman Under the Influence, and Killing of a Chinese Bookie. I should've just bought the whole fucking Criterion Collection of films — that whole library. I love using these as reference material. I think there's some value in having the physical objects. They're beautifully designed packages. They're special. My favorite is probably A Woman Under the Influence. Gena Rowlands, man.
Jason Nocito is great. We've actually shot with him for Partners & Spade before, but he's also a fine-art photographer and has shot these