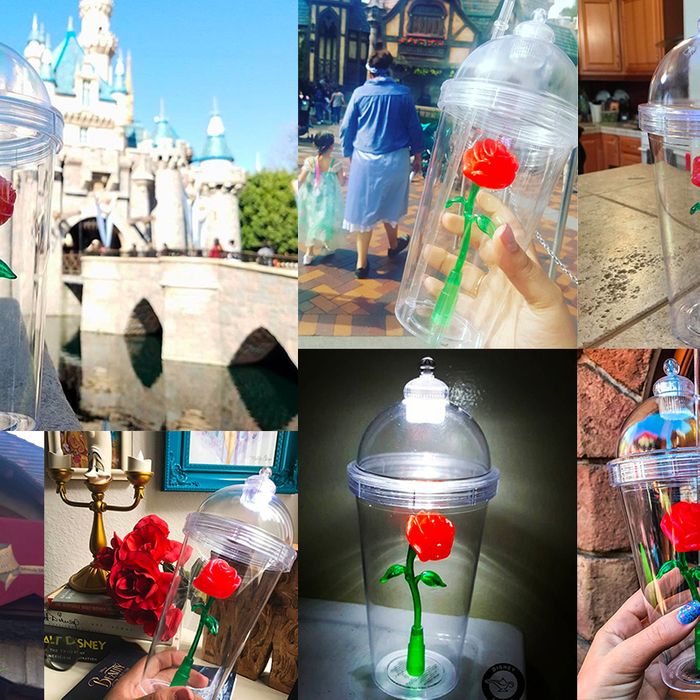 Just a few times the enchanted-rose tumbler was captured on Instagram.
To hype the new live-action Beauty and the Beast film, Disneyland park in Anaheim has turned its Village Haus Restaurant into the Red Rose Taverne, complete with Beast-inspired fare like Grey Stuff Gateau and a Gaston punch. What everyone's talking about, though, and what's sparked an Instagram frenzy, is the enchanted-rose tumbler, which you can only buy at the park's restaurant. It's a clear-plastic glass with a plastic rose inside (the lid lights up, too). That's it! That's what people are waiting two-plus hours to buy. That's what costs $15, but is going for a hundred-some dollars on eBay. That's what people are outsourcing their shopping to nab.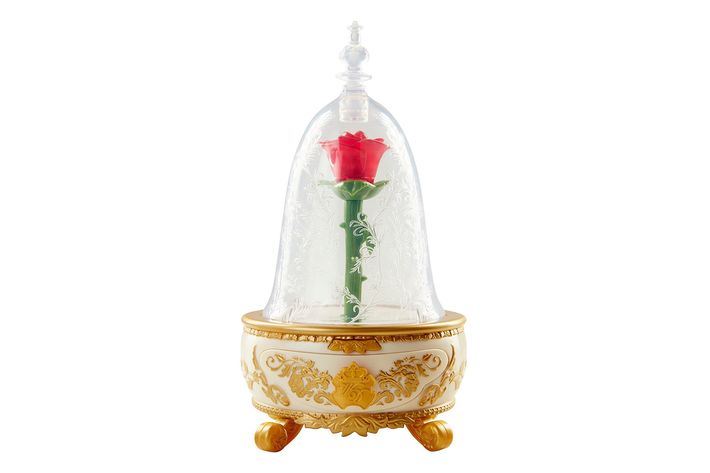 If you're looking for an easier way, this light-up, jewelry-box toy looks very similar — more special, even (check the detailed etching, and the Amazon reviewer who says she keeps her wedding ring in it). Or if cute figurines are more your vibe, there's a whole set of Lumiere, Cogsworth, Mrs. Potts, and Chip Funko Pop toys to collect. But to find out why the red-rose cup has become such a hit, we called up Katie Slockbower, a 29-year-old Orange County native, who runs a Disney-fan Instagram (hers was one of the first photos to go viral).

Tell me about yourself.
I'm an annual-pass holder who's always lived within 15 minutes of the park — I'm here almost every day, and started an Instagram and YouTube account dedicated to Disneyland. I'm actually on the way there now with some friends.
Can you tell me how the red-rose-cup photo happened?
So I'd gone to Disneyland to shoot a video for my YouTube channel about the opening of the Red Rose Taverne, the day before it was supposed to be unveiled. I talked to a cast member, and she recommended this red-rose cup, but I was so busy thinking about the grey stuff that I didn't even process it. The next day, on opening day, I went and saw a girl bring out a tray of these tumblers that looked so beautiful. Something about that red color just popped. I said, "Oh my gosh, I totally need to get that cup." So I bought it, and went outside and thought, That'd be a cute photo. I shot it, put it on Instagram, and then one of my friends who runs the Disney Lifestylers account reposted it, and then it just blew out of control. Everyone started asking me about the cup, and where they could get the cup.
Have you been back to the park since? Is it just pandemonium?
Well, I got my cup that first day, and then I was talking to my mom, and she said she wanted one because it was so cute. So the next day, we decided to go back again — now the park opens at 8 a.m., but the restaurant opens at 11, so we decided to just head to the restaurant as soon as the park opened. We got in at rope-drop, headed straight to Fantasyland (it was maybe 8:20 at this point), and there was already a small line of people ahead of us.
And it kept growing.
By the time we left at 11:30, the line looped all the way around Fantasyland. They were saying it was four hours long.
Were they all superfans, too?
You know, I think there were a lot of resellers. There were people who bought ten or 12 or 20 that second day, so I think Disney put a stop to it and limited everyone to five cups.
And since then? Has it been crazy?
It's been crazy lines at the restaurant since last week — not as wild as those first two days, but still crazy.
Are you reselling yours?
No, I wouldn't even know how to do that. I just bought a total of five, including one for my sister and my niece.
What do you think the appeal is?
Well, I think there's a little girl in all of us who wants to be a princess. We all want to feel like Belle. That was one of the biggest movies of our lifetime. When you hold that cup, you feel like you are Belle holding that glass that covers the enchanted rose. Then you add the lights to it. There's just something about it. The colors — the red and the green are so vibrant on the cup. I barely had to edit that photo I took.
Can you drink out of it?
You definitely can drink out of it. Actually, and I didn't know probably until about a week later, I'd dropped one of the cups that I'd meant to give my sister, and the rose broke off, so I opened the whole thing up to glue it back on, and I discovered that the rose actually unscrews, so you can take it out and wash it. They thought of everything. So, yes, you can drink out of it. You're meant to drink out of it.
Have you?
Yeah, I put some pink lemonade in mine and turned the lights on, and it was so pretty as I was drinking. I felt like a princess.
Since it's nearly impossible to get the red-rose cup at this point, what do you think of this jewelry box?
I totally like it! Especially at the price point.
Update 3/21/17: Recently we noticed some limited-edition Beauty and the Beast tumblers being promoted at the movie theater. Was it the same as the Disneyland tumbler? An impostor? We decided to call a representative for Cinépolis and investigate.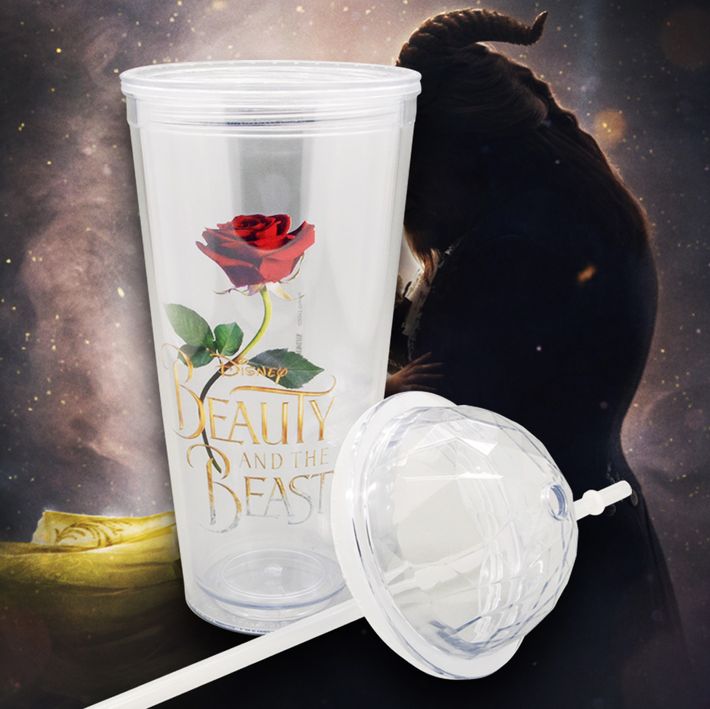 Okay, so what's the deal with this cup?
Ah, yes, the coveted tumbler. Our Cinépolis theaters have a special Beauty and the Beast-themed tumbler. It's similar to the one sold at the Disney theme park, but it's not quite the same.
How is it different? Is there an actual plastic rose inside?
So the rose and the logo are printed on the exterior of the tumbler, but there's no rose inside.

And I assume it doesn't light up.
Ha, no, it doesn't light up.
Even so, I see that they're being sold for $50 on eBay! Are they being limited per customer at the theater?
I don't know if they're being limited per customer, but they are certainly hard to get. What I've been told is that it's nearly sold out at all 16 Cinépolis theaters across the nation.

Oh, so how long will it be sold for?
Until supplies last at those theaters where you can still find it. Once they're gone, they're gone.
The Strategist is designed to surface the most useful, expert recommendations for things to buy across the vast e-commerce landscape. Some of our latest conquests include the best women's jeans, rolling luggage, pillows for side sleepers, ultra-flattering pants, and bath towels. We update links when possible, but note that deals can expire and all prices are subject to change.
Every editorial product is independently selected. If you buy something through our links, New York may earn an affiliate commission.