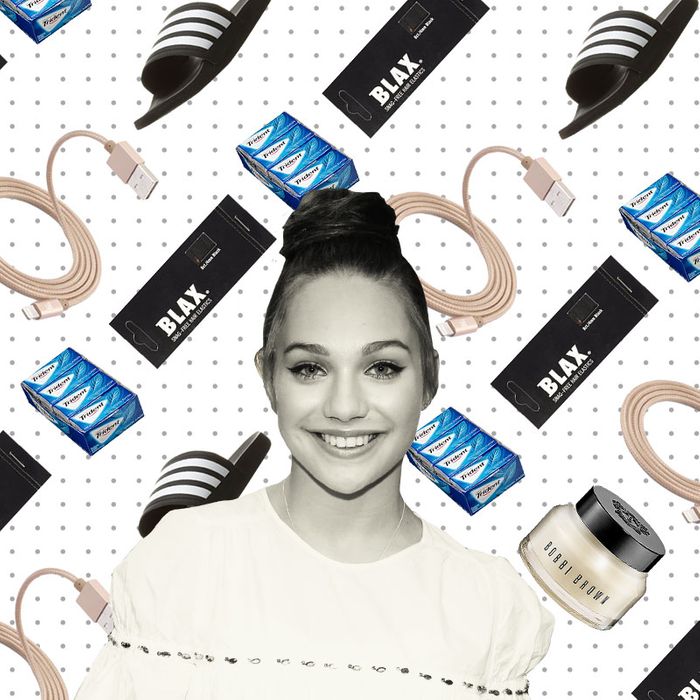 If you're like us, you've probably wondered what famous people add to their carts. Not the JAR brooch and Louis XV chair, but the hand sanitizer and the electric toothbrush. We asked Dance Moms alum and Sia favorite Maddie Ziegler (whose new book The Maddie Diaries is out now), about which items she can't live without.
For dance, I always have my hair up. Actually, even when I'm not dancing, I'll have it up — it's in a topknot right now. These hair ties are the best because they really don't rip your hair out when you take them out. They say they're snag-free and they actually are! Also, I find a lot of hair ties only wrap around your ponytail one time, and then my hair will fall out of it because it's so thick. I actually need to wrap it around four times — these really stretch and allow me to do that while staying in place.
My mom actually had this first. I never use products my mom likes so it's actually shocking that I like this. One day I realized I really needed a moisturizer, and I asked her if she had any. She lent it to me, and I pretty much just stole it. Now it's mine. It smells so good. Every one of my friends comments on how good it smells. The consistency is also so smooth. Some people use it as a primer before makeup, and I'll do that, but I'll actually put it on every night before going to bed, too. It feels so good to go to bed with a really extra hydrated face.
I have this charger that is so long I love it. That's really the problem with these phone chargers — besides that they rip and break — is that you're just stuck right next to your phone while it's charging. With this, I don't have to be near my phone at all. I can be ten feet away and still juicing it. Everyone is like, "Oh, my god, it just goes on and on." It's so convenient.
This might be my favorite thing in the entire world. So I went through this Cap'n Crunch phase, and I still like that cereal, but recently, I don't know what's come over me. These are my new everyday go-to. If I had the chance to eat Frosted Flakes morning, noon, and night, I would. I actually have done that. I love a bowl with 2-percent milk. I'm easy.
So I'd always wanted a pair of slides. I actually had a pair of Fenty x Puma ones, which I love, but aren't really an everyday thing. And then when we went on tour, our wardrobe backstage is really just about walking around in slides because walking barefoot backstage is not a good idea. So they gave us these robes and Adidas slides to wear with our leotards. Now they just remind me of being on tour, which is a nice memory. Of course, they're really comfortable and stylish too.