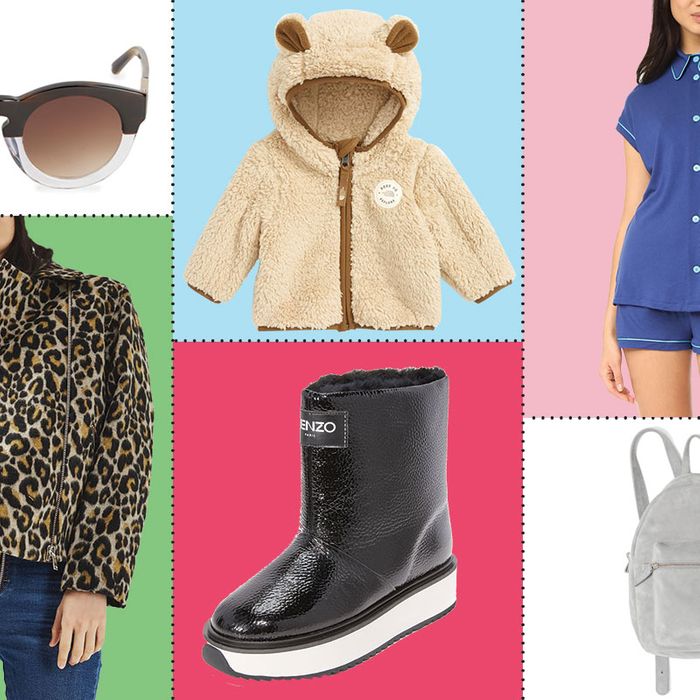 After our weeklong experiment of finding things on sale that are 80, 70, 60, and 50 percent off, we are now back to our regularly scheduled "anything goes" Friday sales roundup — which does not mean these sales are any less great. Below, the 70 percent off Phillip Lim sunglasses and 75 percent off cutting board we dug up.
Photo: Kabir Fernandez
This suede Baggu backpack can fit an iPad mini, a paperback, and your wallet.
Original Price: $280
Some breezy black-and-white loafers for spring.
Original Price: $249
Or, some breezy black-and-white Kenzo snow boots for … right now.
Original Price: $325
Back to springtime: Now's a good time to get your statement sunglasses in order. These 3.1 Philip Lim shades are pretty great.
Original Price: $270
Update: These sold out! Here are some similar 3.1 Phillip Lim sunglasses, also on super-sale.
High-waisted, wide-legged cropped pants are a thing right now. (Here are others we like.)
Original Price: $285
A short-sleeved Cosabella PJ set with some kicky teal piping.
Original Price: $115
Note: These are almost sold out! Here's another pair of on-sale Cosabella PJs.
These silver, pillowy Nikes have a chic-astronaut feel about them.
Original Price: $120
Major h/t to our colleague Jordan Larson for calling this to our attention: There is currently a turtleneck you can buy at Forever 21 with "Upper East Side" emblazoned across the chest, and the (incorrect) zip-code 10012 on the arm. And yes, we just ordered ourselves one. (We also picked up this on-sale denim coat in order to get the free shipping. And we just might wear the two items together!)
Original Price: $11
A classic DVF wrap dress with a not-so-classic splatter pattern.
Original Price: $398
Mason Pearson brushes rarely go on sale. Mason Pearson brushes also happen to be very good Mother's Day gifts.
Original Price: $230
This cutting board, from Quirky, comes with three food "drawers," so you can stow your chopped onions and peppers post-chop.
Original Price: $40
Some dainty embroidered sheets from Pine Cone Hill that come in blue, fuchsia, and light pink. (For more sheets we like, click here and here.)
Original Price: $167
Another Mother's Day–gift idea: This 80 percent off Missoni silk scarf.
Original Price: $280
Araks makes beautiful underthings that are usually a bit too out of reach for us. These silk around-the-house shorts, however, are a very good price.
Original Price: $127