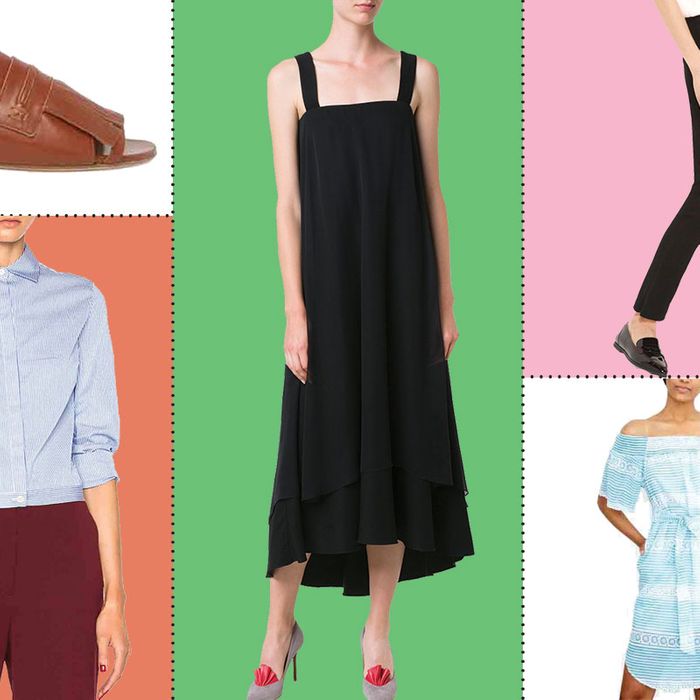 Today's shopping challenge was slightly easier than yesterday's, but we took it no less seriously: to sniff out seven items that are 70 percent off that you might actually want to buy. Below, the suede Michael Kors pants and Maiyet slingback sandals we unearthed.
A drapey Neiman Marcus cashmere cardigan is never a bad idea. (Read our fashion director's ode to her favorite Neiman's cashmere sweater.)
Original Price: $295
This is about to sell out! Here's a similar Neiman Marcus cashmere cardigan that's 50 percent off.
We've told you before that buying kids furniture for your adult apartment is a wonderful shopping hack. Case in point: This festive child's comforter cover from Land of Nod comes in full-queen size, and is only 40 bucks.
Original Price: $129
Photo: E: Ricardo Marques | LM
The straight-across-neckline thick straps and asymmetrical hem make this Adam Lippes black dress a real stunner.
Original Price: $1,350
If you're dreaming of finally tossing your Bean boots to the back of your closet … these Maiyet slingback sandals with a fringe accent are the stuff that balmy spring nights are made of.
Original Price: $595
Speaking of balmy spring nights … how about this festive dress from Banjanan? It was hand-block prin