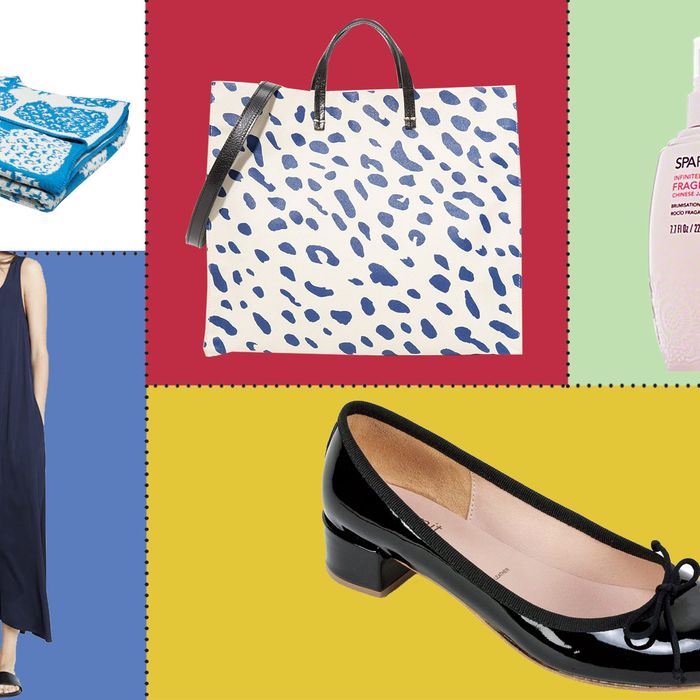 After our deep dives into on-sale Hunter rain boots, Lemlem cover-ups, Mother's Day bathrobes, and Poler camping gear, we took our discerning discount radar and set it loose across the internet. Below, the 80 percent off shirtdress, 74 percent off boots, and 60 percent off maxi dress we found.
Right now is not exactly boots season, to be sure, but you can still get a few weeks out of these puppies, and then you can stow them away for September.
Original Price: $270
It's hard to get hugely excited about a solid-colored maxi dress, but this navy one hangs so nicely, plus it has pockets!
Original Price: $395
These silver metallic slides would look nice with the Vince dress above.
Original Price: $278
Wear this Frank + Oak shirtdress with bare legs, or over a pair of jeans, like this very chic model.
Original Price: $60
True story: We just bought this.
Original Price: $78
Slouch into spring with these wide-leg linen pants from Opening Ceremony.
Original Price: $395
A festive, woven raffia bag that'll take you from the office to the farmers' market to the beach.
Original Price: $215
This little ribbed bralette is the perfect thing to layer under something (or lounge about the house in).
Original Price: $29
A nice Mother's Day gift idea: This fragrant mist (that you can spray on your person, but also doubles as a room spray) is made from frankincense extract, which "soothes tension and relaxes the mind," and cinnamon extract "that stimulates and tones as it promotes mental clarity."
Original Price: $30
How delightful are these li'l pumps?
Original Price: $129
Some high-waisted cropped jeans from Rachel Comey that are black in the front and blue in the back.
Original Price: $360
Some more jeans: These ones, of the skinnier variety, are from Rag & Bone.
Original Price: $250
A very handsome pair of black-and-brown Lanvin sunglasses.
Original Price: $270
Another good Mother's Day gift, the Philips Air Fryer makes healthy(ish) French fries and other fried delicacies with little or no oil.
Original Price: $200
Some all-Bordeaux Converse One Stars — for men.
Original Price: $90
A red See by Chloé wallet that comes with 13 card holders and three cash pockets — we love a many-sleeved wallet!
Original Price: $200
This quilted Kate Spade tote is just the right amount of preppy.
Original Price: $228
The best thing about this throw (other than the pineapples) is that it's reversible.
A brilliant dessert plate from Seletti's famous "hybrid" collection that you can display on a mantel, or a bookshelf.
Original Price: $46
This incredibly fun, speckled canvas tote from Clare V. comes with an optional shoulder strap.
Original Price: $425