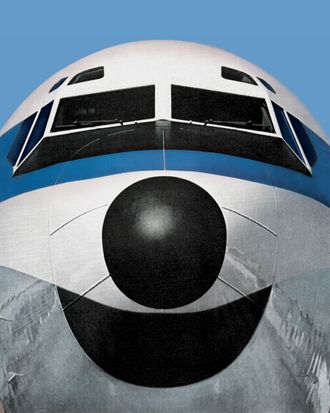 Photo: Color treatment by Gluekit
Buying a plane ticket has never been easier — or more complicated. Online travel agencies claim to offer the greatest fares; fare aggregators claim to offer the greatest selection of online travel agencies. Low-cost carriers promise to fly you to the moon for a pittance — but, oh, you want to check a bag and pick a seat too? That'll be $100 extra. The legacy airlines want you to be loyal and book direct, but they're constantly shifting the goalposts on miles hounds. Miles hounds, in turn, take to deep-dive hobbyist forums like FlyerTalk to rap in Klingon about their juiciest travel hacks. It's all so dizzyingly complex you would be forgiven for wanting to punch your monitor every time you search for a flight. And that's just the ticket purchase. As the recent United debacle illustrates, you can sift through hundreds of options, find a flight, book a ticket, board a plane, and still get dragged off, nose broken and glasses askew. This is not a dignified era in which to be an airline passenger, and the in-flight caste system is more acute than ever. But it's not completely hopeless. We asked 23 airline experts to help us make sense of the contradictions: Is there really a best day to book? Are points more valuable than miles? What's the best travel-reward credit card? And why does it seem like everyone and their broke cousin is flying business class except us? The experts did not agree on everything — some, for instance, still see the value in using online travel agencies like Expedia, while most others pooh-pooh them — although a deep love of Alaska Airlines was nearly unanimous.
Melinda Danielsen, author of Magic of Miles // Daraius Dubash and Emily Jablon, co-founders of Million Mile Secrets // Chris Guillebeau, founder of the Travel Hacking Cartel // George Hobica, founder of Airfarewatchdog // Roman Kalyakin and Vladislav Protasov, co-founders of Flystein // Scott Keyes, founder of Scott's Cheap Flights // Matthew Klint, co-founder of Award Expert and author of Live and Let's Fly // Stefan Krasowski, author of Rapid Travel Chai // Dan Lack and Leigh Rowan, co-founders of Savanti Travel // Jamie Larounis, founder of the Forward Cabin and co-organizer of Frequent Traveler University // Matthew Ma, co-founder of the Flight Deal // Scott Mackenzie, editor of Travel Codex // Seth Miller, aviation journalist and founder of Wandering Aramean // Adam Morvitz, founder and CEO of Juicy Miles and author of Point Me to the Plane // Ben Schlappig, founder of One Mile at a Time // Roman Shteyn, co-founder and CEO of RewardExpert // Brett Snyder, president of Cranky Concierge Air Travel Assistance // Todd Sullivan, co-founder of Flightfox // Tarik, founder of Secret Flying // Aktarer Zaman, founder and CEO of Skiplagged
Deal Hunters: Follow These Nerds
Why struggle through a torrent of airline promos when so many experts already make it their business to sniff out the best deals?
Secret Flying
Good for: Flash sales, last-minute deals, and crazy-low error fares.
Recent score: Round-trip economy fare from New York to Navegantes, Brazil, for $479 on Avianca.
The Flight Deal
Good for: Strategies to help maximize your miles, plus notifications of deals and error fares. (To make the cut, a deal must cost 6 cents or less per mile.)
Recent score: One-way economy fare from New York to 11 European cities (including Barcelona and Paris) starting at $145 on TAP Portugal.
Scott's Cheap Flights
Good for: Deal alerts on cheap international flights. Subscribers to the free newsletter get a third of Scott's deal notifications; premium subscribers ($39 a year) receive everything, plus ad-free alerts customizable by departure airport.
Recent score: Round-trip economy fare from New York to Tel Aviv for $538 on Air Canada.
Airfarewatchdog
Good for: Points/miles minutiae, fare alerts customizable by route, and a daily roundup of the internet's top-50 deals.
Recent score: Round-trip economy fare from New York to Mexico City for $217 on Volaris.
The Points Guy
Good for: Miles and points strategies, airfare alerts, credit-card news, guides to loyalty programs, and candid airline reviews. (Founder-CEO Brian Kelly is very particular when it comes to business and first-class-cabin offerings.)
Recent score: Round-trip economy fare for two people from Newark to Athens for $975 on Emirates.
Notable Exception: Follow @JetBlueCheeps on Twitter for #JetBlueFlashFares, which are one-way tickets starting at $20. These can sell out within the hour, leaving no time for third-party aggregation.
Rewards Members: Hire These Nerds
Many airline pros will help you get the most out of your miles (for a fee, of course).
Award Expert
Matthew Klint and his merry band of miles gurus are research maniacs. Services start at $150 for the first traveler. Kick in an extra $50 per ticket and they'll also take care of booking.
Award Magic
All-inclusive miles/points booking service co-founded by Tahsir Ahsan, a.k.a. the Bengali Miles Guru. Standard one-way and round-trip tickets (including one stopover) cost $159 per person; awards involving three or more destinations are $279.
Book Your Award
The service uses proprietary technology to search 56 airlines in one shot; hacker staffers, meanwhile, know the nuances and loopholes of more than 420 routes. Award booking costs $165 per person.
Cranky Concierge Air Travel Assistance
Brett Snyder's travel agency books both traditional revenue and award tickets. For one-way international award travel booked more than a week out, Cranky charges $105 per person; for round trip, it's $145.
Flightfox
Present it with your best flight quote, and Flightfox promises to beat the quote by more than the cost of its own fee ($50 and up) — otherwise the service is free.
Flystein
Co-founders Roman Kalyakin and Vladislav Protasov offer personalized flight consultations starting at $29. They handle the research, then present clients with instructions to complete the booking. If a client doesn't have enough miles for a trip, they'll explain how to buy them directly from the airline (preferably during a promotion).
Juicy Miles
Each of Adam Morvitz's 32 consultants has a regional specialty. Booking services start at $125 per person, and his team handles everything from start to finish. They can even craft mileage runs to help elite fliers maintain their status or jump to the next level.
PointsPros
Ben Schlappig of One Mile at a Time has a team of consultants who can transfer points, lock in the bookings, and even choose the best seats. Services start at $200 for the first passenger and $100 for the second and target travelers seeking premium cabins on international routes.
Savanti Travel
This is the ultimate resource for corporate fliers. Savanti does not book one-off trips, but its membership model (from $599 a month) covers both business and leisure trips. It just booked a client a $22,000 one-way first-class ticket on Etihad from San Francisco to Abu Dhabi for 115,000 American Airlines miles — a nearly 20 percent return on value.
Travel-Hacking Superlatives
Plus the runners-up for more-advanced fliers.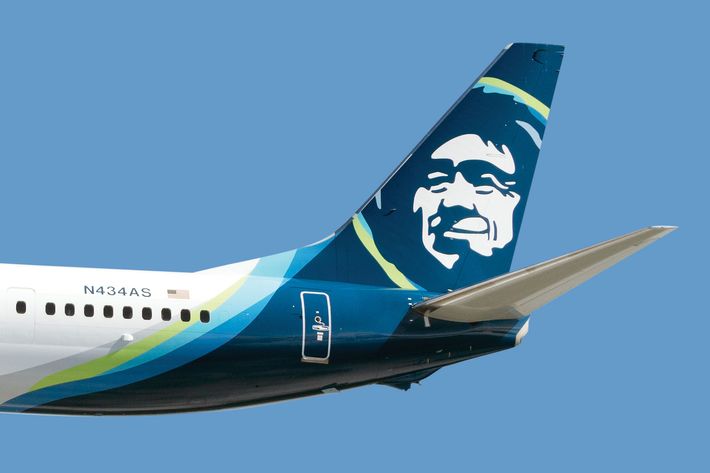 The Best Travel-Reward Credit Card
The Chase Sapphire Reserve card, with its lucrative 100,000-point sign-up bonus and myriad perks, received so much fawning press it's a millennial cliché. But now that the promotion is over and that spectacular six-digit sign-up bonus is off the table, the card — with its $450 annual fee — is less enticing to all but the most frequent travelers. To that end, a number of our experts recommended the regular ol' Chase Sapphire Preferred card instead. It still has a decent sign-up bonus (50,000 points, after meeting the minimum-spend requirements), earns triple the points on airfare as well as double the points on dining, and carries a lower annual fee than its flashy cousin (free the first year, $95 thereafter).
Runner-up: The aforementioned Chase Sapphire Reserve or American Express Platinum, which earns five times the points for every dollar spent on air travel.
The Best Tool for Searching Fares
This is the most-user-friendly search on the market. And if you want to go somewhere for cheap but you're not sure where, Tarik of Secret Flying recommends Google Flights' Explore tool. Simply plug in your origin, travel dates, and budget cap, then load the map, and it'll show you routes all over the world that fit those parameters.
Runner-up: ITA Matrix is ideal for targeted searching, particularly if you desire specific airlines, alliances, or connections. Although you cannot book tickets directly, the BookWithMatrix tool allows you to replicate your itinerary and reserve it elsewhere.
The Best Tool for Searching Award Availability
Comparing award availability across multiple airline programs is a monumental task. Travel Codex's Award Maximizer consolidates data from 14 major loyalty programs into one searchable platform, making it easier to compare award pricing for a specific routing path.
Runner-up: A paid subscription to ExpertFlyer (from $5/month; expertflyer.com), which allows travelers to search specific flight info, view seat availability, gauge the likelihood of an upgrade, and set alerts.
The Best Frequent-Flier Program
Our experts were quite opinionated on this topic, but the one name that came up time and again was Alaska Airlines. "They're the only major U.S. program to still award miles based on distance flown, rather than dollars spent," says Ben Schlappig of One Mile at a Time. The airline recently acquired Virgin America, majorly expanding its reach, and now boasts 18 partners (including members of Oneworld and SkyTeam), and highly rated international carriers like Cathay Pacific, Korean Air, and Qantas. Moreover, there are no revenue requirements to earn elite status. "As an MVP Gold member, I can change a ticket at any time, even on the day of departure, with no fees," says Scott Mackenzie of Travel Codex, another Alaskan loyalist. "The award chart is also relatively inexpensive. For example, Alaska and American Airlines have many of the same partners, but Alaska often charges 30 to 50 percent fewer miles for the same business or first-class award seat."
Runner-up: Southwest Airlines Rapid Rewards. The Companion Pass program lets frequent fliers who've taken 100 qualifying one-way flights bring guests for free. Our experts also dig Southwest's flexible cancellation policy and low-fare guarantee.
Go to Travel-Hacking School
Sign up for NomadFly, a free five-day flight-hacking email course created by former travel agent Beck Power. For $7, download her strategy-packed eBook Flight Route Hacking.
Join Chris Guillebeau's Travel Hacking Cartel to learn everything he and his fellow mileage masters know, from earning elite status to tricks for sleuthing out error fares. Subscriptions start at $12.50 a month.
Register for a two-day travel-hacking boot camp hosted by Frequent Traveler University. The next conference is scheduled for June 10 and 11 in Minneapolis. Day passes start at $149, and sessions cover such micro-topics as "Top-Tier Delta Status Through Credit Card Spending."
How to Recognize a Great Award When You See One
Although what constitutes a good deal is subjective, Roman Shteyn of RewardExpert relies on a hard cent-per-mile formula to calculate the value of award redemptions.
To figure out the CPM, follow this formula: (Ticket Price - Taxes) / Price in Miles X 100 = CPM

"You start getting good value when you hit over 2 cents per mile," says Shteyn, noting that intercontinental business tickets usually offer the highest value for your miles redemption, particularly when the frequent-flier programs won't ding you with outrageous fuel surcharges.
To Book Two Vacations in One, Add a Stopover
Unlike a layover, a stopover lasts more than 24 hours and gives you time to do a little sightseeing. (Find them by clicking "multicity" during your flight search.) Many airlines allow free or nominally priced stopovers on long-haul flights; some even foot your hotel bill. Here, courtesy of Flystein co-founders Vladislav Protasov and Roman Kalyakin, a sampling of airline two-for-ones originating from New York City.
Qatar Airways
Allows stopovers up to 96 hours.
Stopover city: Doha
Final destination: Bangkok
Icelandair
Allows for free stays up to seven nights en route to 26 European destinations.
Stopover city: Reykjavik
Final destination: Paris
Etihad Airways
Brokers free overnight stays at five-star hotels for its business and first-class passengers.
Stopover city: Abu Dhabi
Final destination: Maldives
Emirates
Allows multiple stopovers, so technically a three-for-one.
Stopover city: Milan
Stopover city: Bangkok
Final destination: Dubai
Royal Air Maroc
Final-destination options also include London, Amsterdam, Moscow, and many others.
Stopover city: Casablanca
Final destination: Madrid
TAP Portugal
Allows free stays up to 72 hours in Lisbon and Porto (OPO).
Stopover city: Lisbon
Final destination: London
Hawaiian Airlines
Stopover length is unlimited, on a case-by-case basis.
Stopover city: Honolulu
Final destination: Sydney
China Southern Airlines
Beijing and Shanghai are also options.
Stopover city: Guangzhou
Final destination: Tokyo
Consider Stewart International
When you're dealing with multi-airport cities, deciding which one to fly into or out of is an imprecise art. "The rule of thumb is to search them all," says Stefan Krasowski of Rapid Travel Chai. Krasowski always recommends pricing fares from smaller regional airports like Stewart International (SWF) near Newburgh. (In February, Norwegian Air advertised a limited number of $65 nonstop one-way fares between SWF and cities in Ireland, Northern Ireland, and Scotland.) Getting up to Stewart, approximately 80 minutes north of Manhattan, will be easier this June, when Coach USA introduces a direct shuttle from Port Authority — a ride that adds just $20 to your bottom line.
No, Don't Hoard Your Miles
And other answers to ticket-buying FAQs.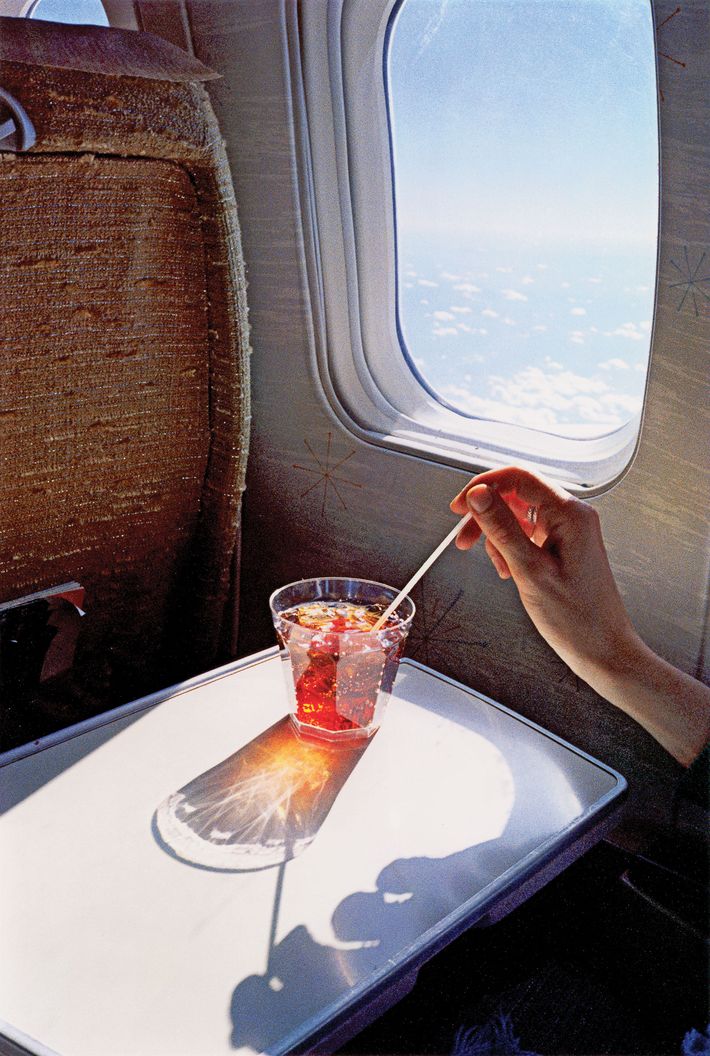 Is there such a thing as dirt-cheap last-minute tickets?
Not really. Years ago, airlines would slash prices shortly before a flight in order to meet capacity. Now they do the opposite: jack up the fares to nail last-minute business travelers who'll likely expense the tickets anyway. The exception to this is booking last-minute award tickets, which do not fluctuate the way cash tickets do. When Matthew Klint of Award Expert had to fly from Los Angeles to Seattle at the 11th hour, one-way retail tickets cost $385. Instead, he used 7,500 British Airways miles and paid $5.60 in taxes, booking with less than 24 hours to go.
How far in advance should I book?
The ideal time to buy retail tickets is one to three months before you fly. Matthew Ma of the Flight Deal suggests tracking your desired route and date using alerts on Google Flights and then buying when the price falls below trend, keeping in mind that if your flight is within 21 days, the price is likely to increase. Miles are a different story. "With those, you're best off booking either 11 months out or in the weeks leading up to departure," says Ben Schlappig of One Mile at a Time.
Should I book two one-way tickets or a round trip?
For international fares, one-way tickets are typically more expensive than round trips — sometimes up to five times the cost, according to Tarik of Secret Flying. When you find an exception, it's often a one-way flown by a low-cost carrier. Hidden-city ticketing is another booking strategy our experts mentioned — with caveats. This is the practice of booking a two-segment, one-way ticket from point A to point B to point C, but instead of flying all the way through to point C, you end your journey at point B. That's because it's cheaper to get off at the layover city than to fly direct. The strategy only works if you book one way and never check baggage; Skiplagged is the most popular site for searching these fares. Not surprisingly, airlines frown upon the practice. If you are caught doing it, an airline may kill your miles bank.
Is it better to book tickets through an airline or with an online travel agency?
It's almost always better to buy direct, rather than through third-party travel agencies like Expedia or Orbitz. Some OTAs don't expose fare rules, so you might not earn frequent-flier miles; others impose additional charges on flight changes or just make the fares non-changeable/nonrefundable. The biggest issue, however, is poor customer service. "When booking through an OTA, the airline is no longer responsible for getting you to your destination if there is a delay," says Scott Mackenzie of Travel Codex.
Should I clear my cache before searching for a flight?
No. There is no proof that travel sites are monitoring your visits and driving up fares because they know you're interested.
Are airlines required to honor mistake fares?
Not anymore. A recent change in the Department of Transportation rules made it so that airlines aren't required to honor error fares — but about 85 percent of them still do.
When buying tickets on foreign airlines, is it cheaper to book using the native currency and language?
Sometimes. Roman Kalyakin and Vladislav Protasov of Flystein have two explanations for this: Airlines sometimes offer discounts for local points of sale, and the currency exchange may have fluctuated but the fares have yet to be recalculated. When booking a trip on an international carrier, Daraius Dubash of Million Mile Secrets puts the fare in the local currency and uses Google Translate to navigate any language barriers. It's worth a shot.
When is it a good idea to buy miles?
"When they run promotions and when you could use them right away for an award flight," say Kalyakin and Protasov. Their all-time greatest deal — a $250 first-class ticket on a Qatar A380 flight running from Doha to Bangkok — was purchased just this way. The trick was to buy deeply discounted miles from GOL Airlines' Smiles loyalty program, a Brazilian partner of Qatar Airways, during a three-for-one promo and then find low-price award flights.
What is the best day to fly?
Just as you'd suspect, Tuesdays and Wednesdays (and Thursdays, if you're flying internationally) tend to have the best fares — when there's less competition with both the business travelers and regular folks.
The Best Deal I Ever Got
"Nonstop NYC to Milan for $130 round trip. I saw someone post on a message board about a mistake fare from a Norwegian affiliateof United Airlines.I immediately convinced a friend to come, and we had an amazing trip — skiing in the Alps and hanging out at Lake Como. The Norwegian affiliate fixed the error about ten minutes after I booked." —Scott Keyes of Scott's Cheap Flights
"I used 90,000 American AAdvantage miles to book Etihad's first-class apartment from New York to Abu Dhabi. After a stopover, I continued on to Kathmandu. On my day of travel, the seat was priced at $22,009 one way! Separate bed, shower, and onboard chef weren't bad." —Adam Morvitz of Juicy Miles
"My greatest deals stretch award-ticket-routing rules to the max. Last year, before United changed its rules, I booked a one-way award ticket for the regular Africa-U.S. price of 40,000 miles from the island of São Tomé to Nairobi (a 23-hour safari stop) to Rome (a 12-hour Vatican stop) to the Azores islands (a 22-hour visit) to Brussels (an 18-hour visit) to New York. This would have cost thousands of dollars and many more miles if booked as separate tickets." —Stefan Krasowski of Rapid Travel Chai
"A couple of years ago, Delta had a whole slew of mistake fares and I was able to get eight of us — me and my extended family — from L.A. to Maui round trip for $161.60 each … in first class." —Brett Snyder of Cranky Concierge Air Travel Assistance
*This article appears in the May 15, 2017, issue of New York Magazine.
The Strategist is designed to surface the most useful, expert recommendations for things to buy across the vast e-commerce landscape. Some of our latest conquests include the best women's jeans, rolling luggage, pillows for side sleepers, ultra-flattering pants, and bath towels. We update links when possible, but note that deals can expire and all prices are subject to change.
Every editorial product is independently selected. If you buy something through our links, New York may earn an affiliate commission.