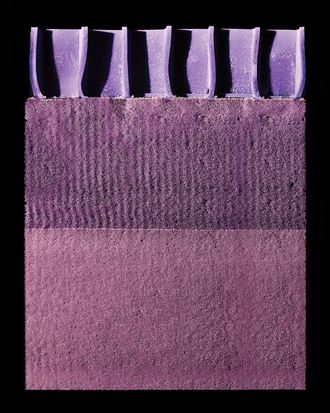 Mattress innards: The proprietary Hyper-Elastic Polymer of a Purple mattress.
Photo: Bobby Doherty/New York Magazine
It's not crazy — faintly ridiculous maybe, but not crazy — to suggest that we are living in what amounts to a golden age of mattresses. Never before have so many of the best mattresses been available for so little — or so much. If you are the kind of person for whom a Lamborghini is too conspicuous a display of wealth, there is a mattress like the $150,000 Vividus from Hästens. If you are the kind of person who wants to buy a mattress that costs 187 times less than Hästens' handmade, all-organic, somewhat imperious product but is certainly not 187 times less comfortable, there are hundreds of options. And if you are the kind of person who finds so many options overwhelming, there is a cohort of new and innovative e-commerce mattress companies that make mattress purchasing as easy as clicking a button. But all these choices mean it's easy to lose sight of the only question about mattresses that matters: Can any of them help you sleep better at night?
Until relatively recently, the mattress industry wasn't exactly a hotbed of technical achievement. The first leap forward came 146 years ago, when a German named Heinrich Westphal addressed the problem of sleeping on a mattress filled with leaves, straw, or whatever else the lumpenproletariat had lying around by inventing the durable and easy-to-manufacture innerspring mattress. That's a mattress filled with coiled steel springs (typically between 600 and 1,000) for support, topped with batting for comfort, and wrapped in ticking. The odd water-bed and air-filled-mattress fads aside, Westphal's invention remained the basic template, the standard, for more than a century — until 1992, when Tempur-Pedic imported viscoelastic polyurethane foam, designed by NASA for aircraft-seat cushioning, into mattresses and provided the added comfort of a material that conforms to the body.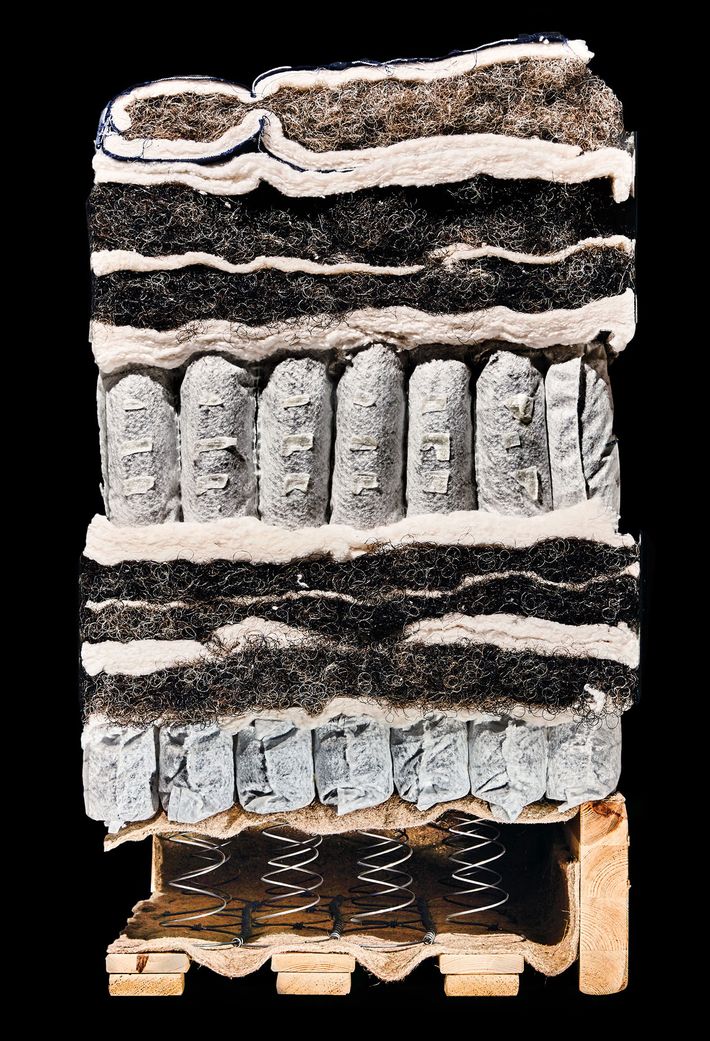 Now, increasingly, consumers are buying mattresses online without having tried them. The vast majority of the roughly 22 million beds sold in America every year are still purchased from a physical store, but in 2016, experts estimate, the three biggest e-commerce mattress retailers (Casper, Saatva, and Tuft & Needle, none more than five years old) generated $500 million in revenue. Their sales growth is triple that of the brick-and-mortar Old Guard. So-called bed-in-a-box companies sell one model, generally in the $800 range and made of foam, rather than springs, so it can be squished into a box and easily shipped to your home. (Where you can experience the delight of unfurling it — sharing that moment has become a surprisingly popular YouTube subgenre.) You never have to deal with a salesperson, and, because you can't try it before buying it, the return policies are generous (even if getting it back in the box is not the easiest). All you have to do is go to, say, Casper's or Lull's or Leesa's site, pick the size of the mattress you want — perhaps after reading a prominently placed screed on their sites against traditional mattress companies' shady business practices; look for headings like "The Truth" or "Sleep Exposed"—and simply click BUY. The process may seem unnervingly simple for such an important purchase, but according to the sleep experts, mattresses really need to do only two things: provide pressure relief — which means distributing your weight evenly across the mattress's surface to avoid pressure points and soreness — and stay cool.
About 100 of these Casper types are now competing in the click-to-buy space. And as if mattress choices weren't already complicated, other brands are rolling out smart beds — they'll sell in the $3,000-to-$5,000 range — that can measure various sleep-related biometrics, automatically raise your head if you're snoring, warm your feet if they're cold, and shut off your phone when you don't have the willpower to stop scrolling Twitter. (Okay, not that last one, but why not imagine a feature that's really worthwhile?)
The "disrupters" are moving in lockstep with what amounts to a collective cultural obsession with sleep. The average American gets about six and a half hours of sleep per night, down 90 minutes from a generation ago. As a result, we're increasingly fixated on how to optimize the sleep we get. Hence the explosion of sleep-monitoring apps, wearable sleep trackers, smart clocks, and smart pillows that help you properly attend to your "sleep environment."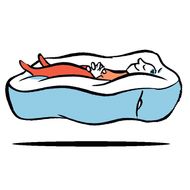 But in the effort to trumpet their products, young companies have, ironically, replicated the old bewildering problem of the mattress store, just at a lower cost. Now, instead of being overwhelmed in a Sleepy's, consumers are overwhelmed while comparison shopping on the internet. Whatever disruption has occurred, it has only plopped consumers right back into the mattress maze, and it's advertising, not mattress technology, that's leading them out. "Decisions are coming down to two things," Joe Auer, co-founder of the Mattress Clarity review site, says. "Personal preference — some people like foam mattresses and some people don't—and marketing: People are buying the mattress they see ads for the most."
So how then should we pick a mattress? Loving an ad? Throwing a dart? Abusing the 100-day return policies of the start-up brands and filling your apartment with human-size mattress boxes? Another option, according to clinical psychologist and sleep expert Dr. Michael Breus, is to show up to an old-school mattress store at the end of the day, when your feet are a little swollen, wearing sweatpants or some other garment with pajamalike comfort, and carrying your pillow from home: Once the sales associate shows you a few top beds, set an alarm and spend seven minutes on each, "to allow your heart rate to adjust to lying down." There are ways, in other words, to find what you're looking for amid all the high-density foam, inner coil springs, Dunlop latex, and moisture-wicking fabrics. It just takes a little time. —David Marchese
Do You Want to Try One Out in Person?
Here's how you can, following the bring-your-own-pillow-and-rest-for-at-least-seven-minutes advice of clinical psychologist and sleep expert Dr. Michael Breus. By Lauren Schwartzberg
Illustration: Nishant Choksi/Courtesy of the vendor
Simmons Beautyrest Recharge Signature Select Hartfield Luxury
At Mattress Firm (the company that bought Sleepy's and renamed all the stores), my boyfriend and I lie listening to a mom burp her baby and I'm distracted by the massage settings of this model's adjustable base (sold separately). At the sixth minute, my outlook changes. It isn't that I'm more relaxed but that I can actually feel the way my body hits the mattress. The goal for a mattress, according to the experts, is pressure relief — to have your entire spine hit it evenly, no one part sinking lower than the next, and it is only after the five-minute mark that I feel settled enough to be mindful of that. This mattress feels good.
Illustration: Nishant Choksi/Courtesy of the vendor
Hampton and Rhodes HR500
I've never used a memory-foam mattress before, and I love it. It envelops my whole body, letting me sink in deeper than I ever would with non-foam, while somehow still remaining firm enough that I feel propped up. It's also much less bouncy, which I'm not sure if I like. It takes about four minutes for my body to settle in. We listen to Adele's "Send My Love (To Your New Lover)," we read on our cell phones, I start feeling tired, but I don't fall asleep. When the timer goes off, my partner says his back is too hot. I didn't feel the same way, probably because I generally prefer the heat, but a Google search on memory foams tells me that they are known to suck in heat and offer less breathability than spring mattresses.
Illustration: Nishant Choksi/Courtesy of the vendor
Sealy Deveraux With Plush Euro Pillow Top
At first, this one feels soft and cozy with its plush top. But about six minutes in, I realize that my butt is definitely sinking lower than my back, leaving a slight opening between my back and the mattress and starting, even after just minutes,to cause lower-back pain. The pressure relief isn't there. When I flip to lie on my stomach, I feel like I'm sinking in there too. We try the Hartfield again (mattress No. 1), and after another full seven minutes, we can tell why we prefer it. It hits in all the right places. The memory foam is a close second, but I'm not ready to risk night sweats. As we get ready to leave, the store owner comes over and says that for $50, we can stay the night.
This Sealy model is no longer available, but here is a similar Queen version and here is a similar Full version.
How to Haggle in 2017
Using the advice of Nick Robinson and Joe Auer, respective founders of the mattress-review sites Sleep Like the Dead and Mattress Clarity.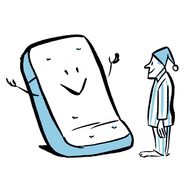 Tip No. 1 | Ask Directly for a Discount
Nick Robinson prefers the old "Can you do any better?" line. I tried this at Coco-Mat, and it worked immediately. After testing out its $4,000 Proteas mattress, I asked if there was any flexibility and was told that since it was the end of the month, the store could offer 15 percent off, a free pillow, and a free linen set. At Mattress Firm, I used the line on a queen Beautyrest Hartfield, and it was swiftly dropped from the $750 listed price to $600 with the delivery fee reduced by half, to $40.
Tip No. 2 | Reference the Start-ups
Traditional mattress stores have made changes to compete with the Caspers of the world. When I referenced Casper's generous return policy during my Mattress Firm trip, I was offered a 100-day trial, after which I could still return the mattress for a full refund.
Tip No. 3 | Don't Try the "It's Cheaper Online" Logic
"The most confusing thing is that different stores will use different names for the same mattress," says Auer. And indeed, at Mattress Firm, when I showed the employee a mattress I found online that was extremely similar to the Beautyrest Hartfield, but $509, he told me the Hartfield had 50 more coils — a metric I couldn't verify made any difference but also couldn't argue against. So I asked for a free pillow, which I was told I could get if I wrote a Yelp review.
Tip No. 4 | You Can't Haggle a Casper
I called up the customer-service line and told the cheery woman on the other end about my $600 queen-size Beautyrest mattress that I could return after a 100-day trial. In response, I was told there's no price matching. I followed up by asking for a pillow to sweeten the deal and was directed to "Google around" for a $50 promo code, which would only bring a $950 queen Casper down to $900 (as anyone who's ever been on the subway knows, the code is "subway"). —L.S.
Do You Want to Buy One Online?
A comparison of the four major start-ups. —D.M.
Photo: Courtesy of the vendor
Secret Sauce
Casper plays this one even closer to the vest than its already pretty secretive competitors, focusing on process — its intensive R&D team continually refines the product — rather than a singular element of its memory-foam mattress.
What It's Supposed to Do
"Open cell" technology keeps heat flowing away from your body; the "pressure relieving" foam and "springy" top layer are meant to produce a "practically weightless" feeling.
What It Actually Feels Like
More than the other mattresses here, the Casper had significant sink to it — especially around the butt — which made my legs feel slightly and pleasantly raised above my hips.
Casper mattress
Photo: Courtesy of the vendor
Secret Sauce
A top-layer of "cooling Aveena foam," a middle layer of naturally pressure-relieving foam, then a base layer of dense foam for support — all contributing to its "universal adaptive feel." [Editor's note: Since this story was first published, Leesa now refers to its top layer simply as "foam."]
What It's Supposed to Do
Be comfortable to everyone, with an emphasis on the physically active, who treat sleep as a performance-enhancer — hence endorsements from Olympians Michael Phelps and Aly Raisman.
What It Actually Feels Like
As a non-Olympian, I can't attest to the Leesa's restorative powers, but the mattress had only minimal sink, and I had the sensation of lying on a soft yet flat surface that felt cozy and supportive in any sleeping position.
Leesa mattress
Photo: Courtesy of the vendor
Secret Sauce
A purple — hence the company's name — gridded top layer made of a proprietary "Hyper-Elastic Polymer."
What It's Supposed to Do
Deliver "perfect spinal alignment," neutral temperature (i.e., be neither hot nor cool), and pressure relief for the hips and shoulders.
What It Actually Feels Like
"Hyper-Elastic" is no joke; this mattress felt noticeably bouncier than the others. And presumably this won't matter once you've put the mattress in its place, but the Purple is significantly heavier — and thus harder to move — than its trio of competitors.
Purple mattress
Photo: Courtesy of the vendor
Secret Sauce
"T&N Adaptive Foam."
What It's Supposed to Do
Aided by a "supportive base layer" of material that keeps you from sinking too much into the mattress, the adaptive foam uses gel and graphite to disperse heat away from your body so you stay cool.
What It Actually Feels Like
Where Casper aspires to a feeling of weightlessness, the firmer Tuft & Needle gives a sensation of being held up rather than floating. There's almost no sink.
Tuft & Needle mattress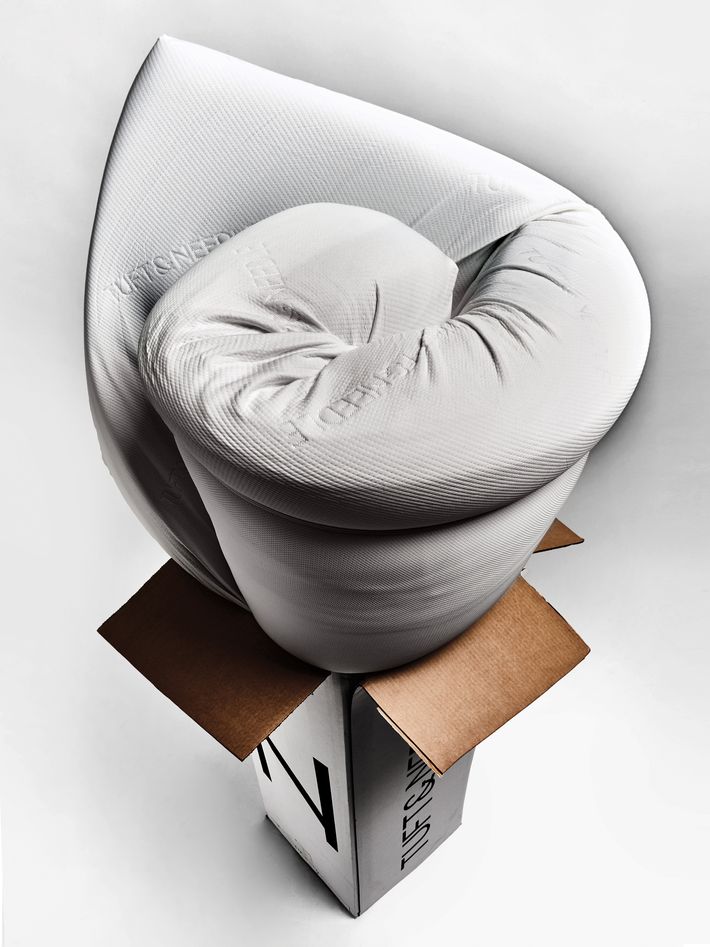 And 15
Other

Casper Types