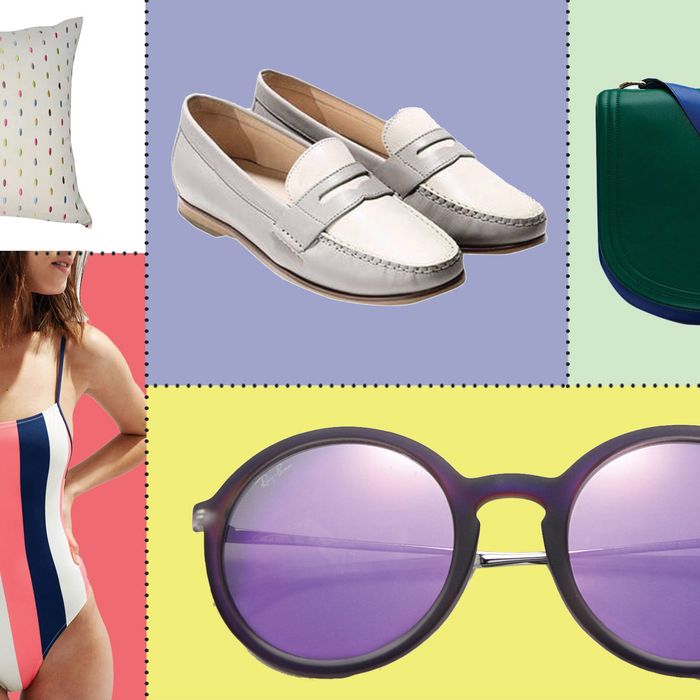 We assume you've gotten something for your mother — now it's time to get something for yourself: like an 80 percent off Jennifer Fisher ring, a 55 percent off Equipment dress, or a 69 percent off Dutch oven.
A signet-ish ring from L.A. jewelry designer Jennifer Fisher.
Original Price: $225
Update: This sold out! But there is a lot of heavily-discounted Jennifer Fisher to be had: Like this $24 ring, these $64 earrings, or $72 cuff.
These Coach leather espadrilles are work-appropriate.
Original Price: $165
An everyday saddle bag from DVF in pleasing shades of green and blue. It features a magnetized closure and three interior pockets.
Original Price: $498
Photo: Caitlin Kelly/Copyright: Caitlin Kelly
Our favorite part of this Solid & Striped one-piece bathing suit are the superthin straps.
Original Price: $168
These mirrored Ray-Bans supposedly add a "chic, mystery finish" to the brand's classic round sunglasses style.
Original Price: $140
We found a bunch of floral dresses that we're going to list in a row. First up: this little Mango number.
Original Price: $60
This billowy, flowy Michael Kors dress is perfect for this in-between weather.
Original Price: $175
An easy, breezy loose-fitting frock from Equipment.
Original Price: $318
Also Equipment, also floral, though this one has pockets.
Original Price: $298
These gray and white Cole Haan loafers are real cuties.
Original Price: $170
This 5-quart Sur La Table Dutch oven is quite a bit cheaper than your standard Le Creuset.
Original Price: $175
A striking (77 percent off!) serving platter from Bungalo.
Original Price: $78
Our favorite thing about these cropped jeans by Nobody Denim is the soft white crease in the front, below the knees.
Original Price: $229
Just some classic chukka boots from Hudson London.
Original Price: $175
Hey, it's a Marc Jacobs tote bag with a hot dog on it!
Original Price: $75
This fleece jacket from Free People is perfect for a summer beach day (that turns into a summer beach night).
Original Price: $148
A pair of $10 Cosabella undies.
Original Price: $35
This mouthy, pouty Charlotte Olympia pouch would make a cute clutch or makeup bag.
Original Price: $445
An incredibly soft pink-and-white cotton striped throw from Turkish T.
Original Price: $76