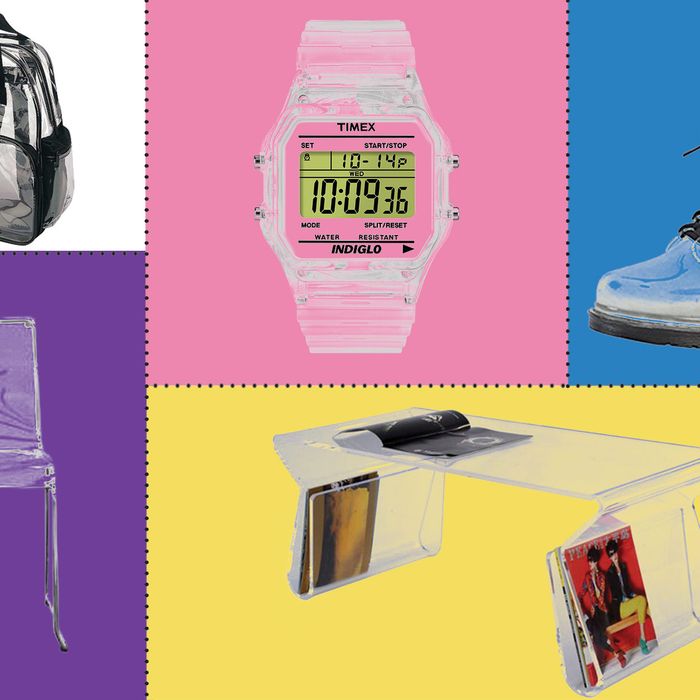 Acrylic is the new marble.
There are certain things in life that are so ugly they're beautiful, or so ugly they're cute. (The French call it jolie laide; the Japanese, busakawa.) Think of bulldogs, bumpy noses — or Birkenstocks. This week, we're celebrating the faces that only a mother could love. Welcome to Fugly Week on the Strategist.
Maybe you first started getting excited about transparency with Everlane and all the other like-minded start-ups who were hawking their everyday basics with tell-all manufacturing practices. The attitude alone, a new principle in attainable fast fashion, got everyone riled up, and the company, as we all know by now, took off. But that was founded in 2010, and the idea of transparency has since become far more literal.
It inched closer to actual wearable fashion when iridescent sneakers became a thing last year, even closer when Topshop released jeans with cutout plastic panels, and took over completely this April when Topshop again — possibly in a great internet troll, possibly because #fashion — unveiled fully transparent "jeans." Just yesterday, Balenciaga sent plastic raincoats down the runway in their men's fashion week show.
Meanwhile in design, thanks to Guillermo Santoma's series of glass chairs and makers like Sabine Marcelis and Helen Pashgian, glass, acrylic, Lucite, and everything clear plastic are on their way to becoming the marble and brass of 2017. Out with the heavy, overbearing, and opaque, in with seeing everything as it stands and removing the clutter (or at the very least, not trying to hide it). So below, we've collected some easy ways to get in on the trend right as it's starting out.
Note: There are only a few of these left, but here is another set of "Ghost Style" arm chairs.
Note: This watch is currently unavailable, but here are two other options—digital or analog.