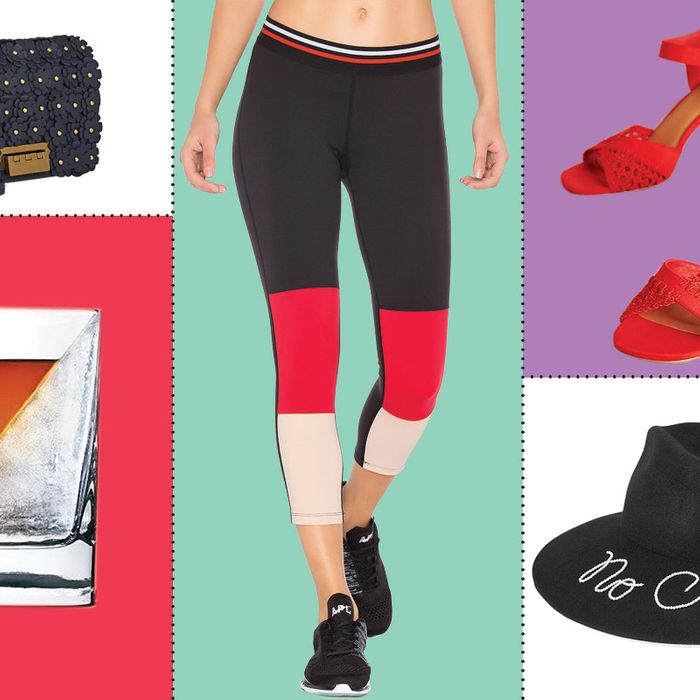 As we did last week, we've devoted a chunk of our weekly sales post to Father's Day gifts, as it's now just one week away! For those who've already done their dad-shopping, we've dug up a 50 percent off Clare V. tote and a pair of 40 percent off Common Projects slip-ons.
A traveler's watch from Skagen for the jet-setting dad. (For more watches that make great Father's Day gifts, click here.)
Original Price: $235
A cotton-and-wool Pendleton throw for the upstate-cabin dad.
Original Price: $129
A pair of Saturdays sunglasses for the weekend-in-the-Rockaways dad. NOTE: These are no longer on sale, but we found these Bottega Veneta shades that are just $182 (34% off) that dad might love.
Original Price: $295
A Whiskey Wedge glass (so that his whiskey stays cold, but not watery) for the boozing dad.
Original Price: $22
An insulated cooler backpack for the picnicking dad.
Original Price: $60
Three "grill grids" (which make barbecuing cubed meats, shrimp, and veggies super easy) for the pitmaster dad.
Original Price: $75
A straightforward, vegetable-tanned, matte-leather everyday tote from Clare V.
Original Price: $365
Wear this Eugenia Kim beach hat (with the words "No Comment" embroidered across the rim) and (hopefully) everyone will leave you alone, and you'll be able to read your In Touch in peace.
Original Price: $595
A pair of summery suede Common Projects slip-on sneaks. (They come in navy, too.)
Original Price: $418
Some black skinnies from Acne Studios.
Original Price: $200
We actually own this Tula purifying skin cleanser (we have a mini-bottle of it, which we got for free, that we keep in our travel case), and can vouch for its excellence.
Original Price: $28
Photo: unknown
Attention, Cautious Cathys: some SPF 60 La Roche-Posay "melt-in sunscreen milk." Doesn't that sound appealing? (For more sunscreens we like, click here.)
Original Price: $36
These take the fashion-pool-slide trend slightly too far (they say "D&G Luxury Hotel"), but that's why we like them. They come in white, too.
Original Price: $395
There is something so joyful about this Zac by Zac Posen cross-body bag, festooned with appliqué flowers.
Original Price: $295
These Pilcro overalls look like they might actually be flattering.
Original Price: $168
Dress this up for a summer wedding, or wear it with flip flops to brunch.
Original Price: $158
Pair your new overalls with a new pair of fire-engine-red, cork-heeled sandals.
Original Price: $128
Another pair of cork block heels, these ones a little fancier, and from Gianvito Rossi (and 50 percent off).
Original Price: $695