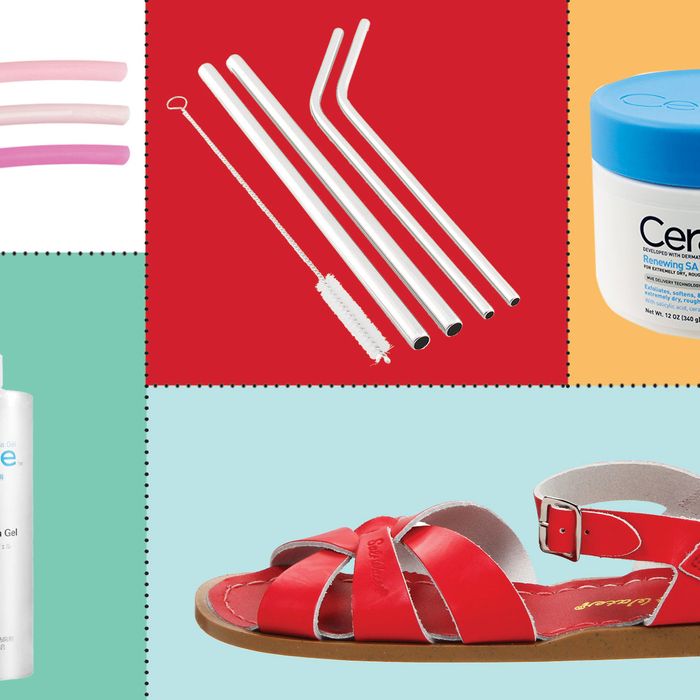 Welcome back to Your Shopping Cart, wherein we break out the top-five products that you, devoted Strategist readers, all bought in droves. Think of this as the tl;dr of the Strategist: If your like-minded brethren are buying these items, maybe you'd like to, too.
Call it the week of the comeback. Our ultrapopular Japanese exfoliator, which fell from first to fourth place last week, is back in the lead! And coming in at a close second is the ever-steady facial razor set (no. 4 in our last installment). We were happy to see two non-skin-care-related items make their debut: trend-resistant Salt Water sandals and ecofriendly metal straws.
1. My Friends Call Me "Babyface" Thanks to This Japanese Exfoliator
A runaway success since it debuted during Made in Japan week, Cure is back in the no. 1 spot this week. Writer Jinnie Lee introduced us to the joys of this Japanese facial exfoliator. The most satisfying part of using it, she says, is when "the gel will start to shed … much like the way pencil erasers leave those squiggly rubbings behind (it's similar to a foot peel in that way)." Ever since using it, she says, her "skin has felt softer, fresher, and even more youthful — never dried out or tight."
2. The Best Facial-Hair Remover Is This Tiny Japanese Razor
You guys cannot. Stop. Buying. Facial. Razors! These Shiseido facial razors have been on this list since the get-go. According to the Cut's beauty editor, Kathleen Hou, "They're small enough to fit under your chin, with enough of an edge to remove peach fuzz, yet not so sharp that they'll nick you. And the fear that shaving your chin hair will make it grow back with a vengeance is unfounded. Japanese celebrity makeup artist Munemi Imai claims it's been a long-held beauty secret in her country. "In Japan, we do shave our face," she says. "It brightens it up and makes it much easier to apply makeup." If Imai hasn't convinced you, the Real Housewives and Bachelor contestants swear by the technique, too.
3. I Sip My Iced Coffee From These Stylish (Ecofriendly) Straws
New on the list this week, and making an honorable debut at No. 3, are these metal straws, which writer Bethany Blakeman says are a nice alternative to plastic straws, which Americans use a ton of, and which end up in the ocean. "I keep these in my tote bag," she writes, "and whip them out whenever I'm at a coffee shop. Once at Starbucks, a talkative barista commented on my straw. 'Hey, I'm with you,' he told me."
4. The Unsexy Foot Cream Dermatologists Swear By
For Feet Week, beauty editor and writer Hannah Morrill introduced us to a foot cream that moisturizes and exfoliates: "The best contender I've found for this job? CeraVe Renewing SA Cream, which itself was developed with dermatologists and contains both exfoliant salicylic acid (that's what the SA stands for) and ammonium lactate in the first ten ingredients, meaning the concentrations are significant, not an afterthought."