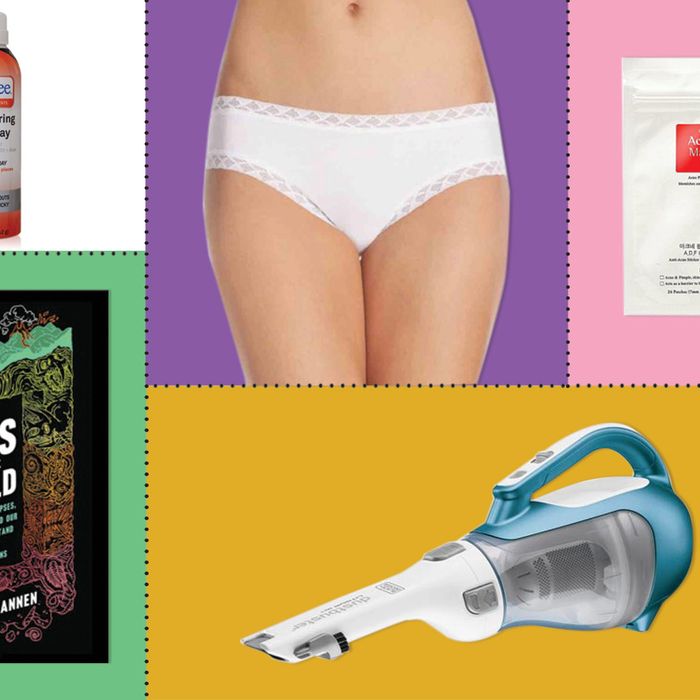 Welcome back to Your Shopping Cart, wherein we break out the top-five products that you, devoted Strategist readers, all bought in droves. Think of this as the tl;dr of the Strategist: If your like-minded brethren are buying these items, maybe you'd like to, too.
We have a brand-new top five — and a new champion of the shopping cart! Ever since we posted Rio Viera-Newton's story about her 16-product regimen for perfect, glowing skin, it's eclipsed everything in its wake. (Your Shopping Cart has basically turned into a competition for second place.) The second-most popular item with readers has been the AcneFree spray that eliminated writer Hannah Morrill's bacne nearly overnight. Readers were also riveted by David Wallace-Wells's "Uninhabitable Earth" story, and bought one book from his reading list in droves. In fourth place is a pair of cotton briefs from our best-women's-underwear story that a lot of you have been trying (and loving). And rounding out the top five is a Black & Decker cordless vacuum that was one of the best-reviewed Prime Day deals — it's now just slightly reduced at 10 percent off.
2. This Derm-Approved Spray Cleared Up My Bacne Practically Overnight
Writer Hannah Morrill never experienced back acne until becoming pregnant. Fed up with trying to use acne face products on her back, she turned to a dermatologist, who let her in on the secret of the AcneFree spray: "My bacne cleared up nearly overnight. After about four days, crimson welts had subsided entirely, faded to a barely there blush, or had started healing. Within a week, I felt comfortable wearing a low-backed tank. I've since evangelically recommended the product to my trainer, my boyfriend's brother, and a 22-year-old I work with."
3. The 10-Book 'Uninhabitable Earth' Reading List
David Wallace-Wells's story on the impending — and current — effects of climate change had readers clamoring for more. Of the ten books on his reading list, The Ends of the World struck a nerve: "For readers especially interested in geohistorical analogs to our present climate change, Peter Brannen's new book is quite a sharp tour of the planet's previous mass extinction (it's also written in a magazine style and quite friendly to lay readers)."
4. What Is the Best Women's Underwear?
Readers have been taking the advice of our best-women's-underwear story to heart. The best-selling of the bunch has been the Natori Bliss Cotton Girl Briefs (which, for Nordstrom's anniversary sale, is nearly 30 percent off). Dolly Frearson looks only for pairs of underwear that "feel comfortable and breathable. I also need them to appear smooth, and not pinch my skin in any place or ride up. And this is the only pair that does all of the above. They will eventually replace almost all of your underwear in your drawer."