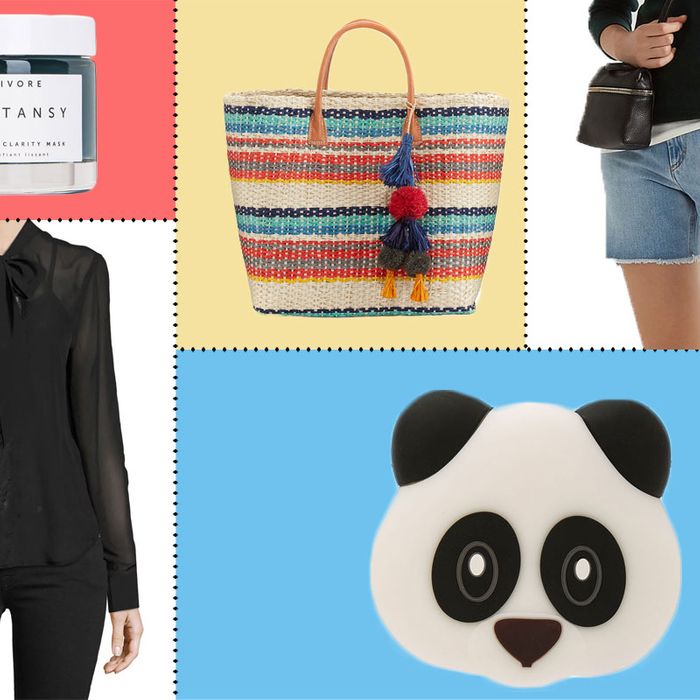 You might be kicking back pool-side right now (or maybe just lounging in your pajamas watching Bravo re-runs), but in either case, today's the day to score some amazing deals for the 4th of July. We found some on-trend Dries Van Noten sunglasses, sophisticated Everlane slippers, the most adorable panda phone charger, and Isabel Marant jeans (two kinds!).
The round sunglass trend for under $100.
Original Price: $345
Classic Converse high tops that'll work with any pair of pants.
Original Price: $55
A flattering long-hemmed tunic with three-quarter length sleeves.
Original Price: $285
A sophisticated sheer blouse that looks much more expensive than it actually is.
Original Price: $238
Sofia Sanchez de Betak's favorite shirt, now 40 percent off.
Original Price: $228
Rag & Bone tees are a favorite of the women we talked to for their favorite shirts.
Original Price: $85
A speckled and imperfectly round stone plate for snacks and sides.
Original Price: $12
High-waisted, light-wash denim shorts from Isabel Marant.
Easy summer lounge pants that are flattering enough you'd be happy to wear them out in public.
A coffee-table book of Isaac Mizrahi at the height of the Unzipped era would make a great hostess gift.
Very handsome and very affordable everyday table napkins.
Original Price: $25
Even the most boring food will look festive on these plates.
Sensibly comfortable Tory Burch flats that won't look like all the Tory Burch flats out there.
Original Price: $265