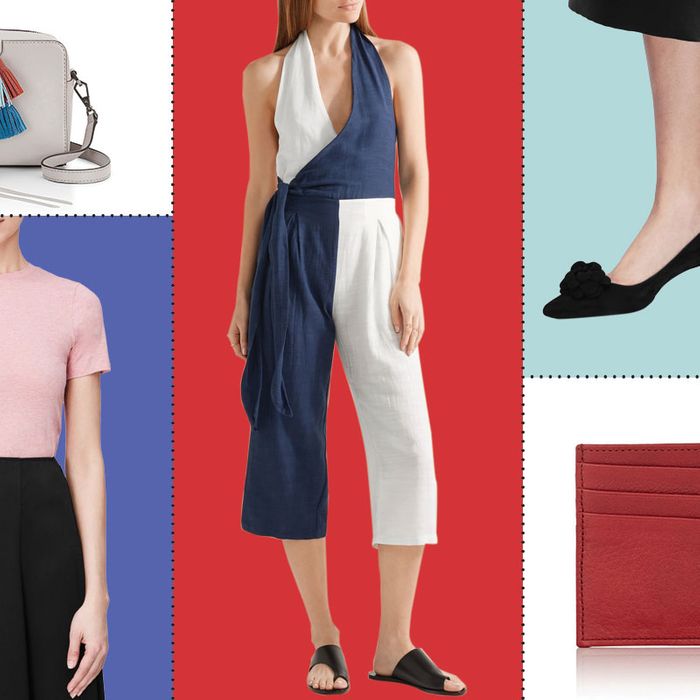 It's no longer the season of Fourth of July sales, but that doesn't mean there aren't plenty of deals to be had. This week, we found some outstanding steals, like breezy shirts from Everlane, 60 percent off Manolo heels, and Acne T-shirts for far less than you'd think.
A breezy cotton skirt (with comfy elastic waist) that's made for summer.
Original Price: $90
A starter kit from the Cut-approved brand that uses mineral compounds from the actual Dead Sea.
Original Price: $80
A tote bag with an actual zipper that you can carry with you for weekend trips or just day-to-day. Supplies are limited, but there are other on-sale Want totes available, too.
Original Price: $450
A sophisticated knit tank top that screams "lazy Sunday on a rooftop."
Original Price: $235
This isn't a mistake — a five-foot-by-eight-foot rug that used to be $500 is now just $58. Now, you just need a room big enough to put it in.
Original Price: $498
Solid and Striped makes swimsuits that we're crazy about, and we love this jumpsuit and its capri-length pant legs, which somehow make all the difference.
Original Price: $248
A simple striped-towel set of six (two bath, two hand, and two wash towels) for the low, low price of $40.
Original Price: $140
Vogue/CFDA finalists Cushnie et Ochs put a dramatic spin on the very comfortable bodysuit.
Original Price: $595
A bright-red card case from Margiela that even sports the telltale four stitches on the other side. There's one left on sale in blue and green, too (for now).
Original Price: $235
An Eileen Fisher linen tank top is easy-peasy summer dressing.
Original Price: $98
A laundry hamper that's actually elegant in its own way.
Original Price: $70
A not-quite-chevron comforter set that also includes two matching pillow shams.
Original Price: $350
A very reduced pair of Manolos that's not hot pink or turquoise, but a very practical black for every day.
Original Price: $755
Note: These are now sold out, but there's another pair of Manolos on sale at Farfetch.
When it's July but still drizzly, just pull out this lightweight quilted jacket.
Original Price: $229
A crazy-comfortable T-shirt for layering, wearing on its own, or even tucking into a skirt.
Original Price: $105
What we love about Rebecca Minkoff's bags is that they straddle the line between classic and whimsical.
Original Price: $245
Not one, but two pale-pink Acne T-shirts for much less than you think you'd pay.
Original Price: $190
And just one more T-shirt because we can't get enough — this boxy one gives a totally different vibe.
Original Price: $60