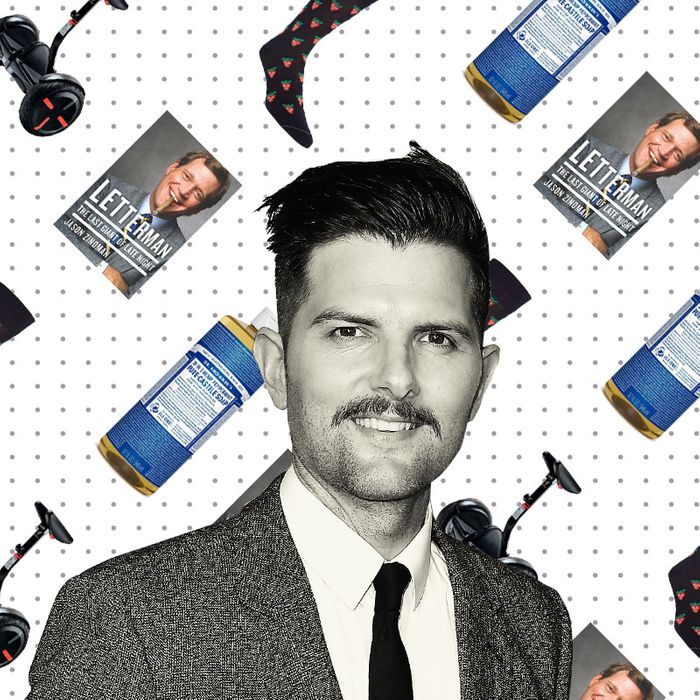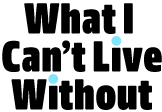 If you're like us, you've probably wondered what famous people add to their carts. Not the JAR brooch and Louis XV chair, but the hand sanitizer and the electric toothbrush. We asked Adam Scott, whose newest movie, Fun Mom Dinner, comes out today, about which items he can't live without.
AirPods have squirmed their way into my life. I use them every day, and I always know where they are and if they're charged or not. They work best if you go on Amazon and get the attachments, so that they fit snuggly into your ear, because I found that they just were falling out. They're incredibly handy. The great thing is, you can listen to a podcast while you're grocery shopping, and then seamlessly switch over to a phone call or whatever. And if you're someone who sometimes falls asleep watching something on your iPad, you don't wake up with giant headphones on your face. It's just this adorable little thing in your ear, even though having them in your ear is sometimes a little dumb-looking.
Paul Smith socks are the best. They're super comfortable because they're not super thick, and it's always warm in Los Angeles, so if you have to wear socks, you might as well wear some that aren't going to turn the inside of your shoes into a sauna. And they have cool designs. Cool socks are sort of a thing now, and it's a little annoying, but I feel like Paul Smith socks are the gold standard as far as that goes.
Right now, I'm reading the new David Letterman biography, which is really good. I never really read about his early life, like first delving into comedy in college. I've never been able to find that information as richly detailed as it is in this book, so it's great. It's been really fun reading it. I'm also reading Ready Player One because it's a book I've been wanting to read for a couple of years and the movie's coming out, so I really want to get that out of the way.
My JanSport backpack is another thing that's always with me. It has the best pockets. JanSport thinks about everything that a person in the 21st century would need, and then creates a pocket for it. It has side access for a laptop or iPad, which is handy because that's often what you're going for, so it's just a zipper dedicated to your laptop. I'm never let down pocket-wise with this particular backpack.
I have this Waterpik that shoots water between your teeth. It's great. You do that along with flossing, and you know for a fact you've cleaned your mouth as much as humanly possible. It's like going to the dentist every night in your bathroom. I don't know if it's a floss replacement, but in conjunction with flossing, it's great. You feel well taken care of when you put your head on the pillow, so I love that.
Dr. Bronner's is the best. My mom had Dr. Bronner's around since I was a little kid, and I've used it in the shower as soap ever since. Some people use it for toothpaste and shampoo and all that, but I don't. I haven't gone that crazy. They give you a lot and it's concentrated, so it lasts a long time. It's very cost-effective.
My wife got me Aesop shower gel for Christmas, which is bomb bodywash, but it's kind of pricey, so it's more of an indulgence for me. I recently got my first dog ever, though, a labradoodle, and it's disgusting how spoiled this dog is. Aesop makes great dog shampoo, so his shampoo is way more expensive than my shampoo. I always thought dog people were annoying about their dogs, but now I really get it. I love him. Dogs are the best.
Trader Joe's has terrific dried mangoes. It's like little dried pieces of cocaine.
You know what are really good? Gomacro bars. A lot of protein bars taste like paste, but these are just really good. Sometimes, it's a meal replacement because I don't have time to stop and eat something, so I have like three of these, which is not great for me, but they're really good. The peanut-butter chocolate-chip is my favorite flavor, of course.
I don't actually have this, but it's an item that I spent a lot of time on and loved it. It's a modified Segway, so it only goes up to your knees and you control it with your knees. When we were editing this show that I'm doing, a couple of the writers and I spent a ton of time in this one building, and there were a few of these, and we spent weeks just riding around in circles in a giant, empty room. It's really intuitive and easy to control, and it's super, super fun. You can use them outdoors, but you can definitely use them indoors, too. I would use it if I needed to go down the hall to use the restroom.
The Strategist is designed to surface the most useful, expert recommendations for things to buy across the vast e-commerce landscape. Some of our latest conquests include the favorite shopping items of Lena Dunham, Olivia Wilde, Carole Radziwill, Plum Sykes, John Cameron Mitchell, Aubrey Plaza, and Linda Rodin. We update links when possible, but note that deals can expire and all prices are subject to change.
Every editorial product is independently selected. If you buy something through our links, New York may earn an affiliate commission.