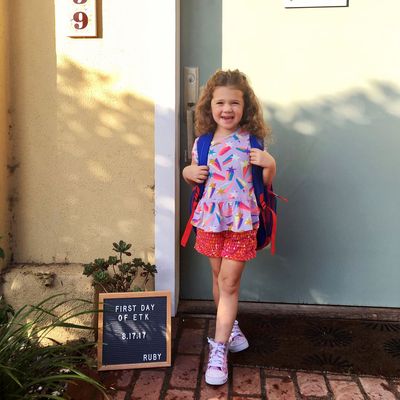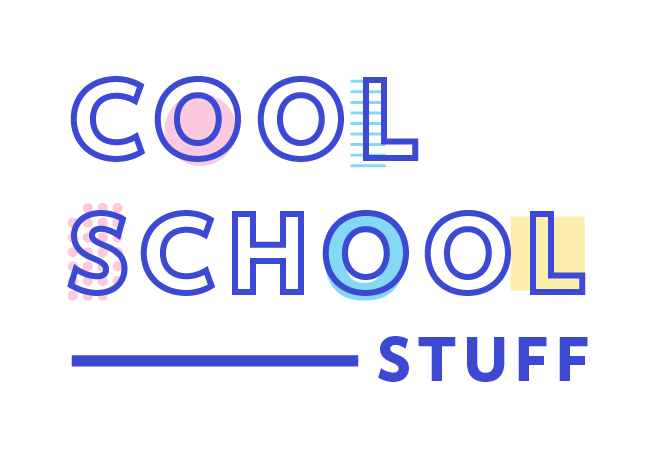 As days get shorter and temperatures cool, it's also time (eek) to start thinking about going back to school. To help you get a jump on the best school (and school-related) supplies to buy for fall, we're running a series called Cool School Stuff, in which we'll sniff out the best backpacks, best dorm décor, and best bento boxes, among many, many other things.
We all know that whatever anyone wears to the first day of school is the most important thing they'll wear all year. It defines how you've matured and changed over the summer, while setting the tone for the rest of the year. So if just thinking about it is getting you all flustered, we've gathered some inspiration below.
"This outfit is so pretty because it has twinkly stars all around! I like that these shoes are sparkly and shiny. I like my hair down with this bow to show my curls. My favorite superhero is Wonder Woman, that's why I like this backpack." — Ruby, preschool
"I like this one long dress that has a lot of details. I like that it feels very comfortable and how it's long, so I don't have to wear shorts underneath." — Riley Han, kindergarten
"I want to dress up because it's first grade. I'll wear a pink dress with bananas, a bird, a peacock, watermelon, and flamingos on it. I'll wear a headband with cat ears that are pink with glitter. I would also wear gold sandals." — Cassia Larren, first grade
"I have one shirt that I usually wear for special things, so I'll probably wear it for my first day of school. It looks like a soccer shirt." — Rowan Han, first grade
"I like my backpack because of the bow. I like my shirt with the sparkles. I can't wait to wear them together." — Zara, first grade
"I feel like my dad in this button-down shirt." — Hayden Bick, second grade
"I really like wearing suits, and I like the pattern on this one. I also like the fact that it comes with a vest. I might wear patterned pants, too. I have a game called Qixel, and I'm obsessed with making patterns on it, so that's what I love to wear, too. My dad got me these new shoes, and all I have to do is hit a button and they light up and make all different color patterns, but they're a pain to put on. I still wear them, though. I also have a watch that I wear every day, except for when I'm in the sandbox. It's a blue Swatch and I just got the battery repaired, so now it glows." — John Savin Nguyen, third grade
"I can't wait to wear my outfit and backpack. They look so pretty. There's a bow and pink polka dots on the backpack. My pants have pink butterflies, and the flowers on the pants are fabulous because they're better than I can draw. The shirt has items that I like: the Eiffel Tower, Minnie Mouse, a shirt, sunglasses, camera. All Paris stuff." — Ameera, third grade
"I went to try on new clothes and I liked these jeans and this shirt. I like how the top and the jeans go together, and how it all makes me look older." — Bailey Han, fourth grade
"I want to make a good first impression that I'm cool, I guess, because I'm going to a new school. I have this cool hoodie from Laguna Beach that I got this summer because they have cool surfer shops there. Most of my clothes are skateboarder stuff. I got new Nike's that are for skateboarding, too. They're black-and-white high-tops. I'd just wear regular shorts like Adidas or something. If it gets hot, I'll roll up the sleeves on the hoodie." — Ben Dallal, sixth grade
"I'm starting eighth grade, but in Chapin, where I go to school, that's starting high school, so this is the first year I don't have a set uniform. We can choose our own shirt as long as it's collared and in green, blue, or white. I'm planning on wearing a dark-blue polo shirt from Lands' End with a SkinnyShirt underneath. The SkinnyShirt helps so that the polo shirt doesn't bunch up or look wrinkly. It just fits really well. For my shoes, I'm planning on wearing cute little tennis shoes I got from Bloomingdale's, something like Stan Smiths." —Kailey Perkins, eighth grade
"I haven't gotten my outfit yet, but I'd probably wear a Free City or Brandy Melville T-shirt because they're really cool and comfortable. I go to a private yeshiva, so I'd wear a Hard Tail skirt. My shoes will probably be Jack Purcells or Superstars, depending on which I like better that morning." — Rebecca Altholz, ninth grade
"I'll probably wear khaki shorts, a blue polo, and my Rod Lavers." — Jason Sarachek, tenth grade
"I'm wearing my uniform plaid skirt with cute Gucci slippers, a cute vintage Levi's tee that says little devil on the front, and a black leather jacket from Iro that's stretched leather. I'm also going to wear a simple monogrammed necklace." — Jillian Schwartz, 11th grade
"I'll probably wear a black, flowy skirt from H&M and a striped T-shirt from Brandy Melville. That's pretty much what I wear every day, but the T-shirt is new. I'll wear it with Velcro Stan Smith's. A lot of people are still wearing those, but I think the trend is fading." — Leila Deluty, 11th grade
"I go to school abroad and I live in a dorm, so we've all kind of passed the stage of caring. I really haven't planned what I'm going to wear, but I'll probably throw on a T-shirt and jeans from H&M." — Mo Weiss, 12th grade
"A black, flowy skirt, probably one that I have from American Apparel, a tight, short-sleeve T-shirt, and black ankle socks with black low-top Vans with laces." — Deborah Greenfield, 12th grade
"For my first day back on campus, I've been dreaming up an all-white outfit: jeans from J Brand, which is my favorite (but Topshop is a more affordable option, especially with the extra student discount), a T-shirt from J.Crew, and new sneakers I just got from Sam Edelman, with a plaid button-down either left opened or tied around my waste. Why white? Because its clean, fresh, trendy, proof that one can wear the color after Labor Day (gasp!), and lets me live in a world where summer lasts all year long. The plaid gives the look some color, provides a layer of comfort, and most importantly, ensures that I don't look like I am trying too hard." — Raquel Greenfield, college sophomore
"When I put on this dress, I feel like it's an instant outfit. The print, along with the silhouette, makes me feel like Dorothy from Wizard of Oz, but Auntie Em is DVF." — Julia Sinski, college junior
"The tee is because that same artist did my Daddy Trouble tee, which is one of my favorite things I own. The pants because I like the cut of the pockets and the short ankle. I'm super tall, so my ankles need to breathe. For the tote, initials are cool, but saying something trendy and kind of questionable is cool, too. Something like 'Pow' or 'Oops.' These Prada sandals because they're over half-off and will go with anything I dare wear them with. And I'll top it off with a Comme's Fragrance because it smells like an old church that still burns incense." —Jack Oberle, college junior
"This whole outfit would probably be accessorized with some thrift dangly gold earrings and a colorful belt from American Apparel, in something like purple or red." — Alison Maybaum, college junior
"Jennifer Fisher is literally #goals, and her necklace brings every outfit of mine to another level, so how can I not wear it on my first day?! I hate to come off like a basic white girl, but honestly, this Brandy Melville shirt is amazing and goes with everything, and it's the perfect way to be casual, comfortable, and stylish. I usually like to wear shorts in the summer, but there is something about the first day that I just want to look more mature after I haven't seen most of these people in a while. I also want to be a bit more modest, especially because I don't know what my teachers are going to be like. Anyway, this is the perfect pair of jeans to show people you still have style. Lastly, I love loafers, and I wouldn't go anywhere without my boy brow." — Julie Schwartzberg, college junior
"These are the perfect white platform sneakers that I'll pair with a casual but interesting pair of jeans, a cool graphic tee that tells people I went abroad and changed, and a sweater because schools crank up the AC, and also because it's the coolest thing I wish I bought when I was abroad. I don't need a bag because nobody uses notebooks anymore, but I love this laptop sleeve, and I'll fill this bottle with water during the day and wine for a night class." — Sabrina Kogut, college senior
"On my first day of school, I would potentially wear: my black J Brand jeans, striped T-shirt from & Other Stories, and either Superga's or flat black sandals. As a grad student, I'm going to push myself to try to not wear leggings to class." — Sophie Jenkins, graduate student studying art history and artist administration and policy
"I'll be starting a graduate program where everyone will be older, more experienced, and most likely more talented than I am, so all I have is that I'm youngish and theoretically cool. My first-day-of-school outfit will try to reflect that. Something that says, "I'm not trying too hard, but I am the same age as your children, and if we knew each other, they'd be intimidated by me." That'll probably be my Blundstone's, skinny jeans and a vintage tee." — Jonny Gottlieb, graduate student studying nonfiction creative writing
The Strategist is designed to surface the most useful, expert recommendations for things to buy across the vast e-commerce landscape. Some of our latest conquests include the best women's jeans, rolling luggage, bed sheets, coffee makers, and bath towels. We update links when possible, but note that deals can expire and all prices are subject to change.

Every editorial product is independently selected. If you buy something through our links, New York may earn an affiliate commission.